Marvel's Werewolf By Night Documentary Shines The Spotlight On Less Celebrated Crew Members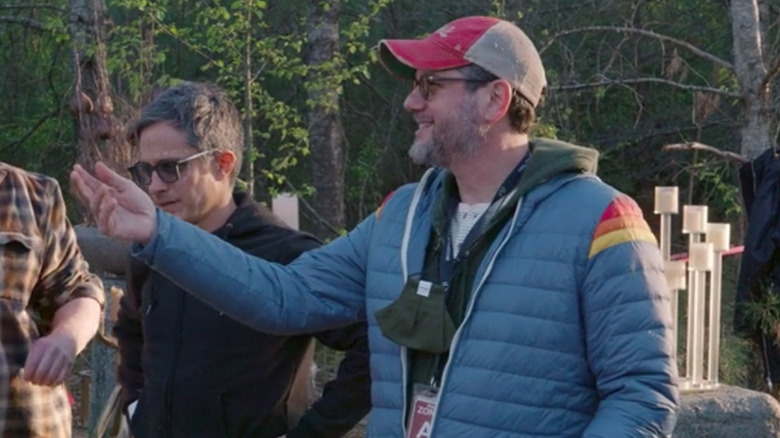 Marvel Studios
"Werewolf By Night" was a fantastic breath of fresh air for the Marvel Cinematic Universe, featuring a throwback to classic monster movies with some surprisingly gnarly kills and stunning black-and-white cinematography. Now, "Director By Night" is pulling back the curtain to show how the first Marvel Studios Special Presentation was made, and the result is one of the best things Marvel has produced recently. This is an intimate and wonderful documentary that is really more about Michael Giacchino himself and his love of filmmaking than the making of a Marvel film. 
Sure, it does show how the special was made, and it is particularly fun to see how they shot the scenes with Ted, aka Man-Thing, with a practical motion-capture-style suit operated by an actor, but it is mostly focused on Giacchino as a filmmaker and his long history of making homemade films. There are many scenes of a young Giacchino shooting all kinds of films with his friends in his parents' backyard, and the documentary — directed by Giacchino's own brother Anthony — constantly flashes back and forth between the set of "Werewolf By Night," and the impromptu sets Giacchino and his friends used to make homemade films, from their houses to a mall parking lot.
Indeed, a big part of the documentary is the communal aspect of filmmaking, shining a light on the many, many people involved in bringing movies to life and the joy of being on set surrounded by likeminded people. "Director By Night" also does something rare for a behind the scenes documentary, particularly one for a big franchise, in that it shines the spotlight on less celebrated film crew members and their importance to the overall film.
You can't do it alone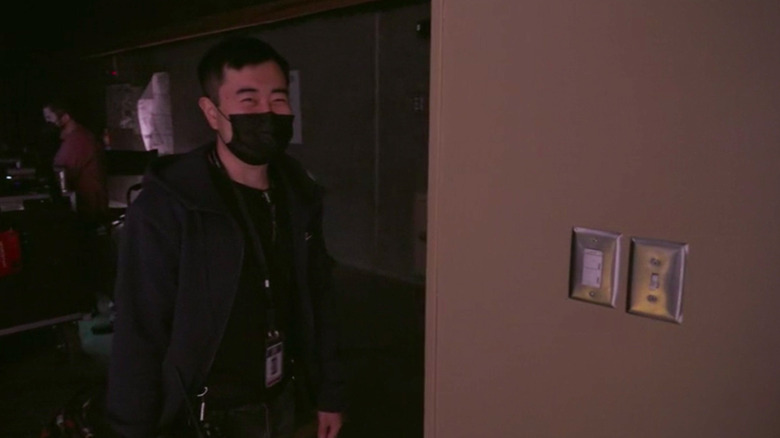 Marvel Studios
One of the best scenes in the documentary is only tangentially related to Michael Giacchino or even the shooting of "Werewolf By Night." Instead, it follows Anthony Giacchino becoming fascinated with a switch that rings a bell to indicate when filming starts and when "cut" is called. He asks production assistant Rick Kubo (above) if he can flip the switch, and he's oddly excited with what could easily be considered a small, almost insignificant role: flipping a switch. And yet, Anthony quickly proves that there is a right way and a wrong way to do it, with Kubo growing seemingly (but politely) impatient when Giacchino takes too long to flip the switch (in his defense, Giacchino is also holding a camera). This prompts Giacchino to say that Kubo's job is pretty important, because he lets everyone know, both inside and outside the sound stage, that they're filming and it's time to work. If you need any more evidence that this kind of thing isn't spotlighted very often, Kubo feels fairly awkward during this whole exchange.
This is such a small scene in the grand scheme of things, one that focuses on a role that — all things considered — is not nearly as flashy as a camera operator, a costume designer, or a stunt person. But "Director By Night" makes the case that everyone on set is equally important, no matter where their name is in the credits. Giacchino himself talks later in the documentary about wanting to try out different roles on set to see what everyone's job is, from moving the camera dolly to operating a giant crane, and we even get a nice aside of Anthony talking to supervising chef Kenneth Carroll (below) about grilling food for hundreds of people on set (and he just loves feeding them). No matter the role, everyone has an important job, and everyone contributes, not only the actual movie, but to the communal experience on the set.
All about teamwork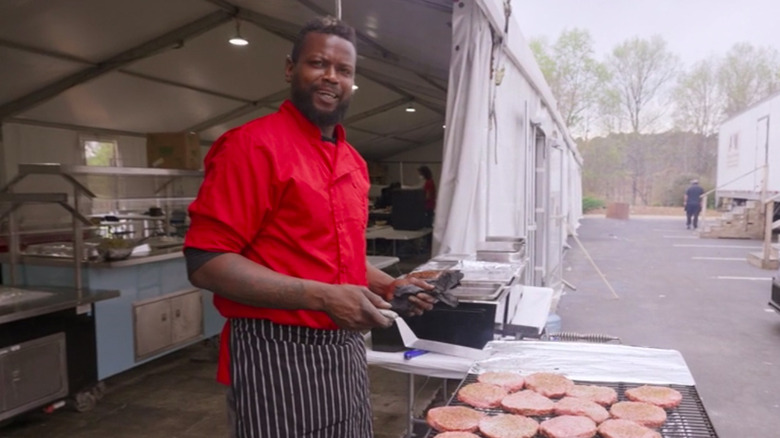 Marvel Studios
In a way, "Director By Night" resembles both the outstanding behind the scenes documentary "The Director and the Jedi," which looked at the making of Rian Johnson's "The Last Jedi," and the hit zombie film "One Cut of the Dead." The former showed the trials and tribulations of making a giant blockbuster as well as the joys of being on a set for a movie you've loved since you were a kid, while the latter is a hilarious, surprising and twisty horror-comedy that is also a huge love letter to the collaborative art of filmmaking. Without saying much about the fantastic plot of that film, "One Cut of the Dead" is all about the mistakes, the small panics about the project falling apart, the many small miracles caused by a crewmember having the right idea that saves the film, and the sheer joy of finishing a shoot with likeminded people you like working with (or at least tolerate).
Indeed, the documentary often compares the experience of making "Werewolf By Night" with the making of Giacchino's childhood home movies with no budget, a lot of ingenuity, and some good friends. The film even ends with Giacchino saying the movies he made as a kid were only that good because he wasn't alone making them, and he praises what the cast and crew of "Werewolf By Night" brought to the film, and the overall joy and experience of making it.
"Director By Night" is now streaming on Disney+.