Marvel's Director By Night Is Their Most Wonderful, Intimate, And Special Making-Of Documentary Yet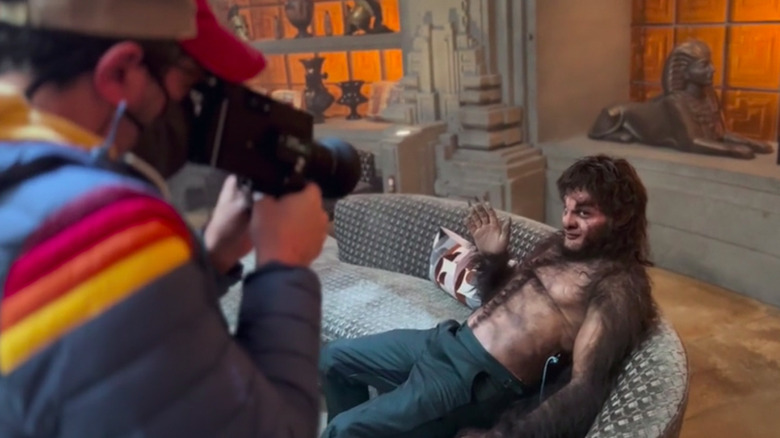 Marvel Studios
One of the best elements of Disney+ has been the new tradition of releasing near-feature-length documentaries about the making of Marvel Studios movies and TV shows. Under the "Marvel Studios: Assembled" banner, Disney+ has chronicled the making of every single Marvel production since 2021, beginning with Phase Four of the Marvel Cinematic Universe ("WandaVision" being the first for TV and "Black Widow" following on the film side). 
However, as enjoyable as the documentaries have been for Marvel fans and cinephiles alike, they're mostly glorified featurettes that follow a traditional presentation. The one exception is the "Assembled" which focused on "Doctor Strange in the Multiverse of Madness," which was framed in the style of a cheesy 1990s TV special about the movie. But now Marvel Studios has delivered what is undoubtedly their best look at the making of one of their productions yet in the form of Marvel's "Director By Night."
As you have probably surmised, this latest making-of documentary focuses on the Marvel Studios Special Presentation "Werewolf By Night," the black and white monster story inspired by both the comic of the same name and the classic monster movies of the 1930s and 1940s. You might notice that this particular documentary doesn't come with the "Assembled" moniker, and there's a good reason for that. Marvel's "Director By Night" certainly focuses on the creation of "Werewolf By Night," but even more than that, it's a documentary about the filmmaking origins of composer/director Michael Giacchino, juxtaposing home movies and childhood productions made with his young friends alongside this major Hollywood studio project he worked on for several years. The result is easily Marvel's most wonderful, intimate, and personal look behind the scenes. 
Phase One of the Michael Giacchino Cinematic Universe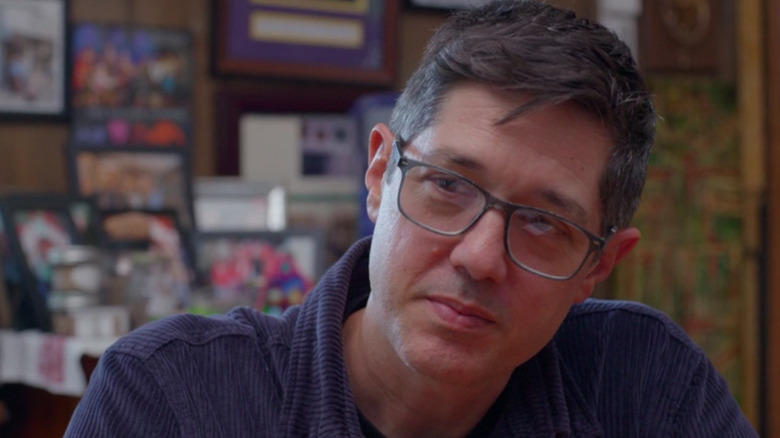 Marvel Studios
"Director By Night" begins with Michael Giacchino's brother, fellow filmmaker Anthony Giacchino (above), heading down to his parents' basement to dig through all the old audio and video recordings that he made, from his childhood into his teenage years. With his adorable mother accompanying him downstairs, where she's immediately embarrassed about all the junk that almost every family inevitably collects in their basement, Anthony explains that his hope is to dig into all this stuff to reveal who Michael Giacchino was before he became the composer for shows like "Lost" and movies like "Star Trek, "The Incredibles," and "The Batman." Even though Giacchino is known for the music he's created for film and television, his passion for filmmaking began behind the camera, where he would make movies of all kinds, from sci-fi and fantasy adventures to unofficial "Indiana Jones" sequels, and all this led to "Werewolf By Night."
What follows is this delightful journey showing Michael Giacchino having early Zoom meetings about the development of "Werewolf By Night," seeing some of the special's practical monsters for the first time, and constantly being amazed at the cinematic craftsmanship on display. Since the man behind the documentary camera asking questions is Michael's brother, what we get is a much more candid, genuine, and just plain fun glimpse behind the scenes at the making of a Marvel Studios production. Anthony sneaks up on his brother after completing a shot, and then Michael turns the camera on Anthony with his iPhone, making for a meta moment of making the documentary within the making of "Werewolf by Night." It's more of an insight into any filmmaker's passion than we've ever been given before. 
Making "Director By Night" even more personal and genuinely entertaining is the presence of Michael and Anthony Giacchino's elderly but spry parents, Mike and Josephine Giacchino. Not only do they get a hilarious introduction that makes for a unique use of the Marvel Studios fanfare that typically accompanies their production logo (trust me, this is such a perfect moment), but throughout the documentary, Anthony and Michael call them on their way to and from the studio before a day's shoot. These phone calls result in splendidly sweet and funny conversations about Michael's career and childhood. 
But what makes "Director By Night" truly special is that this will undoubtedly be a piece of pop culture that inspires the next generation of filmmakers. 
A inspiration for future filmmakers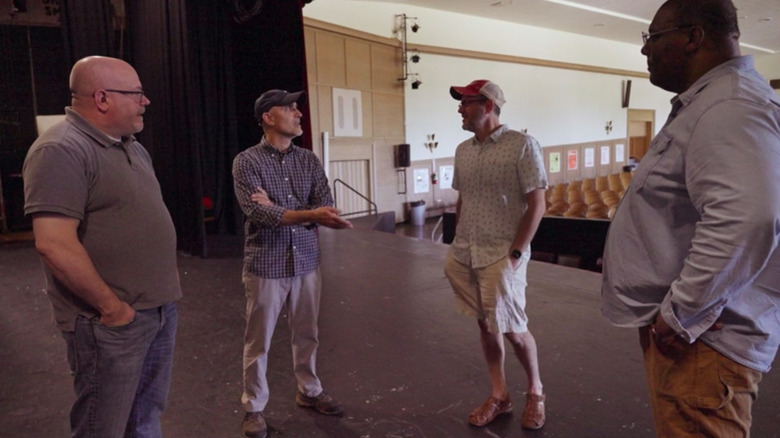 Marvel Studios
Anthony Giacchino is an Academy Award-winning documentary filmmaker, so he's not just some nepotism hire for this project. However, being Michael Giacchino's brother makes him the perfect man for this job, as he was right alongside him making movies — and even starring in them — during their childhood. There's an ample amount of footage from young Michael's homemade movies, complete with admirable amateur special effects. They would scratch the film on which they shot in order to create laser blasts for a post-apocalyptic sci-fi adventure. They would fill bottle caps with the innards of fireworks in order to create squibs on their body to replicate gunshots. They created dummies to drop off the roof of their house for death scenes. 
Flashing back to all these home movies creates a heart-warming juxtaposition when you see how Michael Giacchino is living out his childhood dream by directing "Werewolf by Night." Specifically, this Marvel Comics title from his childhood, and the presence of practical monster effects (with an assist from digital VFX in post-production), brings together Giacchino's love for both cinema and monsters. It's truly an inspiration, and it made me reflect on the time that I spent making movies with friends in my small Midwestern town. And it's especially funny to see some of the Marvel production's crew members react to some of Michael's early movies.
If that wasn't enough to bring a smile to your face, the documentary ends with Anthony Giacchino arranging a reunion between Michael and a handful of his old school friends who used to make movies with them. Listening to these guys reminisce about making movies while walking the halls of their old Holy Cross school in New Jersey is enough to make anyone believe that they could be the next great filmmaker, whether it's at Marvel Studios or anywhere else in Hollywood. Even if you didn't spend your days making movies with your friends, you'll probably find yourself reflecting on everything you did during your formative years.
Marvel's "Director By Night" is easily the best companion piece they've created for Disney+, and it's a magnificent little documentary on its own. If you weren't planning on watching, trust me when I say you won't regret giving it a chance. Even if you're not a Marvel fan, this is full of passion, love, and inspiration.