The Story Of Marvel Studios Review: A Meticulous Chronicle Of The Passion And Struggles Behind The MCU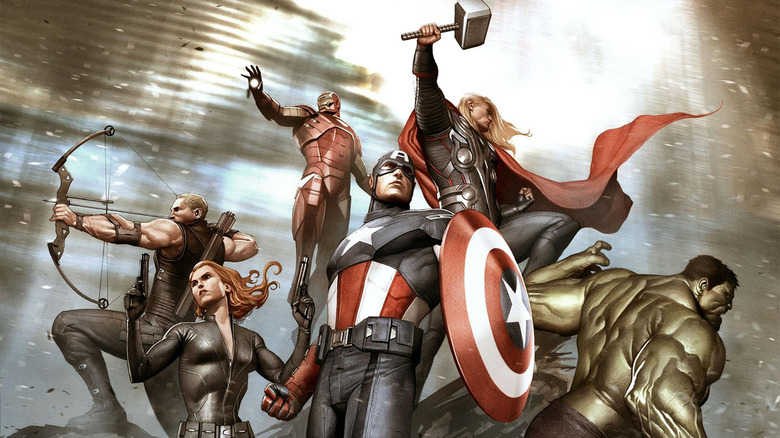 Marvel Studios
We may receive a commission on purchases made from links.
Marvel Studios has released a whopping 25 films (and counting) with stories unfolding within the Marvel Cinematic Universe, and it continues to expand with a growing number of original TV shows on Disney+. But roughly 15 years ago, all of this was merely a pipe dream that began with a little movie called "Iron Man" at a time when the Marvel Comics character was anything but a household name, even with the boom of comic book movies that followed the success of "Blade" and "X-Men." An up-and-coming producer named Kevin Feige would make that pipe dream come true after diligently climbing the ranks of Hollywood and making everyone see the cinematic potential in the pages of superhero comics. 
Because we get so many superhero movies on the big screen each year, it's easy to feel fatigue or even disregard them as blockbuster fluff. But the mere existence of the Marvel Cinematic Universe as we know it is nothing short of a miracle. The incredible rise of Marvel Studios is an incredible Hollywood story born out of passion, dedication, and plenty of luck. A new book called "The Story of Marvel Studios: The Making of the Marvel Cinematic Universe" chronicles the birth of this blockbuster behemoth, shining a light on many of the lesser known names behind the scenes who painstakingly crafted the stories of Iron Man, Captain America, Thor, The Incredible Hulk, Black Widow, Hawkeye, Ant-Man, Doctor Strange, Guardians of the Galaxy, Black Panther, Captain Marvel, Spider-Man, and more. It's a book about True Believers for True Believers. 
The Story of Marvel Studios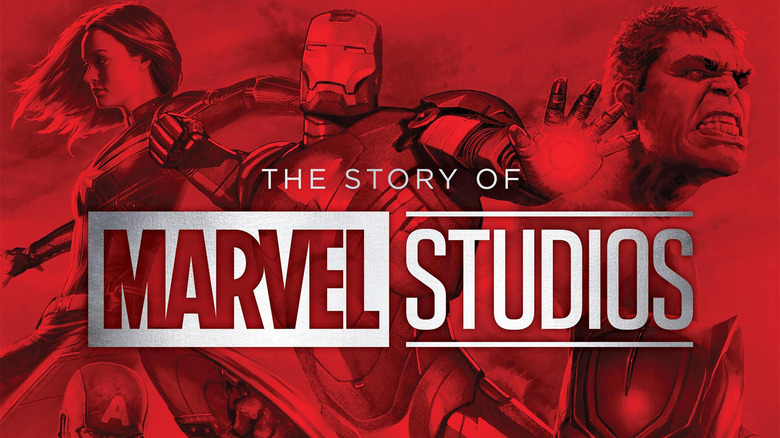 Abrams Publishing
"The Story of Marvel Studios" is written by authors Tara Bennett and Paul Terry, who have been writing books about film and television for years, covering the likes of "The X-Files," "Sons of Anarchy," "Fringe," and more. The two writers began their professional relationship while working on the official magazines for "Lost" and "Alias," so they know a thing or two about covering carefully watched properties with passionate fanbases. But they've never tackled anything as big as "The Story of Marvel Studios."
This massive two-volume tome spans over a decade of Marvel's achievements in film and television, though the latter is far less celebrated and covered than the former, with a focus put predominantly on the films of the Marvel Cinematic Universe. The access granted to Bennett and Terry was unprecedented, as the pair was given workspace in the offices of Marvel Studios, allowing them to conduct interviews with all the key creative forces doing everything they could to make movie magic every single day. In fact, Bennett and Terry are some of the few who might have actually benefited from the coronavirus pandemic shutting down film and TV production for awhile, because the cast and crew of Marvel Studios productions had ample time to find them a plethora of new photos, concept art, production materials and more. But more importantly, they were able to provide even more insight into the process of making Marvel movies. 
The result is a fascinating journey through the highs and occasional lows of Marvel Studios, digging into the nitty gritty of creating the collection of films known as The Infinity Saga. However, if you're one of those fans who has been closely following the evolution of the MCU since its inception in "Iron Man," there's probably not much new information you'll find about the development process. As someone who has tirelessly been covering the work of Marvel Studios since 2009, I can tell you that details about how the cast and crew of these movies came together have been in the public eye this entire time. Even stories that were new to me, I was able to dig up online from a press junket interview with a quick Google search. What enhances the details that you already know are the anecdotes from the directors, producers, writers, production designers, composers, and stars of the Marvel Cinematic Universe, as well as an outstanding assembly of photography from behind the scenes. And yes, there are still a decent amount of tidbits that have never been revealed until now.
Avengers (Filmmakers) Assemble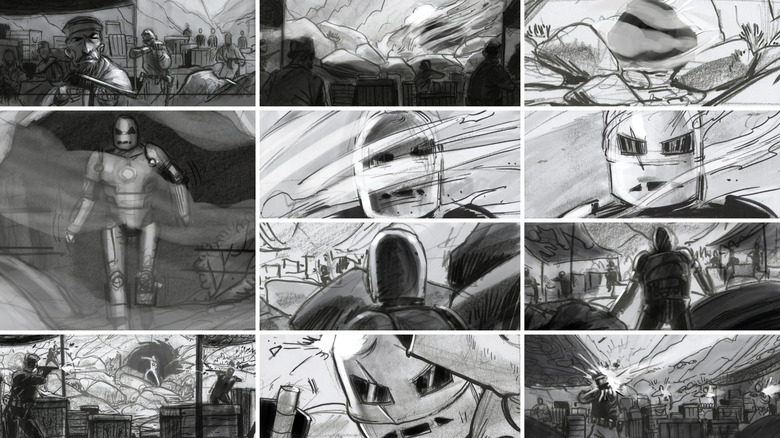 Abrams Publishing
The sheer number of people that Tara Bennett and Paul Terry were able to talk to for this book is astounding. As "The Story of Marvel Studios" digs through the evolution of the Marvel Cinematic Universe year-by-year, from 2008 through 2019 (and a little beyond), Marvel head honcho Kevin Feige and creative producers Stephen Broussard, Nate Moore, Trinh Tran, Jonathan Schwartz, Jeremy Latcham, Eric Hauserman Carroll, and Brad Winderbaum all serve as the primary guides through the making of nearly two dozen blockbuster movies. Also joining them are all of the filmmakers behind the camera for each film, from Jon Favreau to Anthony & Joe Russo and everyone in between. 
Where "The Story of Marvel Studios" beefs up what you know about the MCU, is by shining a light on many of the key crew members who helped make each and every movie possible. Everyone knows the stars and directors of the Marvel movies, but most aren't familiar with the rest of the crew. This book breaks down many of the key contributions from a variety of crew members and their place in Marvel history.
To hear these filmmakers and crew members talk about how the films of Marvel Studios came together is to witness a perfect storm of passion and luck. The idea of "The Avengers" alone felt like an impossibility, let alone an entire saga of interconnected films with a huge cast of characters constantly crossing over into each individual franchise before coming together for an even more epic blockbuster event. The early days of Marvel Studios are built upon the shoulders of true fans of Marvel Comics who all got their jobs by being more than knowledgeable about this corner of geek culture and also knowing the right people who were making moves to bring these superheroes to life. The original team of concept artists alone were all hired simply because they had crossed paths with each other, further solidifying the idea that a lot of success in Hollywood can come from who you know. 
Since a lot of time has passed for some of these Marvel movies, the producers and directors aren't shy about discussing the problems they had during development. Whether it was figuring out an ending that actually worked for "Iron Man" and finishing the visual effects just three weeks before the movie was released or juggling five different production units and an unprecedented level of A-list cast members to make "Avengers: Endgame" happen, these creative minds have plenty to reveal from behind the scenes. Listening to these production stories unfold through a yearly breakdown of Marvel's efforts really puts into perspective just how much everyone at the studio is juggling at once. It gives you a whole new respect for how difficult it is to create multiple blockbuster franchises that connect to each other, rake in box office bucks, and resonate with millions around the world.
A Villain Inside Marvel's House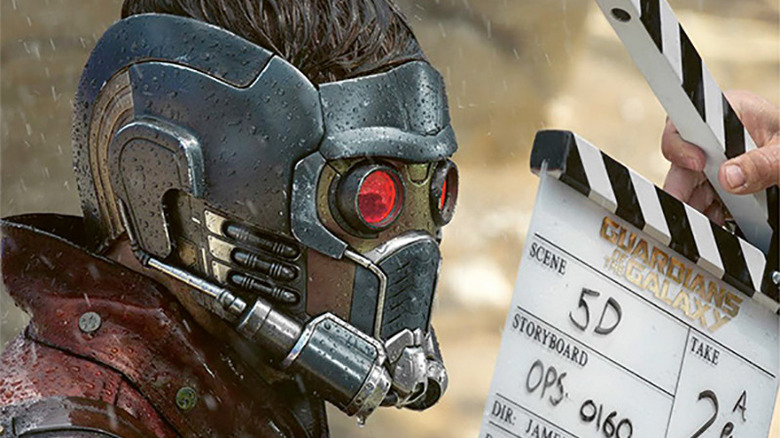 Abrams Publishing
Perhaps the most intriguing details about the creation of the Marvel Cinematic Universe is the villain whose calls were coming from inside Marvel's house. The book isn't shy about painting what is known as the Marvel Creative Committee in New York. Up until 2015, when the hierarchy of Marvel Studios was restructured, a lot of roadblocks and arguments were caused by Marvel CEO Ike Perlmutter and a team at Marvel Entertainment that included Marvel Comics writer Brian Michael Bendis, former Marvel Comics editor-in-chief Joe Quesada, Marvel Comics publisher Dan Buckley, and president of Marvel Entertainment Alan Fine. 
Initially, Kevin Feige was able to keep their constant notes and suggestions about the trajectory of Marvel movies at bay by carefully compromising the needs and wishes of his creative team and the demands of Marvel Entertainment executives in New York. But as time went on, the Marvel Creative Committee starting becoming more demanding and meddlesome. In case you need to know how misguided this group was, they're the ones responsible for delivering 25 pages of notes across four years of development on "Ant-Man," and their demands resulted in Edgar Wright leaving the project. They also tried to put a kibosh on James Gunn's signature soundtrack for "Guardians of the Galaxy," and they're responsible for reducing Rebecca Hall's much more significant role in "Iron Man 3" based on the perception of female action figures not selling well (a perspective that would also hurt Black Widow and delay the introduction of Hela, the goddess of death).
The battle with the Marvel Creative Committee comes to a head with the development of "Captain America: Civil War," where it became clear that this group had a fundamental misunderstanding about what made the films of Marvel Studios successful. It seemed they even forgot exactly the kind of stories that their own comic books told. When the demand for an alternate ending for "Civil War" was too much for Kevin Feige and directors Anthony & Joe Russo, the fight went all the way up to Alan Horn, chief creative officer of Walt Disney Studios. Thankfully, this tiff resulted in Kevin Feige and Marvel Studios gaining autonomy from Marvel Entertainment, and the rest is (ongoing) history.
Though "The Story of Marvel Studios" isn't shy about revealing the menace of the Marvel Creative Committee, it's not entirely a warts-and-all chronicle.
What's Missing?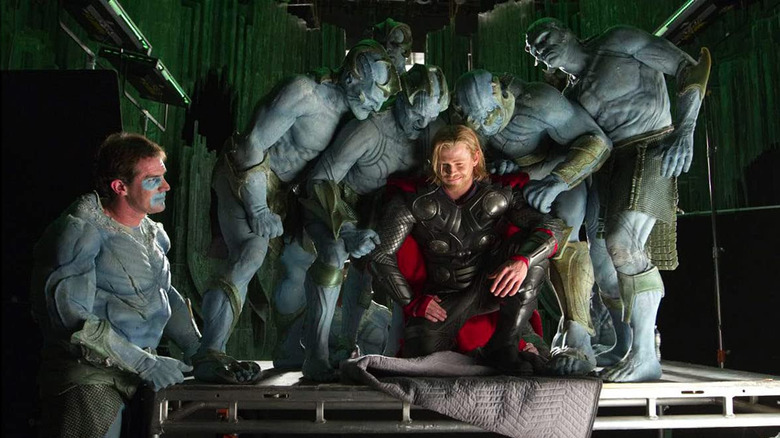 Abrams Publishing
What's missing from "The Story of Marvel Studios" are some of the more controversial moments in the development of certain films and the disagreements between creative forces that brought about some key changes in the MCU. Though the recasting of Don Cheadle as "Iron Man" sidekick Colonel Rhodes and Mark Ruffalo as Bruce Banner/Hulk are covered in this book, you won't find any details about why Terrence Howard wasn't asked to return in "Iron Man 2," and the creative conflict with Edward Norton on "The Incredible Hulk" is only vaguely touched upon. Obviously this story is more about the success of Marvel Studios than the controversy, but it would have been nice to get details on these occasional disruptions.
Not all Marvel's issues are ignored though. There's plenty of discussion on Edgar Wright's development woes with "Ant-Man," and some details on why Patty Jenkins ultimately didn't stick with "Thor: The Dark World." In fact, a lot of the key talent involved with the "Thor" sequel and "The Incredible Hulk" are rather honest in their assessment of both movies after all these years. However, it should be noted that the likes of Edgar Wright, Patty Jenkins, Terrence Howard, Edward Norton Rebecca Hall, and others who had not so favorable experiences with Marvel do not offer any commentary on the subject.
One of the most controversial subjects that is entirely ignored is the firing of James Gunn from "Guardians of the Galaxy Vol. 3" in the summer of 2018. Perhaps it's because the lapse in judgement from Disney was so widely publicized that they didn't need to cover it. Or maybe no one wanted to offer up anything on the subject that hadn't already been said. But I can't help but feel like it would be refreshing to hear an honest conversation from Marvel's creative minds about how that whole situation was handled. 
Agents of S.H.I.E.L.D. Gets the Shaft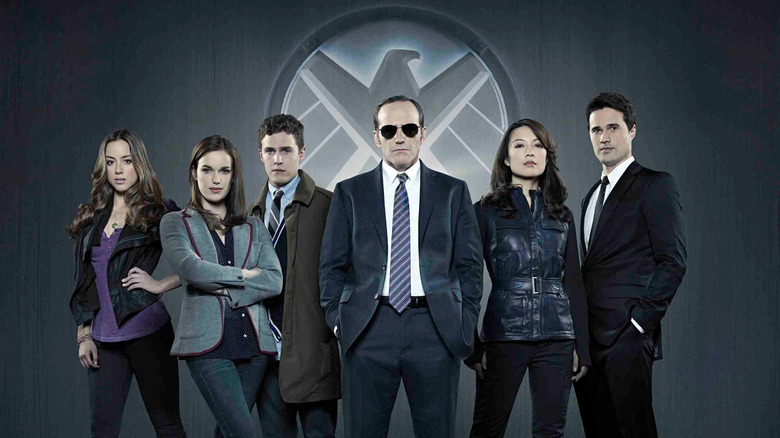 ABC
Finally, for all its careful and meticulous coverage of the Marvel Cinematic Universe, "The Story of Marvel Studios" leaves out some key details that might make some fans unhappy. There's only a fleeting mention of the short-lived "Agent Carter" series. But perhaps more frustrating for Marvel TV fans is the fact that "Agents of S.H.I.E.L.D." gets no significant coverage in the book at all. It's mentioned while talking about "The Avengers" and "Captain America: The Winter Soldier," but otherwise, it's as if the show doesn't exist. Granted, that's basically been how Marvel Studios feels about the series too, mostly because it was more of a Marvel Television production that felt separate from the larger MCU, but plenty of fans will be disappointed.
On top of that, Netflix's run of Marvel TV shows are completely ignored too. Though the transfer of rights for characters like "Daredevil," "Luke Cage" and "The Punisher" are mentioned, there's zero discussion about their Netflix shows. "Jessica Jones," "Iron Fist" and "The Defenders" are nowhere to be found in this book, with the only mention of Iron Fist at all being references as just the glimmer of a potential film early in Marvel Studios' history.
Plus, I can't help but want more specifics when the book mentions the many candidates considered for certain roles, or the various directors who were pursued for projects. I can understand not wanting to out actors and actresses who didn't get parts, if only to avoid potential embarrassment or shame, but I wish "The Story of Marvel Studios" dug more specifically into the filmmakers who passed on some of these projects over the years. 
Furthermore, there are a handful of discussions about projects there were developed through Marvel's writers program that never came to fruition. There's even mention of early drafts of "Blade" and "Eternals" that were in the works long before they would officially be announced, and those iterations have been completely abandoned for something new. Details on the projects that never came to be would have made this an even meatier story, and it's a bummer those details aren't there. 
A Must-Read for Marvel Fans
Despite some shortcomings, "The Story of Marvel Studios" is a must-read for Marvel fans. It will make you want to go back and watch the entire "Infinity Saga" all over again. The fact that authors Tara Bennett and Paul Terry were able to put together such a comprehensive two-volume book together that spans over 10 years of blockbuster filmmaking is an achievement in itself. The fact that they were able to speak to the most important and significant people from Marvel Studios is even more impressive. Even though the book frustratingly uses the term "Super Hero" when discussing the superhero characters of the big screen, this is still the definitive chronicle of the rise of the Marvel Cinematic Universe, and it's absolutely worth adding to your shelf.
"The Story of Marvel Studios: The Making of the Marvel Cinematic Universe" is out today. You can order it right here.