Pierce Brosnan Made Sure Black Adam's Cast Never Got 'Jaded' During Production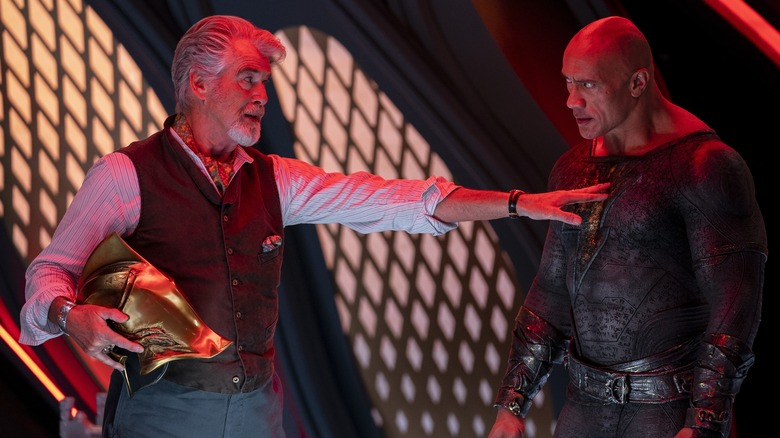 Warner Bros. Pictures
As it continues to dominate the box office, "Black Adam" arrives as a pretty defining moment for the newly-titled DCU. After tackling their prized possessions (Batman, Superman, Wonder Woman, etc.) in its first years to varying results, a new age of the superhero genre is upon us. The corners of the vast canon are now being explored on the big screen, dating back to the early days of DC Comics. In addition to DC's greatest anti-hero, the first superhero team in comic book history is finally getting some much-deserved spotlight in "Black Adam." A film feverishly dedicated to expanding the cinematic universe as we know it, the extensive cast reflects the exciting idea of delving into the untapped potential of the source material.
Joining Dwayne Johnson in his superhero venture in "Black Adam" is Sarah Shahi as Adrianna Tomaz, Aldis Hodge as Hawkman, and Pierce Brosnan as Doctor Fate, to name a few. Not only do they step into the shoes of some of the greatest legacy comic book characters, but the DC film marks their first foray into the superhero genre. It should come as no surprise that the responsibility that comes with such a feat could've jaded the ensemble cast. But thankfully, they had a veteran on their side to bring things back to earth and keep things upbeat.
'He's like, my favorite person'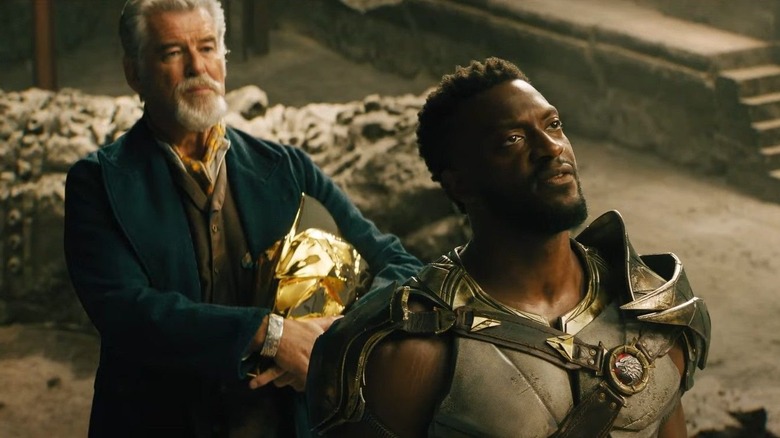 Warner Bros. Pictures
Collider spoke to the cast of "Black Adam" about the film, which naturally turned into a conversation about how great Brosnan was to work with. Shahi couldn't help but bring him up: "Can we talk about Pierce? Because he's like, my favorite person. First of all, he is legendary." It prompted the cast to talk about just how personable he was during the major production. "The excitement he creates on set and then like you learn so much from just as an artist, and as a human being, which is so rare," Mohammed Amer, who plays Shahi's brother Karim, added.
Hodge, who plays Hawkman, shares special chemistry with Brosnan and his Doctor Fate in the film. Though Brosnan is no stranger to stepping into iconic roles, it did not deter him from being excited to be a part of "Black Adam":
"I'm looking at this brother. And he's just, 'oh, look at this cool. This is cool.' And I'm like, bro, you are 007. I was talking to him about how to maintain the joy because I'm like, you've been through so much, and you're still excited? Like, how do you do that? Because I want to be able to maintain that and not get jaded through the process. So we had a great conversation about wonderment, being able to keep your joy, and maintaining just your sense[...]. And he's just that gracious kind of brother."
A worldly, wise leader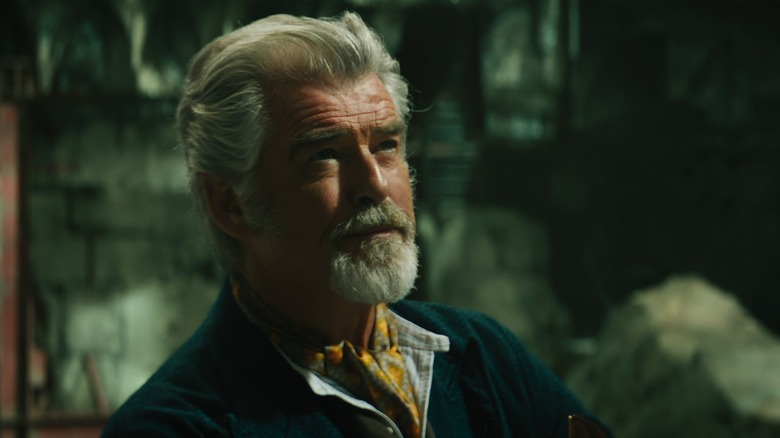 Warner Bros. Pictures
Among the many characters in "Black Adam," Doctor Fate is the one that has resonated with us the most. And it does not seem like Brosnan differs too much from his on-screen counterpart, either. Aside from Hawkman (who is immortal), Fate is the longest-tenured hero member of the JSA. He serves as a voice of reason to those around him in the film, including the titular anti-hero himself. When things get dicey, Fate keeps a level head and often rises above the situation at hand. He is an inspiring figure in the movie, especially for the younger, less experienced members of the team.
Knowing Brosnan's on-screen charisma does indeed translate to real life is actually not that shocking at this point. He's been closely attached to the development of "Black Adam" since he was brought on board. His excitement to join the DCEU, despite having played icons like James Bond, radiates through his performance. And while we don't know if we'll get to see more of him as Doctor Fate, Brosnan has firmly left his mark on the genre and his co-stars.
"Black Adam" is currently in theaters worldwide.