Pierce Brosnan Did Some Punch Up Work On Doctor Fate's Black Adam Design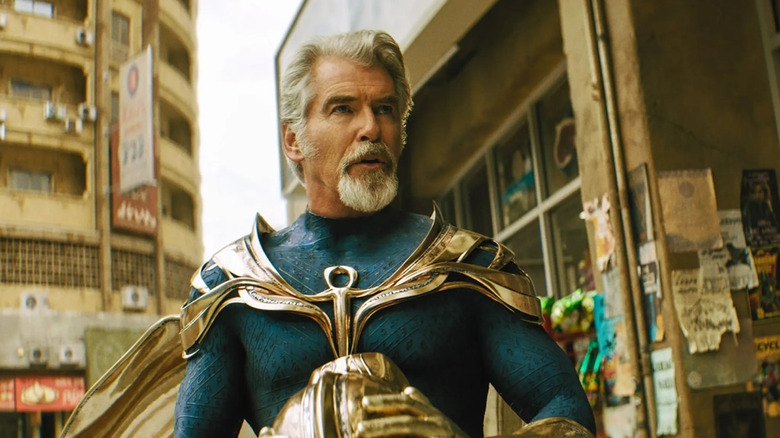 Warner Bros. Pictures
"Black Adam" features the long-awaited debut of Dwayne Johnson in the superhero genre, but he is not the only person that makes the latest DCU movie so exciting. For the first time, the Justice Society of America makes its way to the big screen alongside the titular anti-hero. DC's very first superhero team is already winning people over, especially its fan-favorite leader. Doctor Fate, who we consider the best character in the film, arrives at the scene in all his magical glory thanks to an inspired performance by Pierce Brosnan. The veteran actor perfectly encapsulates the character, giving life to Doctor Fate in more ways than one. 
Although the jury is still out if "Black Adam" will indeed usher in a new and improved DCU, one thing is certain — superheroes have never looked this good on screen. The members of the Justice Society not only look comic-accurate, but each brings their own personality through their costumes. Doctor Fate, in particular, is distinctly similar to his comic counterpart, but features an updated design for the film. It's a testament to how fantastic the costume design crew is and, according to Brosnan, the actor was able to bring a few of his own sensibilities to it as well.
'Sleek and elegant'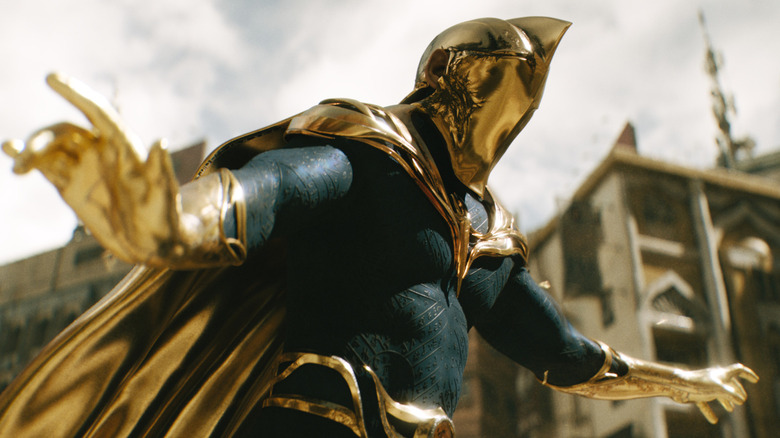 Warner Bros. Pictures
In an interview with Entertainment Weekly, Brosnan spoke about giving his input to the design of Doctor Fate's helmet, the source of the character's magical abilities:
"Jaume [Collet-Serra] asked for my input into what the helmet should look like. I said it should look sleek and elegant. He showed me photographs of the [original design], and it looked like some kind of golden bag or something. It just didn't make sense. It was just totally inarticulate."
I'm not sure how a golden bag-like helmet was ever on their minds, but I'm glad the final product provided a balanced touch. The source material often portrays the helmet as a pretty one-note, round piece of metal that lacks hard edges (which is great in its own way, of course). In "Black Adam," the split design of the helmet is meant to represent chaos and peace as different sides of the same coin. There is nuance to the sentient armor, while still paying homage to what came before it. Moreover, Brosnan brought a bit of his own personal life to Doctor Fate, too.
A piece of himself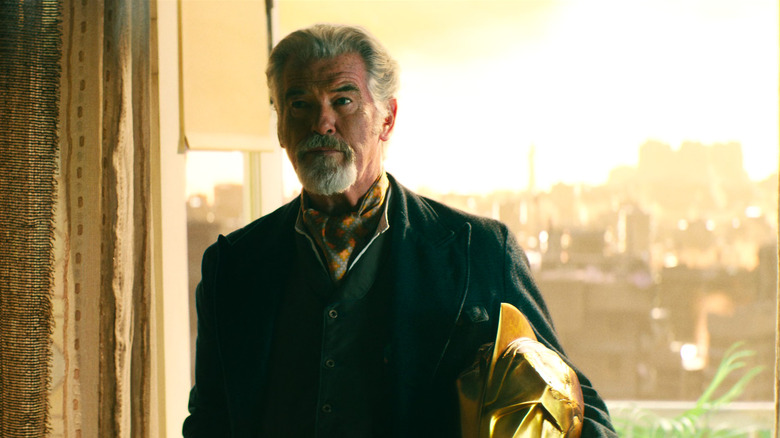 Warner Bros. Pictures
Although we don't get a lot about his character's past in "Black Adam," Brosnan wanted to allude to it in the smallest of details:
"I wore my own wedding ring, which I never do. And I wore my own timepiece, a beautiful Montblanc timepiece that my wife Keely gave me that is inscribed with, 'Time flies on love's wings.' Those are personal talismans I brought to the character. It just seemed fitting. And based on my research, it worked."
Brosnan did his homework, and then some. In the comics, Kent Nelson is married to Inza Cramer-Nelson, who he fought alongside and became his eventual successor. In fact, several characters have served as a host for the Helmet of Nabu with their significant others. Implying he could be married (or a widower) in "Black Adam" is well-founded, to say the least. This is not brought up explicitly in the film, but it goes to show just how committed Brosnan was to portraying Doctor Fate.
Though is it possible he'll return at some point, I recommend enjoying Brosnan as the character while you still can. "Black Adam" is now playing in theaters across the world.