Bumper In Berlin Trailer: The Pitch Perfect Spin-Off Heads To Europe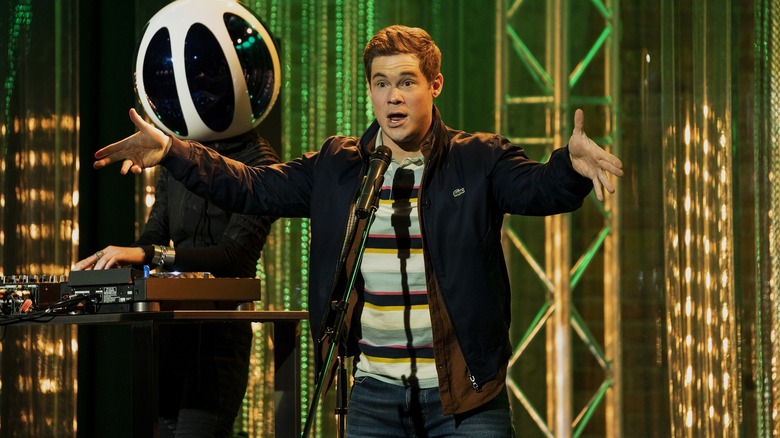 Peacock
Get aca-excited, because the new "Pitch Perfect" spin-off series, "Bumper in Berlin," is coming our way. Rather than focus on the Barden Bellas or any of the other a capella groups we've come to know over the course of the "Pitch Perfect" trilogy, "Bumper in Berlin" is centered around the European adventures of Adam Devine's character, Bumper Allen. The show sees Bumper trying to restart his singing career after "Pitch Perfect 2" star Pieter Krämer (Flula Borg) informs him that a TikTok mashup he's made is going viral in Germany. Hoping to capitalize on his unexpected 15 minutes of fame, Bumper moves to Berlin to try and grow his budding fanbase.
Now in a foreign land, Bumper meets our new cast of characters, like Pieter's assistant Heidi (Sarah Hyland), Pieter's DJ sister Thea Krämer (Lera Abova), and his new rival, singer Gisela (Jameela Jamil), who also happens to be Pieter's ex-girlfriend. Of course, we're dealing with Bumper "I'm willing to sign breasts!" Allen, so there's no way his German excursion is going to be without hilarious hijinks. The trailer shows him bombing on stage during his first big performance and maybe, just maybe, finally learning that there's more to making music than becoming famous.
Devine is executive producing the series alongside series showrunner and writer Megan Amram ("The Good Place"), and the pair are joined by "Pitch Perfect 2" director and producer of the entire "Pitch Perfect" trilogy, Elizabeth Banks. Max Handelman of Brownstone Productions and Paul Brooks and Scott Niemeyer of Gold Circle Films are also serving as executive producers. Todd Strauss-Schulson, Richie Keen, and Maureen Bharoocha directed the series, with Strauss-Schulson and Keen also serving as executive producers.
Watch the Pitch Perfect: Bumper in Berlin trailer here
Bumper's venture outside of the world of competitive college a capella may be exactly what he needs to finally get his life together, and realize that he's been long overdue for a heaping helping of humble pie. Especially after he asks, "I'm not like a corny a capella guy ... I'm cool, right?" as his new friends stare in bemused silence. The trailer also promises a return to the "Pitch Perfect" trademark "Riff-Off," this time between Bumper and Gisela. Jameela Jamil looks to be the source of most of the over-the-top comedy the films were known for and will be a perfect slapstick match opposite Adam Devine. Newcomer Lera Abova also gets plenty of screen time, with the moments opposite Flula Borg guaranteeing some quality sibling rivalry goodness.
On a more sentimental level, "Bumper in Berlin" also looks to deliver a surprising amount of heart. Bumper began the "Pitch Perfect" series as the main antagonist but has spent multiple films growing into a character worth loving. Hyland's Heidi gives him the advice, "If you don't take a risk, you don't grow," so it sounds like we'll hopefully see Bumper finally shed his "bad boy of a capella" image, and become a sincere musician for the very first time.
"Pitch Perfect: Bumper in Berlin" premieres on Peacock on November 23, 2022. NBC will also air the premiere episode and a sneak peek of episode 2 on Monday, November 28, at 10 p.m. after "The Voice."