The 45 Most Underrated, Weird And Fun Moments In 'Pitch Perfect'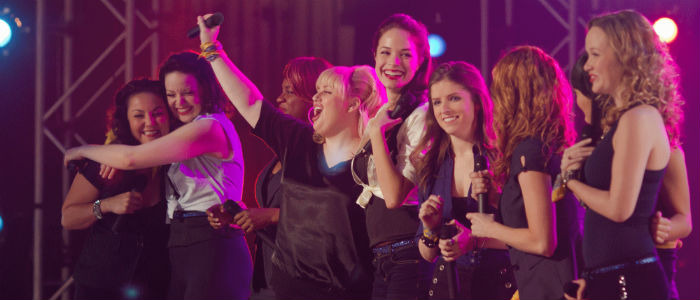 Once you've seen a movie a few times, the main story just isn't as exciting. Your eyes begin to wander around the frame seeking other details. You might find surprises the filmmaker put in there on purpose, or happy accidents, but either way, the best movies always find ways to reward a viewer over and over again.
A movie that definitely fits that description is the first Pitch Perfect. It's an immensely entertaining and rewarding film that gets better with every single rewatch. Want to know why Pitch Perfect 2 just made $70 million at the box office opening weekend? It's because fans watched the first film so many times, they were dying for something new from the characters.
Since its release, I've watched Pitch Perfect dozens of times and have gotten to a point where the big moments aren't my favorites. Instead, I've become semi-obsessed with some smaller moments. Forty-five of them, to be exact. Some of these are tiny nuances in a performance, weird line deliveries, or an odd piece of production design. Others are funny lines, random asides, touching moments, or scenes that I look at in a different way than most people. Either way, add this odd collection of randomness with the obvious stuff, like the music, and you've got a fantastic movie that made a really great sequel.
Below, read along with what I feel are the most random, funny, under-appreciated and best Pitch Perfect moments.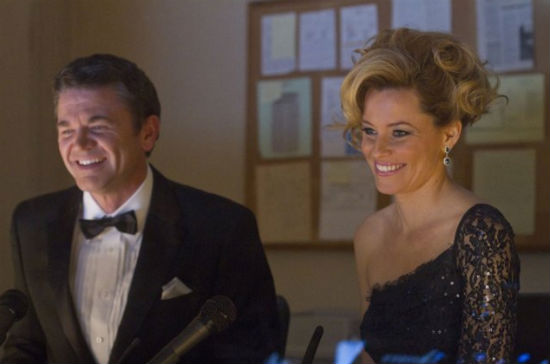 Note: The times before each entry are the time stamp when watching the film on Blu-ray.
2:18 – Elizabeth Banks' character Gail Abernathy, an a cappella competition announcer, says Bumper (Adam DeVine) does "sexy man splits."
6:35 – Upon arriving to Barden University, Beca (Anna Kendrick) walks through the quad and a group of idiot frat guys are rating girls on a scale of 1-10.
6:44 – Seconds later, a girl's huge cart of stuffed animals falls on the ground. Why is she bringing so many stuffed animals to college?
7:20 – It's not exactly subtle, but the fact Benji (Ben Platt) has totally converted his room to Star Wars in mere hours gets me every time.
8:00 – Beca's dad (John Benjamin Hickey) comes into his daughter's room with the line, "Hide your wine coolers."
12:40 – Beca and Fat Amy (Rebel Wilson) are both intrigued by a booth at the activities fair for the "Barden DJ's." In this case, DJ stands for "Deaf Jews." This whole exchange is one of my favorites in the entire film.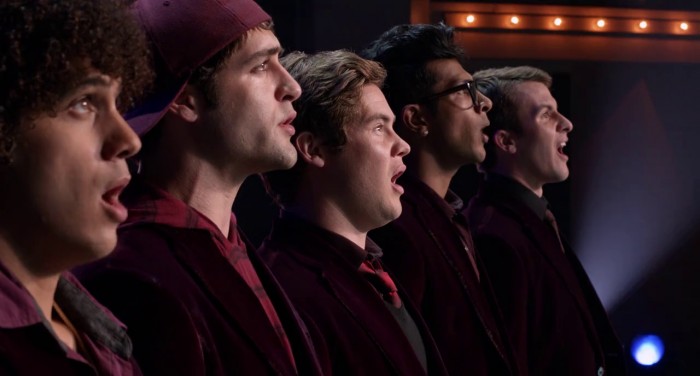 13:57 – The Treblemakers are singing at the activities fair and one of their members crashes on a unicycle in the background.
15:32 – Benji and Jesse (Skylar Astin) approach the Trebles and when Bumper gives them the "Hard pass" on hanging out, you can hear his cheeks slapping together from shaking his head so fast.
25:36 – The entire "Since You Been Gone" audition montage is great, but the highlight is the opera singer guy doing his rendition.
26:08 – Another weird moment from the same montage is the fact Benji is wearing a t-shirt with a fake tie on it and Ugg boots. Who dresses him?
26:32 – At the end of the auditions, Tommy (Christopher Mintz-Plasse in a fun cameo) says "I'm really not impressed this year" off camera.
28:18 – Jesse gets inducted into the Treblemakers and Bumper says "Look who's in Treble." Which is funny, but it's funnier when Donald (Utkarsh Ambudkar) says "Classic Pun."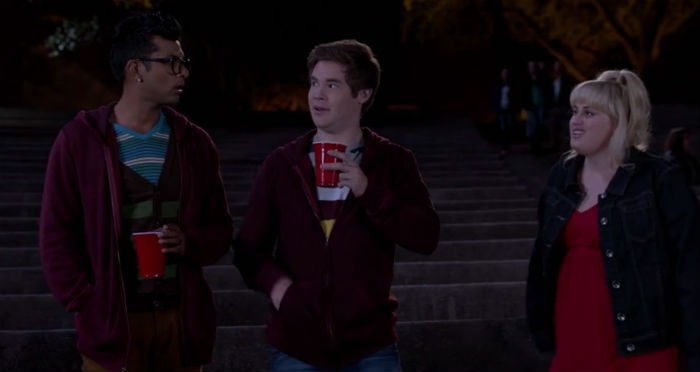 30:28 – Donald and Bumper are talking at the a capella mixer and have a few of the movie's funniest lines. It starts with Donald's meme-worthy "Bumper and Donald, gettin' it." Quickly followed by Bumper saying "You want some of this. Theeeeese." Really funny.
31:20 – Fat Amy telling Aubrey (Anna Camp) about her "Orthodox Jew ponytail" is obvious. Less obvious are Camp's terrible reactions to Wilson's improv.
31:34 – Donald – "Here's a question. Who'd be easier to sleep with? Captain America or a Great White Shark." And without hesitation, Bumper immediately is about to go into the reason why a "Great White Shark" would be easier before being interrupted. Genius.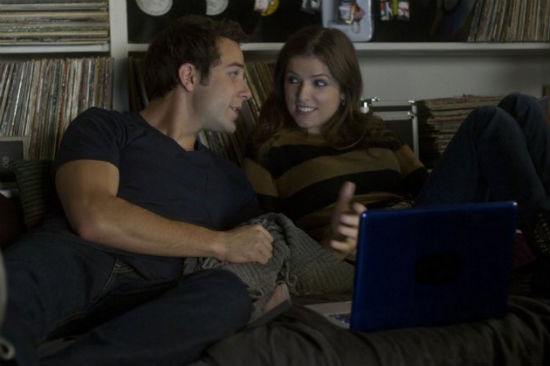 32:23 – It's not subtle, but Jesse drunkenly screaming "We are the kings of campus" makes me feel more and more uncomfortable every time I see it.
33:10 – How serious that Aubrey that the Bellas can't date Trebles? "Dixie Chicks serious."
36:38 – By far the best moment of the "Starships" dance sequence is when Cynthia Rose (Ester Dean) does the square with her fingers. She's got his hilarious swagger that gets me every time.
42:54 – Jesse tries to woo Beca with "juice pouches and Rocky," which is just a great line.
43:43 – Again, not exactly a subtle moment but Jesse saying he wants to give Beca a "Movieducation" is just perfect.
44:17 – It's somehow amazing that the prize going to the winner of the Riff Off is a microphone used by Hoobastank. Why?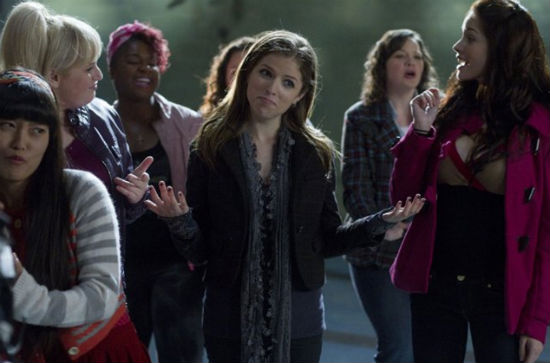 46:47 – During the Riff Off, The Trebles start to sing "Lets Talk about Sex" by Salt and Pepa. But the great part is how Bumper says, "A little bit a little bit."
48:25 – Lily (Hana Mae Lee) does a super awkward, but funny machine gun motion during a Bellas song.
52:00 – Jesse is showing Beca the ending of The Breakfast Club and while most people all watch him, focus on Anna Kendrick's performance as she gets totally embarrassed for him.
52:26 – Kimmy Jin (Jinhee Joung) returns to her room to see Beca. Her first line? "The white girl's back."
59:12 – There's something perfect about the moment Bumper "Boos" the Bellas as they take the stage.
59:53 – A Capella announcer John Smith (John Michael Higgins) points out a fun fact. Bumper Allen has his own line of sports sandals.
1:00:35 – The Trebles have got announcer Gail all worked up and she says she "may have to go freshen up the downtown." Hilarious line but John's tag, "Can I help?" makes it.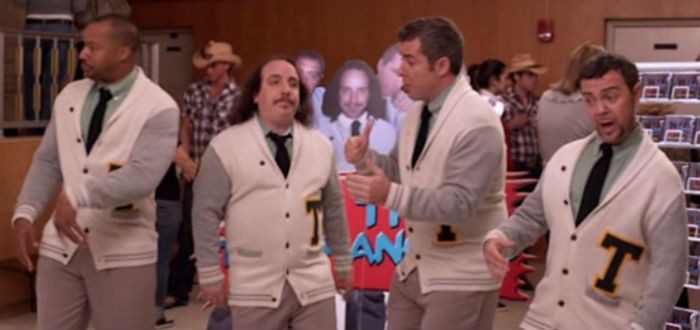 1:02:22 – The old man a capella group, The Tonehangers are just funny in general but it's Joe Lo Truglio's "Left cheek, right cheek" that makes their scene.
1:06:50 – Throughout the film, Beca has been interning at a radio station run by Luke (Freddie Stroma). It's a weird subplot (including a deleted date scene) but when he finally embraces Beca's talent, he gives her a compliment that is deliciously dumb – "It's a sick beat."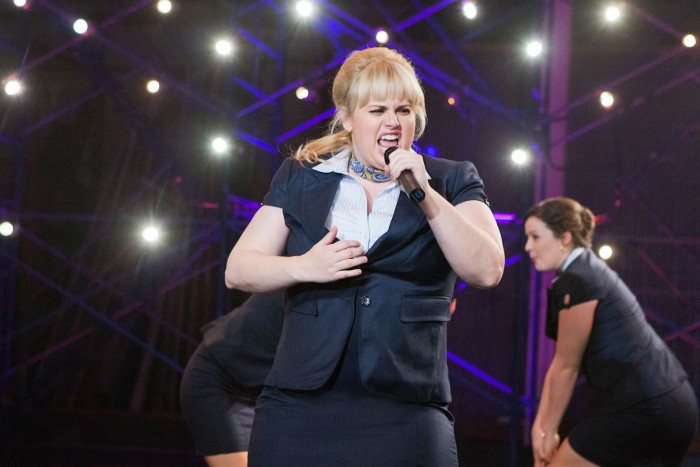 1:07:48 – On the way the semi-finals, the Treblemakers are talking on their bus and Bumper delivers, without a doubt, my favorite lines in Pitch Perfect. "Sisqo live? Best concert I've ever been to. Thong Song isn't his only hit."
1:09:53 – The Bellas are singing "Party in the USA" by Miley Cyrus on their bus and Beca isn't joining in. Stacie (Alexis Knapp) gives her a funny, assertive lean in during the song.
1:10:30 – How does Fat Amy feel about the fact the Bellas are out of gas? "It's pretty cool, actually" a great awkward delivery by Wilson.
1:11:36 – For some reason, Donald announces to the bus that there are 9 miles left to drive to the competition. Why 9?
1:11:50 – Because of the travel by the Bellas and the Trebles, we know the semi-finals take place pretty far away from Barden University. Why then is Benji running the backstage area? We don't know, but we love it.
1:11:55 – While Lily's low talking odd ball lines aren't exactly subtle (they're told to camera in a close up so we don't miss them), "I set fires to feel joy" is one of my favorites.
1:19:47 – As Aubrey begins to tell the Bellas they're in the finals, we get a few great, weird reactions. First is the unmentioned fact Fat Amy is in a pool with multiple male models.
1:20:00 - Cynthia Rose is so happy about it she goes "All in, bitches" at her poker game. Fun delivery.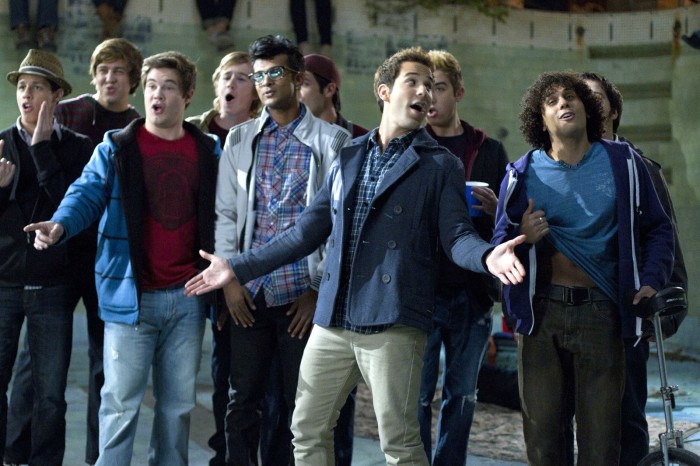 1:23:25 – The scene with Bumper leaving has so many weird things going on in it. First, seven members of the Trebles share an indoor hot tub together. Odd. Second, the TV behind them has an image on it of two girls in lingerie dusting. You read that right. Then there's just the absolute brilliance of DeVine delivering the news of his departure with such scummy confidence. "My life rules!"
1:34:47 – As we see The Finals, we hear a group called The Hullabaloos from University of Virginia singing "The Final Countdown" by Europe. The best part of this though is the fact they're all wearing what I guess you'd call smocks.
1:35:50 – We're all watching Jesse sing during the Treblemaker's final performance, so it's easy to miss the fact the rest of the guys are pretending like they are actual instruments with their fellow singers playing them. A nice touch.
1:37:20 – In the second half of the Treble's performance, Donald's rap is amazing, but the best line is "How about you with the eyes," as he motions to a girl in the audience.
1:38:25 – The Treblemakers think they've successfully defended their title as the background character who fell on the unicycle before walks off stage and awkwardly flashes his abs. Funny and weird.
1:40:55 – As Jesse realizes that Beca is making amends through the use of Simple Minds "Don't You Forget About Me," he's emotional and we all watch him. But my favorite part is to his right, our left. Donald looks at Jesse and smiles, knowing his friend is happy. Super subtle but touching.
1:42:37 – The Bella's eventual national championship performance mixes a ton of songs, but one that you may have missed is a brief, subtle reprise of Miley Cyrus' "Party in the USA."