How Dwayne Johnson's Advice Helped John Cena Land His Role In Trainwreck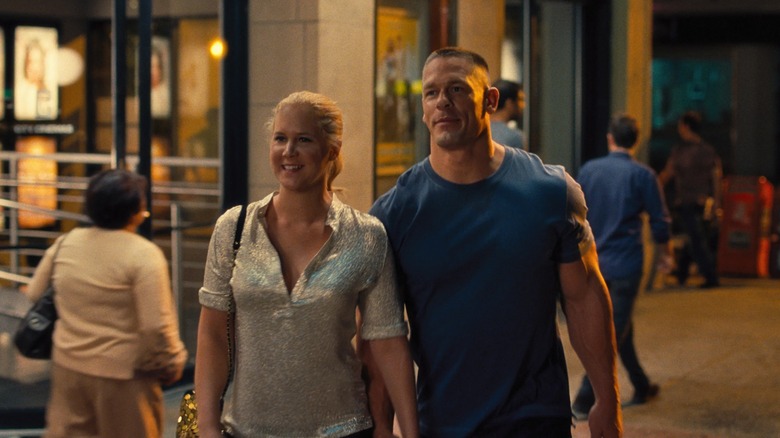 Universal Pictures
There are tons of different flavors of wrestlers-turned-actors. Dave Bautista has the range. Dwayne Johnson is every studio's favorite blockbuster action star. But for my money, John Cena is the greatest actor that the WWE machine has ever created. His performance in James Gunn's "The Suicide Squad" and spin-off series, "Peacemaker" is a career-best, and I'd even go so far as to say the best performance a wrestler-turned-actor has ever given.
Cena might have an intimidating physicality to him, but his large, expressive puppy dog eyes are windows into his sensitive soul. As Peacemaker, Cena shows impressive duality, able to land a crass joke and dance in his tighty whities with the same amount of gravitas as an emotional breakdown. A perfect blend of pure charisma with the ability to exhibit genuine pathos where it counts.
Before he would deliver his best performance in "Peacemaker," Cena tried experimenting with action films and studio comedies. Most notably, his standout role as Amy Schumer's boyfriend in 2015's Judd Apatow comedy, "Trainwreck."
When it comes to making a large career transition, it never hurts to look to your peers for help. In a video interview with GQ, Cena admits he largely credits Dwayne "The Rock" Johnson and his career advice for helping him land his role as Steven in "Trainwreck."
Just be yourself, man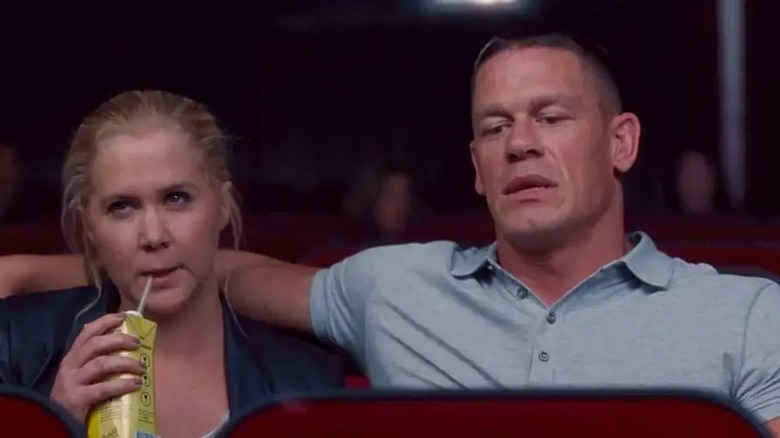 Universal Pictures
Johnson's impact on wrestlers-turned-actors is indisputable. All of his films have made more than $5 billion combined in the box office, and he's still going strong with "Black Adam," his DC superhero vehicle that earned $250 million in the global box office on its second weekend. Although we can debate who's the best talent, there is clearly no wrestler/actor with quite the same box office pull as Johnson. The way Johnson has paved the way for actors like Cena is inspiring.
"By doing what he's done with his class and professionalism, he's given an opportunity to folks like me." Cena explains, "Where people are like, 'Yeah okay. Well, I'll take a chance on John.' I don't think Dwayne understands the impact he's had on an entire industry of people."
When his role in "Trainwreck" was brought into question, Cena explained how Johnson helped calm his nerves before the audition. "I really wanted this one, and deadpan, Dwayne was just like, 'Just be yourself, man. They called you in for a reason. Just be who you are.' And I was."
Clearly, it worked out. Whether you prefer Johnson's man-of-action physicality or Cena's over-the-top comedic skill, it's wonderful to see the two co-exist. Foes in one industry, peers in another. There's space for both actors to display their individual screen presences on the big screen.