Netflix Announces Stranger Things Day With Theater Screenings, Merch Drops, And More
November 6 is a day that has been forever etched into the minds of "Stranger Things" fans, as it was on that day in 1983 when Will Byers (Noah Schnapp) disappeared. Netflix has made an effort to commemorate the day ever since the show took off, but this year's celebration will be different. The streamer announced that it will be expanding "Stranger Things Day" like never before with theatrical screenings and special pop-up events across the United States.
This year's "Stranger Things" event will be held in collaboration with Cinemark Theatres in nearly 20 cities, including Los Angeles and New York City. There, fans will be able to watch "Stranger Things 4: Vol. 2" for the first time on the big screen. While that might seem egregious due to the fact that the second half of the fourth season is around four hours long, we've heard of longer theater marathons.
"We'll also have trivia, giveaways, and other surprises, making this an event you won't want to miss," wrote Netflix on the official "Stranger Things Day" website.
What else is in store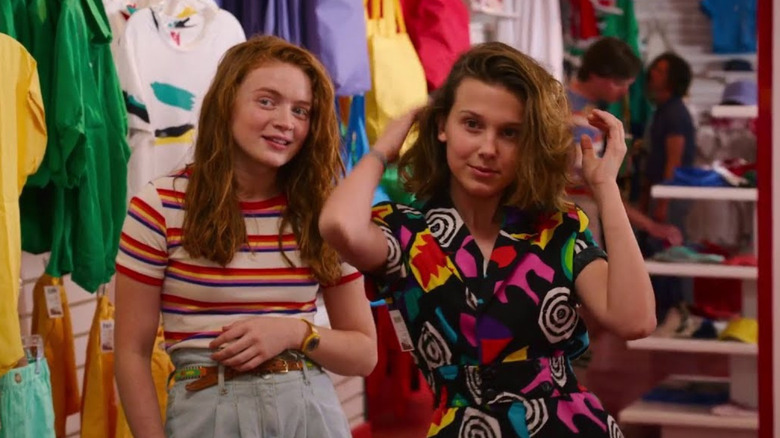 Netflix
If you can't make it over to the participating Cinemark locations, there will be plenty of other ways for fans to celebrate "Stranger Things Day." The "Stranger Things Experience" will be open in Atlanta, Los Angeles, and London with what the streamer calls a "brand-new story" involving a mysterious new Hawkins Laboratory experiment. While further details are understandably being kept under wraps, fans will travel through the 45-minute pop-up before ending their experience with food, drinks, and merchandise.
Speaking of that sweet, sweet merchandise, new items will go on sale on Netflix's official shop throughout the day. If you prefer to do your merch shopping in person, you can head to Dallas, Miami, or Paris to Stranger Things: The Official Store.
Needless to say, the platform is going bigger and better for "Stranger Things Day" this year, and there is probably a lot more still to come. To find out if theatres near you are participating in the special event, check out your local showtimes here. However, if you still want to celebrate but can't make the various treks, all four seasons of "Stranger Things" are streaming on Netflix.