Netflix Announces 'Stranger Things' Day With New Video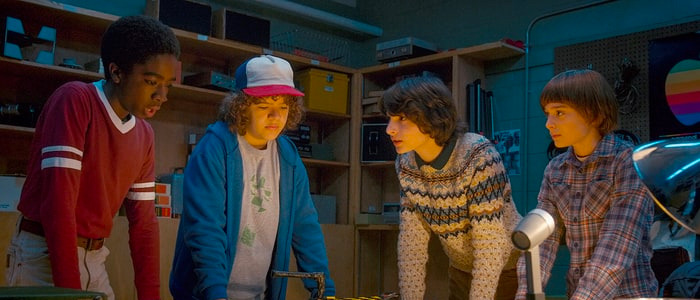 Hang on to your Eggos: a new Stranger Things celebration is on the way.
Netflix has released a new video announcing the first ever Stranger Things Day, which will be taking place later this month. Watch the video below and join us as we try to figure out exactly what this new "holiday" is going to be.
Stranger Things Day Video
see you on #strangerthingsday, nerds. pic.twitter.com/dUUlcBVlxX

— Stranger Things (@Stranger_Things) November 1, 2018
"November 6, 1983. The day Will Byers went missing. Join us this November 6 to celebrate all things Stranger on the anniversary of the day it all began."
That's the text from the description of the official YouTube video, and it seems to indicate that from now on, November 6 is going to be a new annual celebration for fans of the show. Move over, Star Wars Day. Get bent, Batman Day. Alien Day? You're old news. Stranger Things Day is the hot new freshness.
Side note: I'm not sure if the fictional Will Byers would appreciate the fact that this celebration is happening on the anniversary of one of the worst days of his life, but it's also the date that the rest of the guys met Eleven, so I guess it evens out?
So what actually happens on Stranger Things Day? Well, Bloody-Disgusting says that the Stranger Things-themed haunted house at Universal Orlando Resort's Halloween Horror Nights will open to the public again for one day on November 6. You can see some photos of the maze right here, or watch the stars of the show get freaked out as they walk through it in this video.
It seems like Netflix could easily release the first teaser trailer for Stranger Things 3 on that day – after all, they put out an "in production" video six months ago. That's plenty of time to cut together a teaser, especially considering that for season 2, they released one video with nothing but episode titles. Otherwise, what are they going to do – cut together another video of more fans dressed up in costumes? Speaking of which, are fans supposed to dress up on Stranger Things Day? Halloween just wrapped up, so wanting people to get back into costume again a week later seems like a big ask.
I've reached out to Netflix to see if they can provide more information about what we can expect to see on November 6, 2018, and we'll update this article if we hear back.