Shazam! Was Pitched To Director David F. Sandberg As DC's Take On A Tom Hanks Classic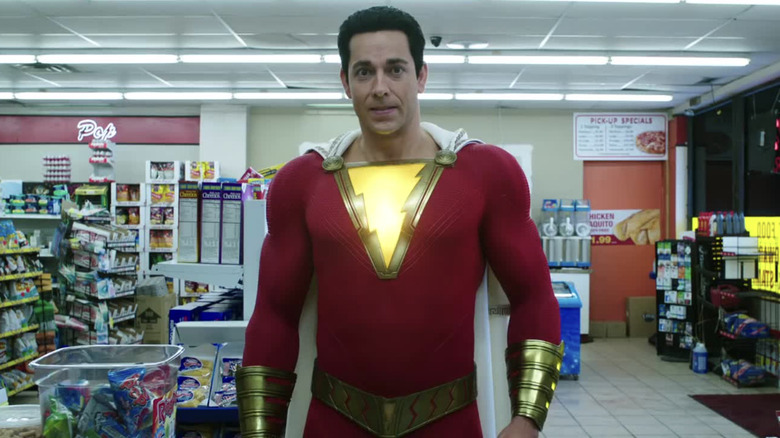 New Line Cinema
Before the Rock changed the hierarchy of power in the DC Universe, there was another character who had been blessed with the power of the gods. That character is Shazam, who made his big screen debut in the 2018 film of the same name directed by David F. Sandberg. When thinking of directors who could bring a lighthearted superhero like Shazam to life, Sandberg is certainly an inspired choice. Before becoming the director of "Shazam!" Sandberg had previously made the horror films "Lights Out" (based on his original short film) and the prequel film "Anabelle: Creation." So, when Newline began their search for a director, Sandberg's talents behind the camera with these two horror films seemingly made him the best fit.
"Shazam!" at the time of its release was unlike the DC Universe films, offering a lighthearted and very comedic take on the comic book movie genre. Most, if not all, of the comedic moments came from the fact that Shazam was a young boy in a superhuman body. Unsurprisingly, Sandberg's more upbeat and aloof take on the superhero was inspired by a Tom Hanks classic with a similar premise. Moreover, Sandberg was given this movie as a reference when producers first approached him about directing the film.
'It's like Big meets Superman'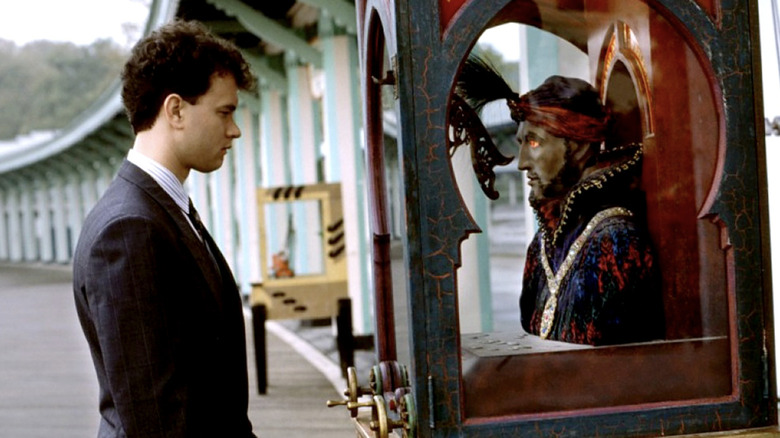 20th Century Studios
In a behind-the-scenes featurette on the making of "Shazam!" David F. Sandberg talked about how he got involved with the project and how the people at New Line cinema pitched it as a superhero version of the Tom Hanks classic "Big:"
"I was finishing up 'Annabelle: Creation' and got a call from New Line asking if I'd be interested in directing Shazam. And, you know, they were pitching it to me like, 'It's like Big meets Superman or Big with superpowers,' and to me, it was just like, 'Yes!' Like, I don't know why, what exactly they saw in me having done two horror movies for them, but that sounded like the best idea in the world."
Sandberg is saying what everyone else was thinking, as the idea of a director who had only made intense horror taking on a comic book film feels unconventional. However, producer on the film (and newly instated co-CEO of DC Studios) Peter Safran knew from the start that Sandberg would be the perfect director to take on "Shazam!"
"Everybody at New Line had such a great experience with David on Annabelle: Creation, and he's a guy who was clearly ready to step up to that next level. And in the same way that James Wan had stepped up from Conjuring to Aquaman, it really made sense to take Sandberg from Annabelle to Shazam. David's a guy who's become known for his horror background. What people don't know is he's got a tremendous background in comedy."
An overlap in genres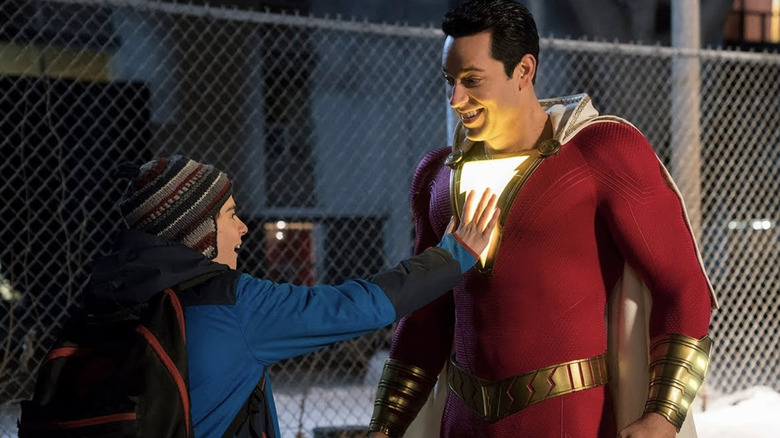 New Line Cinema
When you look at other directors like Jordan Peele, who made the jump from comedy to horror with films like "Get Out" and "Us," there's a clear overlap in creatives involved in horror and comedy projects. While Peele's journey to horror was the opposite of Sandberg's (going from horror to comedy), the "Shazam!" director believes there are similarities, as he and Henry Gayden (writer of the film) would say so in the same featurette:
Sandberg: "I think horror and comedy share a lot of similarities."

Henry Gayden: "They're both visceral genres that need to jolt the audience and get them to react."

Sandberg: "And that's what I like. That sort of idea of manipulating the audience and sort of playing them just right."
Looking back at the production of "Shazam!" there's a clear path the newly formed DC Studios can take. Peter Safran's understanding of Sandberg's potential to successfully bring "Shazam!" to life is the kind of faith in unconventional directors the studio should continue to have. Hopefully, this new start for DC with Gunn and Safran at the helm can lead to more projects with unexpected and exciting creative decisions to give comic book films a refreshingly unique feel.