How Cate Blanchett Created Her Chimp Voice For Guillermo Del Toro's Pinocchio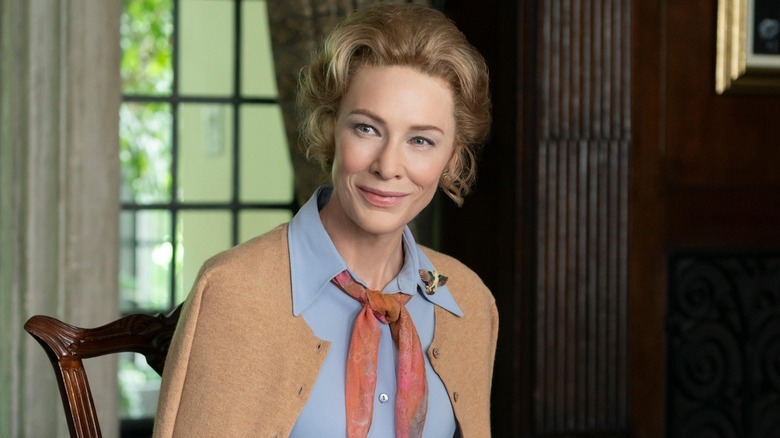 Hulu
Cate Blanchett is one of our best actors working today, a phenomenal performer who has taken on countless dialects, accents, personalities, and looks as she has embodied all kinds of characters from a sketchy psychiatrist in "Nightmare Alley," to the Lady of Lothlórien herself. Now, Blanchett may be taking on her biggest challenge yet: playing a carnival monkey in Guillermo del Toro's "Pinocchio."
That's right, a monkey. 
Blanchett is playing Sprezzatura, a mistreated monkey working for a carnival owner who ends up enticing Pinocchio to leave his home in del Toro's version of the story. The product of over a decade of effort and heartbreak, del Toro is finally unleashing "Pinocchio" on the world, and despite there already being two other takes on the story released this year, this one feels completely fresh. A meticulously animated stop-motion film that combines masterful puppetry with live-action techniques as del Toro mixes his love of Frankenstein and other monsters with the classic folk tale to tell a universal story of fatherhood, disobedience, creation, and feeling like a monster. The result is one of del Toro's best movies in years, a challenging film "with knotty, complex questions and real peril" as our review says, and one with a stacked cast that includes David Bradley, Ron Perlman, Christoph Waltz, Tilda Swinton, Ewan McGregor, and of course, Blanchett.
Monkey shriek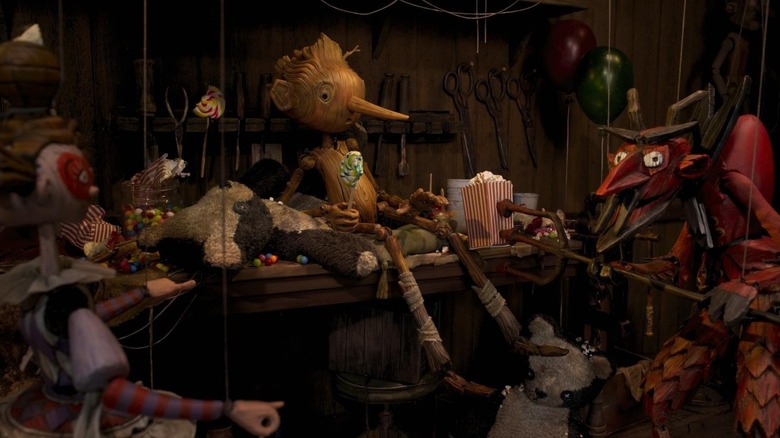 Netflix
While on an episode of "Hot Ones," in the middle of munching on some ludicrously hot wings, Blanchett spoke about finding the voice of Sprezzatura in "Pinocchio," and whether finding the voice of a monkey equated to finding the voice of a character that requires studying a different dialect.
"It was kind of a melange of a lot of different chimps," Blanchett said. "But if you listen to a lot of chimps they do sound very different depending on their age, and then you just get in there and work out what makes Guillermo laugh. And yeah, that's what I did." The actor then compared doing random monkey shrieks to "a bit of an opera warm-up" or stress test. "It wasn't tedious, but it was taxing. Because you get into the booth and it's like hour after hour of [monkey shriek]."
Now, hiring a two-time Academy Award-winning actor to do monkey noises may seem unnecessary, like absolute overkill. Then again, when you're beloved Award-winning filmmaker Guillermo del Toro and you're finally making a movie you've been dreaming about for years, why not gather all your friends and favorite collaborators to voice even the most seemingly unnecessary characters in your movie? 
"Guillermo del Toro's Pinocchio" is set to be released in theaters this November, and will hit Netflix on December 9, 2022.