Guillermo Del Toro's Pinocchio Was Approached Like A Live Action Film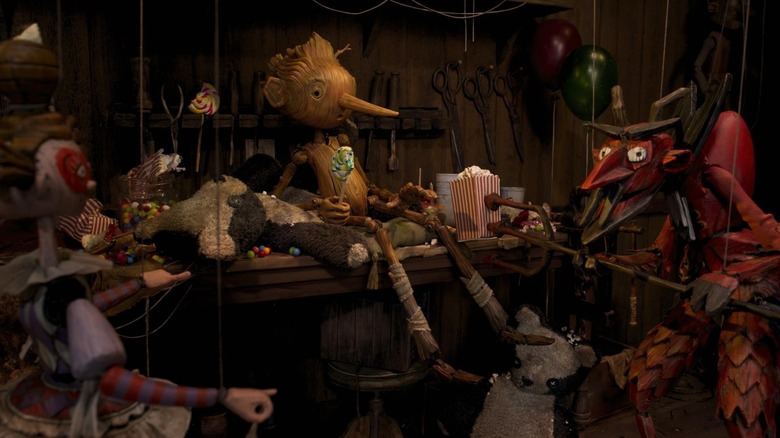 Netflix
2022 is bringing us not one, but two new unique visions of the classic tale of "Pinocchio." One we've already seen in the form of Disney's live-action/CGI hybrid from director Robert Zemeckis which was, to put it nicely, not exactly embraced by the critical community. The next up to bat hails from the mind of Guillermo del Toro, the man behind "The Shape of Water" and "Nightmare Alley." In this case, we're getting a dark take on the material, but one that is stepping into the world of animation. However, del Toro and his co-director Mark Gusafson approached the film as though it were live-action.
/Film's own Jeremy Mathai recently attended a press junket for Guillermo del Toro's "Pinocchio," which is set to hit Netflix later this year. During the conversation, del Toro and Gustafson explained the bible that they put together for the film, ultimately leading to a live-action-esque approach.
"There are certain principles," del Toro said. "We wanted the movie not to be like any other animation movie, really, if we could." He continued:
"You may have noticed, the acting is not pantomime. The acting is naturalistic, with a lot of micro gestures on the actors. We jokingly said let's take these puppets and not do silent film animation but actor studio level. They have throwaway gestures. They age, they are weak, and they are tired. They have failed acts. It takes three and three tries to close the door, etc, etc, etc, and the bible came from there."
Gustafson added, "There's so many things you get in live action, which is the way we approach this film — very much like a live action film," continuing:
"But there's accidents that happen that gives you something real, that makes you feel like, oh, I'm watching something actually unfolding here. So we aggressively went after those things and tried to build those into our animation."
A layer of realism to the fantasy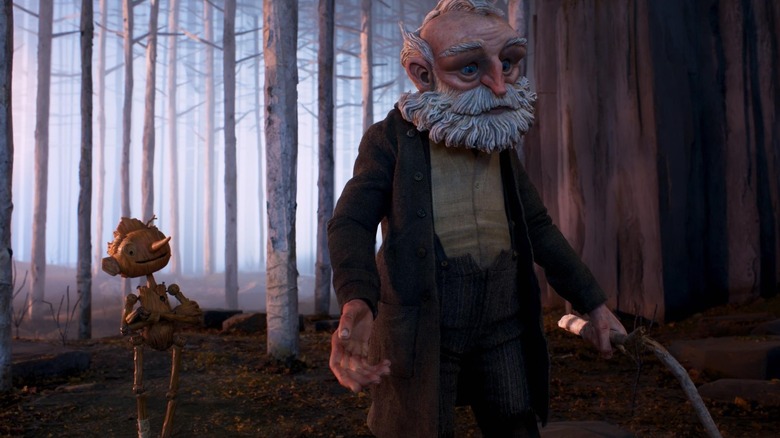 Netflix
Anyone who has seen the trailer for del Toro and Gustafson's take on Carlo Collodi's classic tale would be able to tell you that this is a very different read of the material. Just because it's animation doesn't mean it's going to remotely resemble the original Disney animated classic, or any other incarnation for that matter. That having been said, this is inescapably a fantasy story and one that seems right at home in stop-motion.
That having been said, approaching this with a touch of realism doesn't seem like a bad way to go. Giving animated characters who can, in theory, be flawless if the filmmakers and animators want them to be, human imperfections, will certainly add something. After all ,this is the tale of a wooden puppet who wishes to become a real boy, for better or for worse. Treating this with a live-action sensibility will help the world feel a bit more real.
Guillermo del Toro's "Pinocchio" hits Netflix on December 9, 2022.
Academy Award-winning filmmaker Guillermo del Toro reinvents Carlo Collodi's classic tale of the wooden marionette who is magically brought to life in order to mend the heart of a grieving woodcarver named Geppetto. This whimsical, stop-motion film directed by Guillermo del Toro and Mark Gustafson follows the mischievous and disobedient adventures of Pinocchio in his pursuit of a place in the world.