Pinocchio Trailer: Guillermo Del Toro's Dark Twist On The Classic Puppet Comes To Life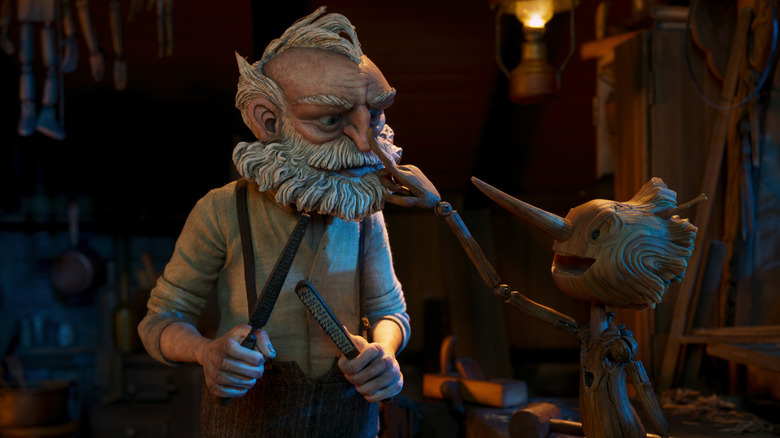 Netflix
After you've seen one take on "Pinocchio," you've seen them all, right? Even in this age of major studios rushing headlong to strip mine every IP under the sun for the nostalgia factor, the idea of another story about the wooden puppet on strings who wants to become a real boy doesn't seem like it would hold much substance ... until you consider the name of the filmmaker who seems fully intent on putting his own stamp on the classic tale.
Guillermo del Toro is hardly a stranger to the types of cinematic monsters that most others (read: boring people) would feel repelled by. After all, this is the director who turned "Hellboy" into one of the best and most sincere superhero duologies around — seriously, just watch this scene all over again and try not to get caught up in the emotions of it all — and managed to snag a Best Picture win at the Academy Awards for the movie about a woman who falls in love with a fish-man. So when del Toro's long-delayed attempt to filter the story Pinocchio through his wonderfully unique sensibilities finally became a reality, everyone in the know quickly put this project at the very top of their most highly-anticipated films.
After years of false starts and delays and setbacks, however, we're thrilled to report that our first real look at "Pinocchio" is finally here. Feast your eyes on the exquisite footage below!
Pinocchio trailer
It takes a special talent to breathe fresh new life into a century-old fairy tale, but that's exactly what Guillermo del Toro appears to have done with this new stop-motion animated adventure. Teased right from the outset as a "darker" take on the well-known story, the "Crimson Peak" and "Nightmare Alley" director has clearly brought over every iota of his storytelling might to this reimagined fable of a grief-stricken father named Geppetto and the "son" he inadvertently wills into being.
Co-directed by del Toro and Mark Gustafson (the animation director on "Fantastic Mr. Fox") and with writing credits by del Toro, Matthew Robbins, Gris Grimly, and Patrick McHale, "Pinocchio" features an impressive voice cast led by Ewan McGregor as Sebastian J. Cricket, David Bradley as Geppetto, Finn Wolfhard as a character named Candlewick, Cate Blanchett as the monkey Spazaturra, Christoph Waltz as the villainous Count Volpe, and Gregory Mann in his first role as the eponymous Pinocchio. The rest of the cast includes Tilda Swinton, John Turturro, Tim Blake Nelson, Burn Gorman, and, of course, del Toro regular Ron Perlman.
"Pinocchio" will debut on Netflix on December, 2022.
Academy Award®-winning filmmaker Guillermo del Toro reinvents Carlo Collodi's classic tale of the wooden marionette who is magically brought to life in order to mend the heart of a grieving woodcarver named Geppetto. This whimsical, stop-motion musical directed by Guillermo del Toro and Mark Gustafson follows the mischievous and disobedient adventures of Pinocchio in his pursuit of a place in the world.