Pinocchio First Look: Guillermo Del Toro's Stop-Motion Animated Netflix Movie Comes To Life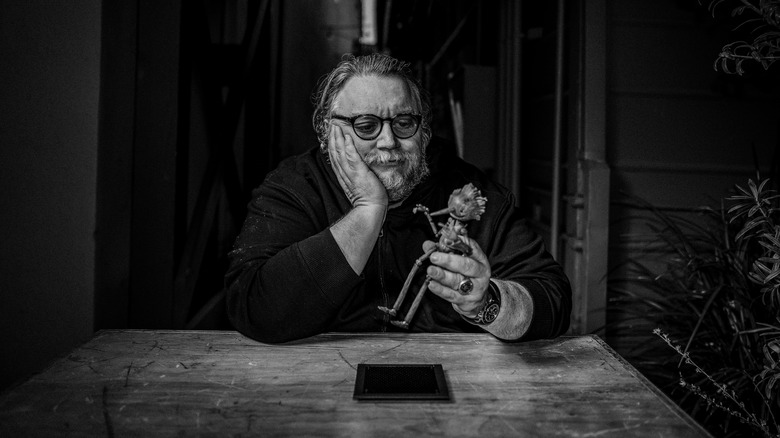 Netflix
To those looking for more of the same old takes on the "Pinocchio" story that have been done to death at this point: look away now! Director Guillermo del Toro is perhaps most well-known for exploring topics rife with gothic romance, frightening monsters, and occasionally a fish-dude who wins the affections of a human woman — "The Shape of Water," of course, went on to win Best Picture against all odds and further bring del Toro's unique sensibilities into the mainstream. It's clear why this particular project — which has been over 10 years in the making – would appeal to a filmmaker with del Toro's primary interests.
After several long months of teases that have set expectations immeasurably high and with only one brief teaser to show for it, we're finally getting a more extensive look at what co-directors del Toro and Mark Gustafson (the animation director on "Fantastic Mr. Fox") have been cooking up with "Pinocchio." The new details come courtesy of Vanity Fair, which reports that this new stop-motion animated take on the classic tale will take its cues from some unexpected (but fitting!) sources. del Toro, to nobody's surprise, will be taking an utterly fascinating approach that's grounded in the type of story he knows best:
"I've always been very intrigued by the links between 'Pinocchio' and 'Frankenstein.' They are both about a child that is thrown into the world. They are both created by a father who then expects them to figure out what's good, what's bad, the ethics, the morals, love, life, and essentials, on their own. I think that was, for me, childhood. You had to figure it out with your very limited experience."
'It tackles very deep ideas about what makes us human'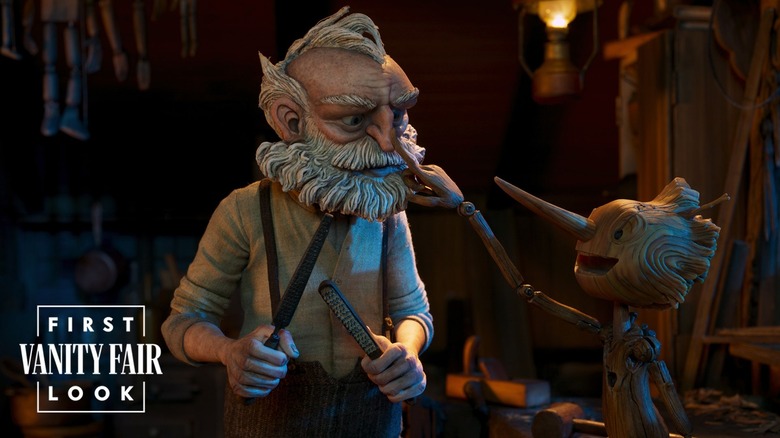 Netflix/Vanity Fair
Children of all ages are brought up knowing the ins and outs of Pinocchio — or, at least, the most traditional retellings of that story. The animated Disney adaptation has become so ingrained in our pop culture that many viewers may be shocked by del Toro's vastly different (but more faithful) take on the familiar material. To the director, that's precisely what makes this new film so necessary for a new generation of viewers in a much less simplistic world:
"These are times that demand from kids a complexity that is tremendous. Far more daunting, I think, than when I was a child. Kids need answers and reassurances... For me, this is for both children and adults that talk to each other. It tackles very deep ideas about what makes us human."
We've known that del Toro held high ambitions for exploring the rich themes of the original 1883 story by author Carlo Collodi, but viewers may not be fully prepared for just how distinct this take will be from the adaptations we've all grown used to. According to del Toro, "We couldn't be more different than any other version of 'Pinocchio' in our spiritual or philosophical goals, or even the setting." Set in Italy during the volatile period of time between both World Wars, "Pinocchio" draws a direct parallel between the urge to capitulate to fascism in "almost puppet-like faithfulness," and Pinocchio's own struggles:
"Blind obedience is not a virtue. The virtue Pinocchio has is to disobey. At a time when everybody else behaves as a puppet — he doesn't. Those are the interesting things, for me. I don't want to retell the same story. I want to tell it my way and in the way I understand the world."
Unfamiliar faces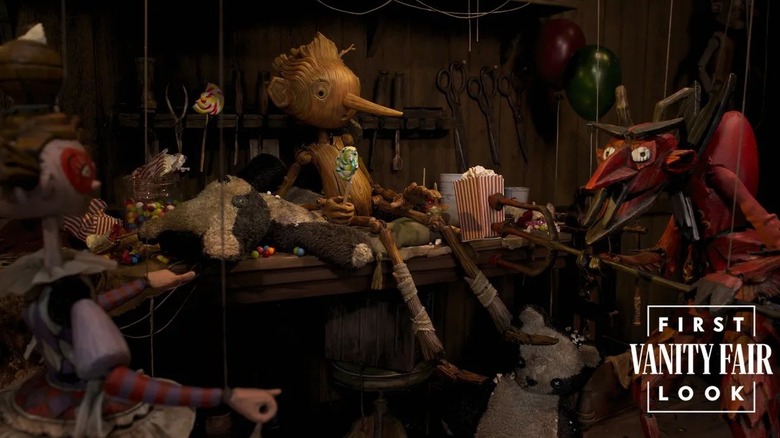 Netflix/Vanity Fair
Pinocchio himself will be voiced by fresh-faced actor Gregory Mann and will retain many of the traditional aspects of the puppet's jovial, optimistic, and almost naïve personality. However, this report reveals that his origins will be taken from a profound moment of loss for his creator, Geppetto (voiced by David Bradley). When his son Carlo tragically passes away, the heartbroken old man set the grave underneath a particular tree ... one that he will eventually carve Pinocchio from. The tension between the son that Geppetto wanted and the sentient puppet he receives instead will prove to be a source of conflict between the unlikely pair.
Luckily, Pinocchio will have company in Ewan McGregor's Sebastian J. Cricket, del Toro's answer to Jiminy Cricket. According to del Toro, we can expect him to undergo a touching arc of his own:
"In the beginning of the story, the cricket is full of self-importance. And towards the end, he's movingly humbled and he understands that it's not about teaching Pinocchio how to behave, but about himself learning how to behave."
The rest of the supporting cast will include Christoph Waltz as the villainous Count Volpe, Cate Blanchett's monkey named Spazaturra, and del Toro's consistent collaborator Ron Perlman as an authoritarian official with sinister designs in mind for Pinocchio (the character's son, Candlewick, will be voiced by Finn Wolfhard). The film will premiere on Netflix in December of 2022.