Guillermo Del Toro Now Co-Directing Stop-Motion 'Pinocchio'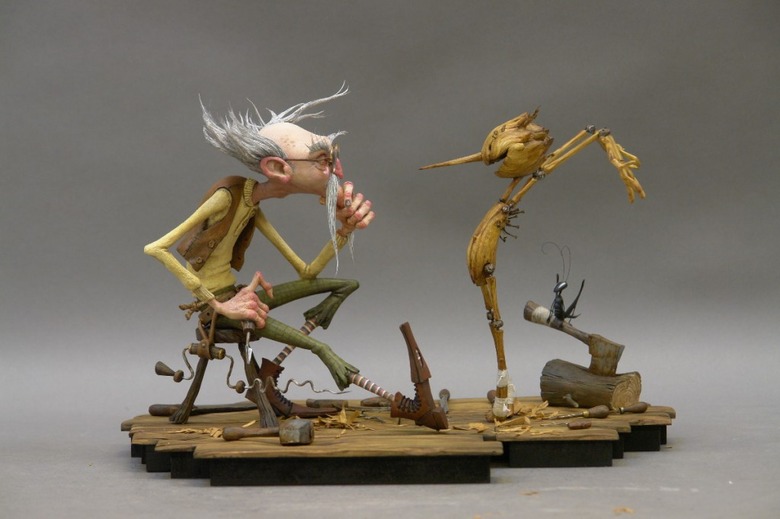 A few years ago Guillermo del Toro started working to produce a stop-motion animated take on Pinocchio. Despite some solid attached talent, like Fantastic Mr. Fox animator Mark Gustafson as co-director with Gus Grimly, whose illustrated take on the story helped spawn the project, this one has taken time to get to the production stage. That's even with the Jim Henson company behind the development, too.
So, with the number of projects del Toro has started to produce over the past few years stacked against the ones that have actually been finished, I'd understand if anyone took a 'wait and see' attitude towards this Pinocchio. Now it might have taken a big step towards a green light, however, as del Toro says that he'll co-direct the film with Gustafson, with a summer 2013 shoot planned.
GDT told Variety the film takes place in Italy between the two World Wars when, as he says, "everyone was behaving like a puppet, except for puppets."
So what happened to make him want to take the director's chair? Guillermo, who wrote the story with Grimly and Matthew Robbins, said "little by little, I realized that I should direct." And he'd once wanted to direct this himself, back before Pan's Labyrinth. His statement today could mean a lot of different things — was Grimly not getting the job done, somehow? Did del Toro simply not want to watch others direct? What other circumstances were at play? In the end it doesn't really matter.
The trade says this will be a complex, year-long shoot. So after Pacific Rim is finished and released, del Toro will be occupied with the little wooden boy for some time.
There has to be darkness in any fairy tale or children's narrative work, something the Brothers Grimm, Hans Christian Anderson and Walt Disney understood. We tend to call something Disney-fied, but a lot of people forget how powerfully disturbing the best animated Disney movies are, including those kids being turned into donkeys in Pinocchio. What we're trying to do is present a Pinocchio that is more faithful to the take that Colodi wrote. That is more surreal and slightly darker than what we've seen before.
At the time, Nick Cave was on board to provide musical consultancy, at least, if not actual tunes, and the puppets (examples of which is in the header image) were set to be made by UK company McKinnon and Saunders (Fantastic Mr. Fox, Corpse Bride).