Ncuti Gatwa's Doctor Who 'Mission' Is About Much More Than Himself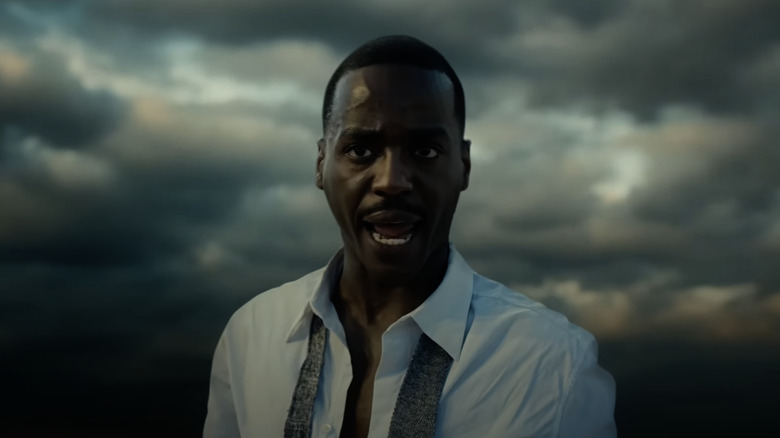 BBC
Ncuti Gatwa is one of the entertainment industry's quickest-rising stars. After three seasons of his trailblazing role as Eric Effiong in Netflix's fresh take on the teen sex comedy, "Sex Education," and landing a supporting role in Greta Gerwig's upcoming "Barbie" movie, Gatwa was officially announced by the BBC as the next Doctor in their historic sci-fi series, "Doctor Who," alongside Russell T Davies who is returning once again as showrunner since he revived the show for a new era back in 2005.
This past week, Thirteenth Doctor Jodie Whittaker and Showrunner Chris Chibnall passed down the torch in "The Power of the Doctor," the big finale to Thirteen's messy but historic era of the show. At the end of the special episode, Thirteen finally regenerated — but instead of regenerating into Ncuti Gatwa's version of the Doctor like everyone expected, fans were shocked to see the Thirteen regenerate (or, degenerate?) back into the Tenth Doctor, David Tennant.
Rest assured, the BBC was kind enough to release a teaser for the upcoming 60th anniversary special, and in it, our first glimpse at Ncuti Gatwa as the titular Doctor in action. How this all works out remains to be seen, but we trust this new era of "Doctor Who" is in great hands.
Though fans are rejoicing, there's probably no one more pumped for this era of the time and space bending than Gatwa himself. For the Rwandan-Scottish actor, embodying the Doctor is not just personally satisfying, it's also a great cultural responsibility.
My mouth gets paralyzed by the concept of playing this role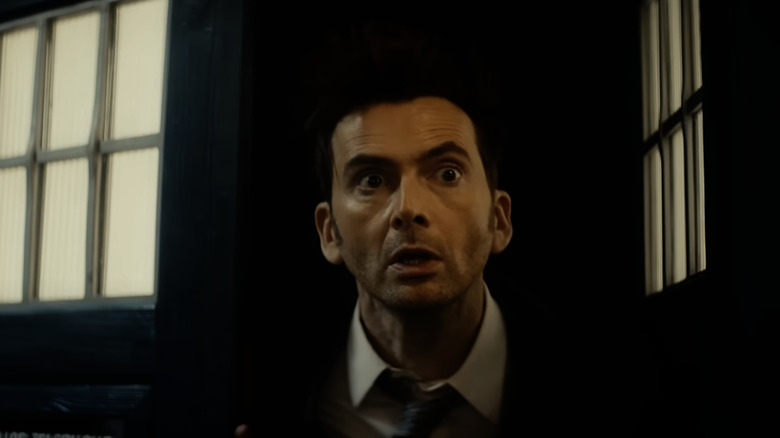 BBC
With its everlasting premise and flexible titular role, "Doctor Who" is a show designed at its core for reinvention. When it comes to Gatwa and Davies' new era of the series, the BBC knows that they have a potential hit on their hands. This week, they finalized a distribution deal with Disney+ to host new seasons of "Doctor Who" globally outside of the UK and Ireland on their platform. With a fresh, new actor to lead the way, there's hope that this new era of the show will invite new and returning viewers alike.
During a luncheon between the BBC and Disney, Gatwa opened up about the pressure of inheriting this beloved series. "My mouth gets paralyzed by the concept of playing this role," Gatwa said. He further explained the show's cultural value, its roots "are so deep in British culture and the fabric of British-ness that as a Rwandan immigrant to the country, it feels just really powerful."
Indeed, Gatwa's casting as the first Black actor to play the Doctor feels like a monumental shift in history. "Doctor Who" is not just any TV series, it is a British pop culture phenomenon, one that has been publicly funded and broadcast on the BBC for decades. It's sci-fi that predates "Star Wars" and "Star Trek," embodying the Doctor essentially means becoming a cultural mascot for the next few years. Gatwa stresses this is not just a personal victory for him and his family, but also "for people of color, for marginalized people who really gravitate towards the show because it's about friendship and it's about adventure and it's about union and unity."
Ncuti Gatwa understands that Doctor Who's core message is one of unity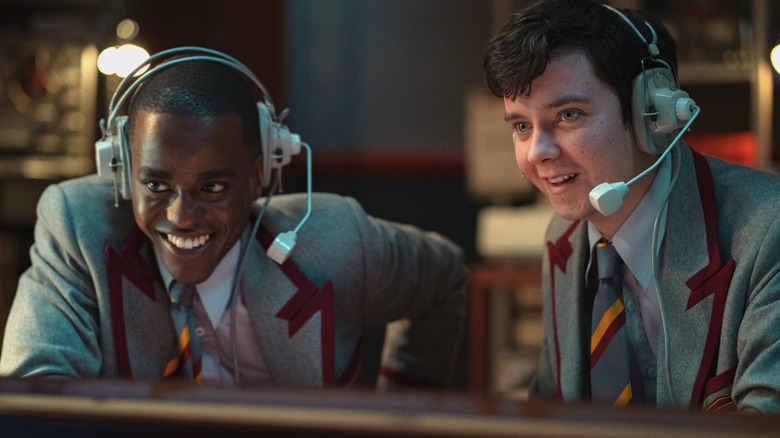 Netflix
Gatwa's BAFTA Scotland award-winning run on "Sex Education" as Eric was sublime, capturing an honest and empathetic portrayal of an openly gay teenager with genuine wit and charisma. Between his well-established talent and his great grasp on what makes "Doctor Who" so universally impactful, we're fully confident Gatwa will bring something new to a character who's been around for almost 60 whole years.
"Doctor Who is able to turn into anything or anyone, so the possibilities are endless," Gatwa continued, adding: 
"So the fact that mission is going out to lots of people, that the possibilities are endless, is extremely cool."
Ncuti Gatwa will make his first appearance as the Doctor in the 60th anniversary special, premiering in 2023.