Why David Tennant Was 'Worried' About That Doctor Who Regeneration Twist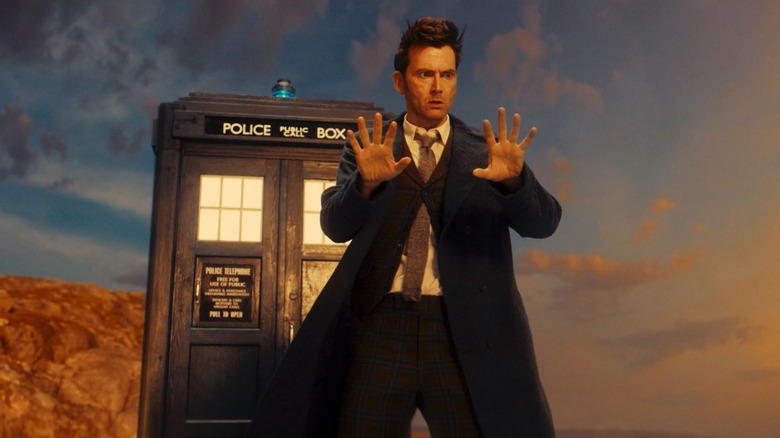 BBC
"Doctor Who" is always taking itself in bold, unexpected directions, but the ending to their latest episode might be their most ambitious one yet. "The Power of the Doctor" was Jodie Whittaker's final episode, but she did not regenerate into Ncuti Gatwa's expected Fourteenth Doctor. Instead she regenerated into ... David Tennant again. That's right, the Tenth Doctor is now also going to be the Fourteeth, at least for a little bit in 2023 before Gatwa takes over for good.  
It's an interesting choice for showrunner Chris Chibnall to leave his era off on, and an exciting one for former showrunner Russell T. Davies (who was in charge throughout Tennant's run) as he returns to run the show yet again. It's going to be a year before this cliffhanger is resolved in the three 60th Anniversary special episodes, which is also expected to include the return of Donna Noble (Catherine Tate). Neil Patrick Harris and Ncuti Gatwa are also expected to play prominent roles, although we don't have many details yet.
Basically: there's a lot for "Doctor Who" to be excited for. But for David Tennant, there's also a lot to be worried about. In a recent interview, he explained that, "I think I was worried before I got there that it might be difficult to get in the groove again." It's been nearly 10 years since he last put on that trench coat, after all.
Returning to an old role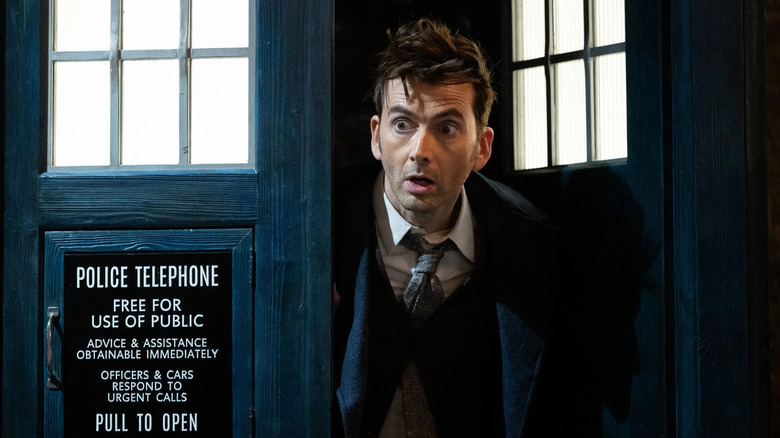 BBC
Some apprehension seems healthy, because the long-running show has never done something like this before. When Tennant returned for the 50th anniversary special in 2013, his character was brought into the storyline through time travel, not by the current Doctor's regeneration. Tennant played a major role in the episode, but the main focus was still on Matt Smith's Eleventh Doctor. 
"There's a bit of a precedent in this show that all Doctors maybe turn up for a special now and again, but usually in cohort with the current team," Tennant said. Taking over completely is a whole other situation. 
Despite that, Tennant still seems more than happy about the experience so far, and has found returning to his old role to be "weirdly straightforward." The fact that Tennant also seems to have not aged much at all since 2010 helps a lot; watching his brief scene at the end of the latest episode, it feels like his portrayal hasn't changed a bit.
More than anything, Tennant seems grateful for this new opportunity, as bizarre as it may seem. "What a lovely, lovely thing to get to revisit something that was such a wonderful, happy, significant time in my life," he said. "It's been an absolute joy."