How Henry: Portrait Of A Serial Killer Got Michael Rooker His Eight Men Out Role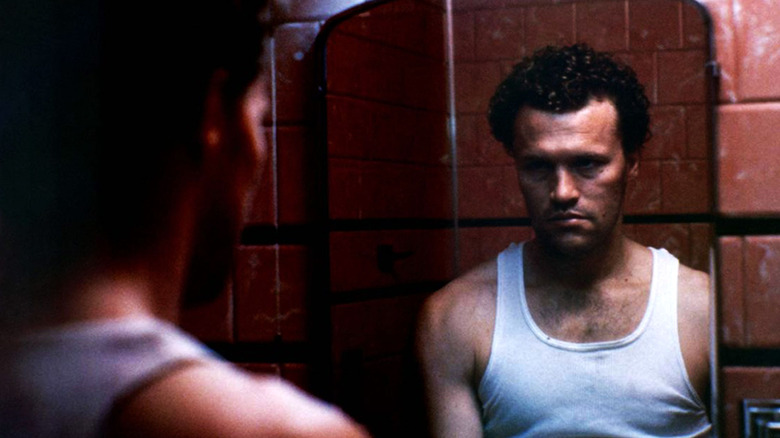 Greycat Films
Some actors inhabit their roles so thoroughly that it turns audiences off. Jack Gleeson's turn as the abominable Joffrey Baratheon in HBO's adapted "Game of Thrones" series immediately comes to mind. Actors inhabiting the role of an unsavory character have to hit a Goldilocks zone between a believable performance and capturing a repulsive character "a little too well," but scratch the surface of revolted viewers and you'll find plenty who appreciate what the actor brought.
Such was the case for Michael Rooker, star of John McNaughton's grimy 1986 cult classic "Henry: Portrait of a Serial Killer" loosely based on convicted real-world serial killers Henry Lee Lucas and Ottis Toole (played by Tom Towles). The film's handling of its subject matter is so raw that controversy naturally emerged alongside its release; its graphic depiction of several murders earned "Henry" an X rating from the MPAA and solidified it as a badge-of-honor movie to any cinephile who makes it to the end credits.
Speaking with Birth Movies Death on the 30th anniversary of "Henry," Rooker looks back on the role and how a tape of his performance made its way to director John Sayles:
"Man, how great is that? I had an audition for 'Eight Men Out,' and I had given the casting director a tape of 'Henry.' She didn't even watch the whole thing – just the first five minutes or so. Then she took it out of her cassette player and locked it in her desk drawer. Just refused to show it to the director. The only reason she ended up showing it was because they weren't going to cast me if they hadn't seen anything I did before. So she was like, "well, he has done one thing..." John Sayles ended up loving the movie and I got the role."
White sox, dirty hands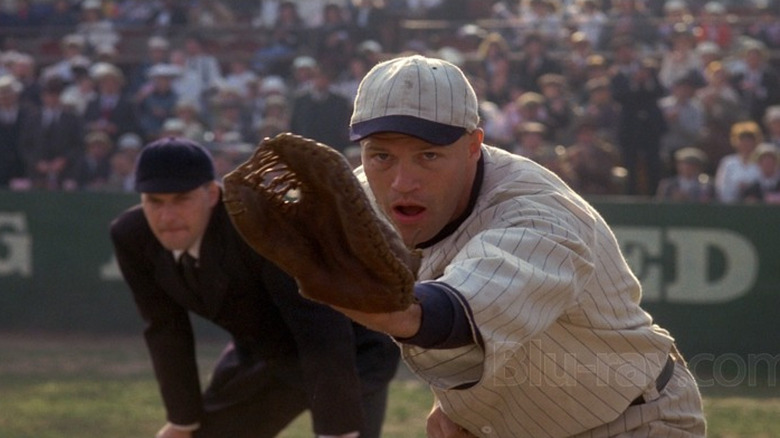 Orion Pictures
Rooker's role in Sayles' 1988 sports drama "Eight Men Out" was that of another real-life figure, one who took his menace out on baseballs rather than sex workers. Chick Gandil is credited as the ringleader of the 1919 Black Sox scandal which saw eight members of the Chicago White Sox conspiring to throw the 1919 World Series to the Cincinnati Reds. The whole mess landed the players in court where they were acquitted for lack of evidence; nonetheless, the first appointed Commissioner of Baseball, Judge Kenesaw Mountain Landis, slapped a permanent ban on all eight conspirators and the doors of the Baseball Hall of Fame were shut to them forever.
Coming in at 6"1' and a hair under 200 pounds, Gandil was an imposing figure known for his mean-mugging countenance. It's easy to imagine Sayles watching this scene and observing the duality of Rooker's Henry:
Watching Henry – who, by this point in the movie, has already killed several innocents – shift into brutality so quickly over an objection to incestuous behavior showcases a contradictory moral compass; Sayles' baseball movie may not have needed a serial killer, but it certainly called for a contradictory tempest of skill, and dishonor, and Rooker proved more than capable of playing a paradox in cleats.
Rooker has since worked with Oliver Stone in "JFK," became a frequent collaborator with James Gunn in works like "Slither" and the "Guardians of the Galaxy" films, and battled zombies in AMC's "The Walking Dead" series. "Henry" fans will be overjoyed to hear that Rooker is reuniting with John McNaughton forty years after they first worked together, on a vigilante film (and video game?) titled, "Road Rage." Knowing his penchant for transgressive stories hitting a sweet spot between lowbrow subject matter and artful character study, "Road Rage" is sure to disturb.