Cult Classic Henry: Portrait Of A Serial Killer Is Getting A Loaded 4K Release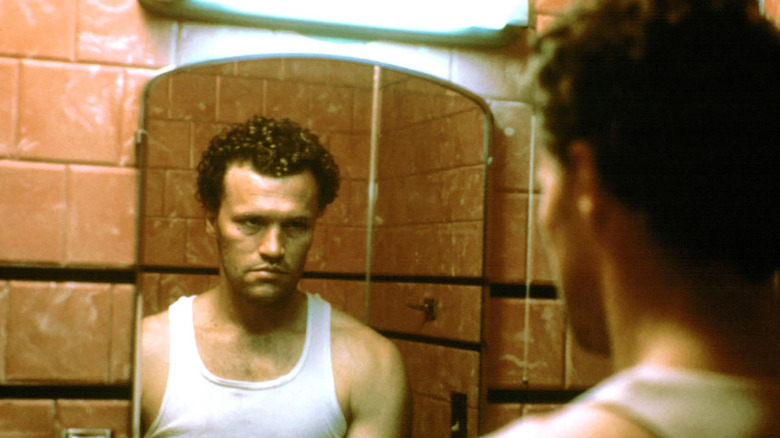 Greycat Films
The 1986 cult horror classic "Henry: Portrait of a Serial Killer" is a raw, rough interpretation of the real-life serial killers Henry Lee Lucas and Otis Toole. Co-written and directed by John McNaughton, the film is a gritty, gory look at two men who carry out sadistic murders and videotape them. The film is notorious for its intense violence, and was given an X rating (comparable to a modern NC-17) upon its release. Michael Rooker ("Guardians of the Galaxy") and Tom Towles ("House of 1000 Corpses") play Lucas and Toole, respectively, imbuing them with a kind of menace that's hard to put into words. 
The fine folks at Arrow Video are putting out a new 4K HD Limited Edition box set, loaded with special features for the discerning horror fan. While this is a U.K.-only release, there's good news: 4K discs are always region-free, so viewers in other parts of the world will be able to watch without needing a special player. If you can play 4K, you can watch this baby. 
A Box Set to Die For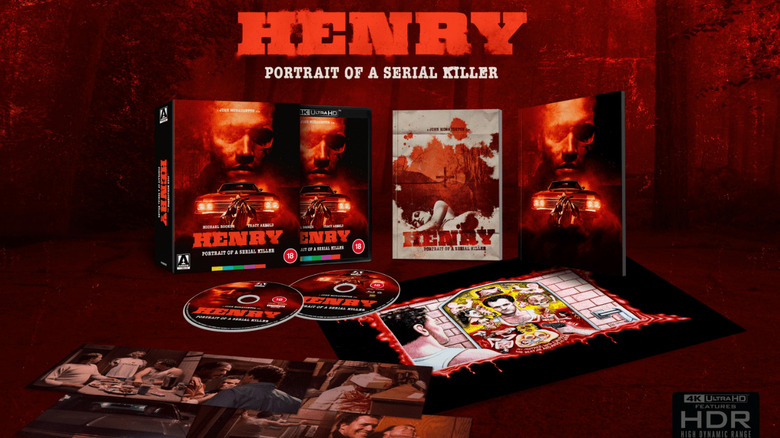 Arrow Video
"Henry: Portrait of a Serial Killer" follows Lucas after he's released from prison and finds a place to stay with fellow criminal Toole in a run-down Chicago apartment. When Toole's sister Becky moves in with them, the pair's murderous tempers begin to flare, and no one is safe. At night they hunt on the city streets, killing seemingly without forethought or remorse. The movie is a cult classic, beloved by true crime fans and horror aficionados alike. 
The new Arrow release is absolutely loaded with features, and will come with a 4K UltraHD restoration from the original 16mm film negatives as well as a standard Blu-ray disc of special features, new artwork, and more. Here's the full specs for this set, which is available for pre-order for £30, or about $40 USD. Here's everything that comes with the limited edition release:
4K Ultra HD Limited Edition Contents:
Brand new 4K restoration from the original camera negatives, approved by John McNaughton
4K (2160p) UHD Blu-ray presentation in HDR10.
Original 2.0 stereo mix and 5.1 DTS-HD Master audio
English subtitles for the deaf and hard of hearing
Reversible sleeve featuring original and newly commissioned artwork by Eric Adrian Lee
Limited edition 60-page booklet featuring new writing by Shaun Kimber, Peter Vronsky, Alexandra Heller-Nicholas and Julian Petley
Booklet containing the original storyboards for Henry: Portrait of a Serial Killer
Double-sided fold-out poster
Six collector's postcards (Limited Edition exclusive)
Disc One – Features & Extras (4K Ultra HD):
Brand new 4K restoration from the original camera negatives
4K (2160p) UHD Blu-ray presentation in HDR10.
Brand new audio commentary by John McNaughton & Steven A. Jones
Two archive commentaries by John McNaughton
Scene specific commentaries with John McNaughton and critic Nigel Floyd
Deleted scenes and outtakes
Original script
Original theatrical and 30th anniversary trailers
Image gallery
Disc Two – Bonus Disc (Blu-ray):
Portrait: The Making of Henry, a 50-minute behind-the-scenes documentary
In Defense of Henry, an appreciation by Joe Swanberg, Kim Morgan, Jeffrey Sconce, Joe Bob Briggs and Errol Morris
Twisting the Lens: The Diegetic Camera and Voyeurism in Henry, exclusive new documentary with John McNaughton, Adam Rockoff, Anna Bogutskaya and Jonathan Rigby discussing killers behind cameras
Henry vs. MPAA: A Visual History, the story of the struggle to get Henry into North American theatres
Henry at the BBFC with Stephen Thrower, discussing Henry's troubled history at the hands of the British censors
John McNaughton on Henry: Portrait of a Serial Killer, exclusive new interview with John McNaughton and Stephen A. Jones, conducted at the time of Henry's UK premiere in February 1990
Interview with John McNaughton, from 1998
It's Either You... Or Them: An Interview with Joe Coleman, the artist behind Henry's legendary original theatrical release poster
John McNaughton in conversation with Nigel Floyd, interview from 2003
In the Round: A Conversation with John McNaughton, conducted by Spencer Parsons in 2016