How To Watch Don't Worry Darling At Home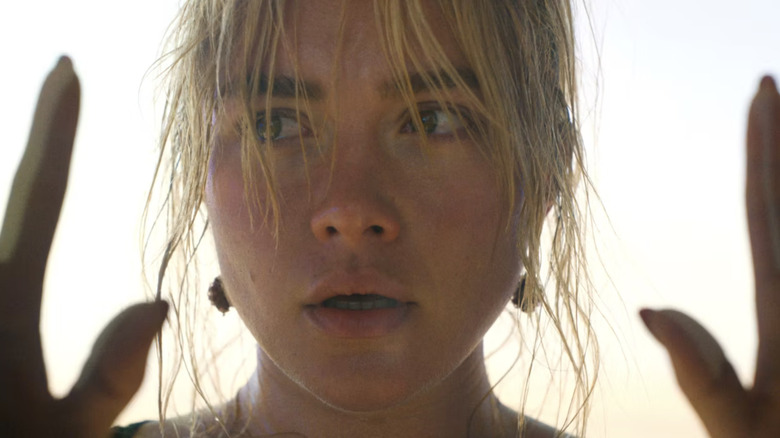 Warner Bros.
Olivia Wilde's latest directorial venture, "Don't Worry Darling," was one of the most talked-about films of the year, mostly due to the off-screen drama surrounding the cast and crew, since the overall film was, as we described in our review, a stylish thriller that fell short of its high-minded ideas. The Florence Pugh ("Little Women"), Harry Styles ("Dunkirk"), Gemma Chan ("Crazy Rich Asians"), KiKi Layne ("The Old Guard"), Chris Pine ("All the Old Knives"), and Wilde ("Babylon"), starring film was inspired by the classic Hollywood films of yesteryear, set in an idealized community called Victory in an alternate 1950s with a sinister secret bubbling beneath its idyllic varnish. "Don't Worry Darling" was a moderate success at the box office, but the psychological thriller will soon be able to be enjoyed from the comfort of your own home.
When is Don't Worry Darling streaming?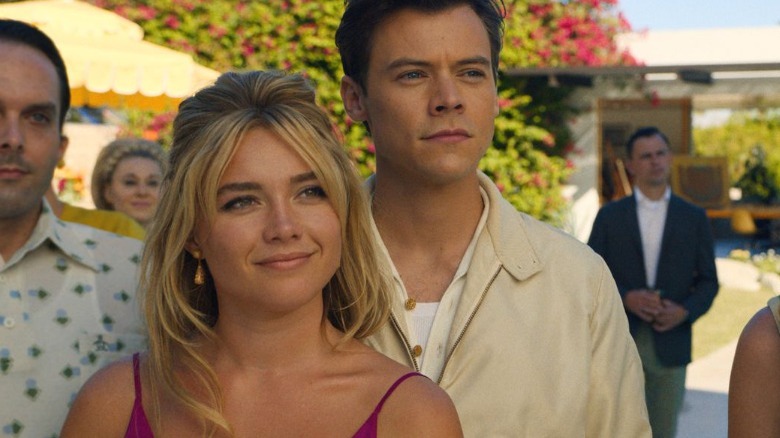 Warner Bros.
New Line Cinema and Warner Bros. Pictures will follow in the footsteps of many other WB films by streaming first on HBO Max. The film will be available to HBO Max subscribers starting on November 7, 2022. 
Don't forget, before that, the film will be available for early Premium Digital Ownership at home for $24.99, and for 48-hour rental via PVOD for $19.99 on participating digital platforms where movie purchasing is available. The film will also be available on the Movies Anywhere app with participating digital retailer accounts, for those that use the cloud-based digital rights locker and over-the-top streaming platform that I definitely didn't just learn about today while writing this article. 
Furthermore, once the movie is out on Blu-ray and DVD at the end of November (more on that below), it will be available for rental at a much lower price, and if you buy the physical copy, you'll get a digital copy along with your purchase.
What about physical media?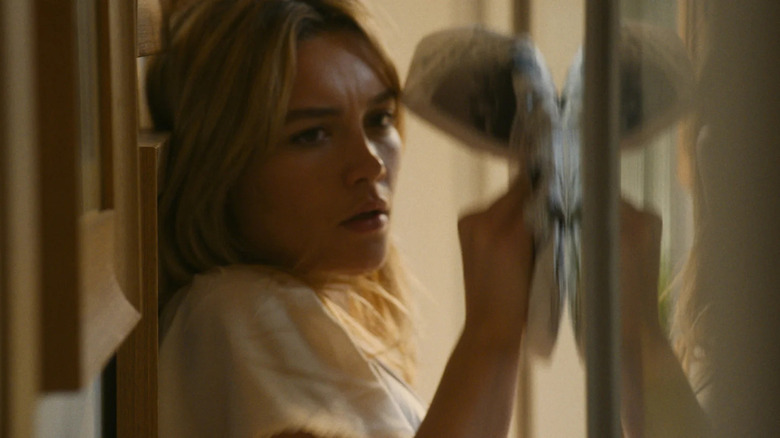 Warner Bros.
For those who prefer their movie ownership a bit more tangible, "Don't Worry Darling" will be available on 4K, Blu-ray, and DVD beginning on November 29, 2022. The film will continue to be available from participating digital retailers following the film's physical release, so you've got plenty of options to bring the film home. The physical release will also include a mini-documentary called "The Making of 'Don't Worry Darling,'" and a deleted scene called "Alice's Nightmare." These extras will be available on all physical releases, sans the solo DVD.
What's interesting is that the release doesn't include any sort of director's cut or extended cut, considering it's been made known that the final release of "Don't Worry Darling" cut a majority of the footage featuring KiKi Layne and Ari'el Stachel. Many criticized the film after noticing Layne and Gemma Chan, both women of color, were given less screen time than director Olivia Wilde's character Bunny, who is not as integral to the plot of the story. Perhaps they'll do an additional release down the line, or perhaps after all of the constant off-screen controversy, the creative team just wants to live and let die.