Jameela Jamil's Star Trek: Prodigy Character Continues Her Streak Of Playing A 'Pain In The Ass'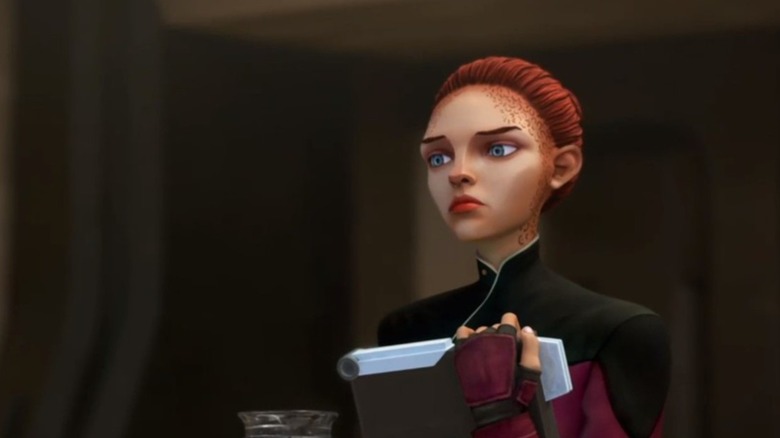 Paramount
The second half of "Star Trek: Prodigy" season 1 will begin airing on Paramount+ on October 27, and the series has already taken several dramatic turns. The show's central ship, the U.S.S. Protostar, will soon make contact with actual Federation officers for the very first time. This follows a period wherein nothing had been known as to the show's location within the "Star Trek" cartography, or even its time frame. In the return episode, "Asylum," Dal (Brett Gray), Gwyn (Ella Purnell), the holographic Capt. Janeway (Kate Mulgrew), and the rest of the Protostar crew will board a Federation communications relay manned by a single lonely officer. Meanwhile, the real-life Vice Admiral Janeway (also Mulgrew) will take command of an impressive new ship, the U.S.S. Dauntless, and discover the presumed-defeated Diviner (John Noble), Gwyn's father and the Palpatine-like villain of the series. 
In true Trek fashion, the Dauntless will be depicted as having an interesting, diverse, experienced crew. The Andorian first officer is calm and clear-headed. The Tellarite doctor is impatient and smug. And, sitting at the conn is Ens. Acensia, an intelligent, capable, and professionally nervous Trill played by Jameela Jamil. Early in the season, Acensia appears to be something of a toady, holding Janeways' tea for her (she had to give up coffee on medical orders), and giving the Vice Admiral compliments. Later in the series, she will reveal more interesting facets of her character. 
In a recent interview with Daily Star Trek News, conducted at this year's New York Comic Con, Jamil talked about Acensia, praising the character's capability but also noticing that she is playing yet another irksome character — in her words, a "pain in the ass" — in a career of them.
Many pains in the ass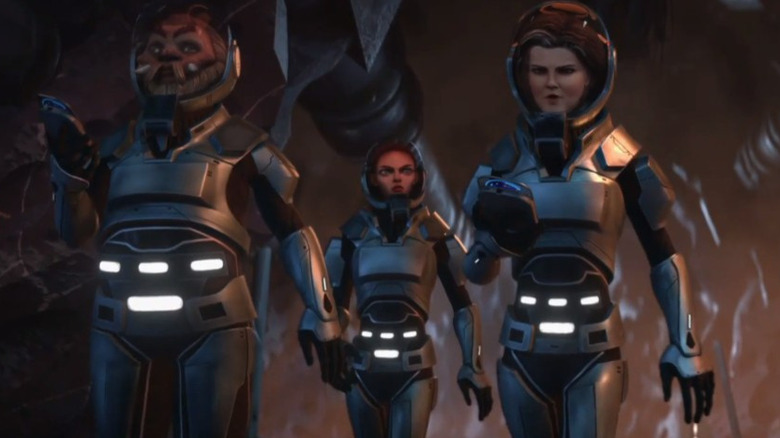 Paramount
Prior to "Star Trek," Jamil rose to the American public's attention for her performance as Tahani Al-Jamil in the CBS sitcom "The Good Place." The series was set in Heaven — or, as they merely call it, the Good Place — and the four main characters were cads and jerks who clearly didn't belong. The show's comedy arose from the damned characters trying to pass for "good" in front of the angels and other ascended souls. At least, that was the premise prior to the show's many, many metaphysical twists. Tahani was a British fashion model who was narcissistic enough to believe she belonged in Heaven, even thought she quite clearly did not. 
Recently, Jamil appeared on "She-Hulk: Attorney at Law" as Titania, a similarly bratty character. Soon, she will be playing Gisela, a tertiary irritant in the upcoming "Pitch Perfect: Bumper in Berlin." 
Jamil admitted that she likes playing annoying characters, and sees a lot of that kind of obnoxiousness in Ens. Acensia. Jamil said that her character was, to put it bluntly: 
"[a] Pain in the ass. Everything I've ever done, I'm playing a pain in the ass. 'Pitch Perfect' comes out in a month, I'm a pain in the ass. Tahani, THE pain in the ass. Titania, pain in the ass. I enjoy those characters a lot because I think that they're complicated and complex and I like understanding why they are the way that they are. But [Acensia is] precocious, she's extremely confident, very empowered, self-empowered, and she's clever. She's very bright. And she uses that to her advantage throughout the show, so you'll see more about that later."
The nerd EGOT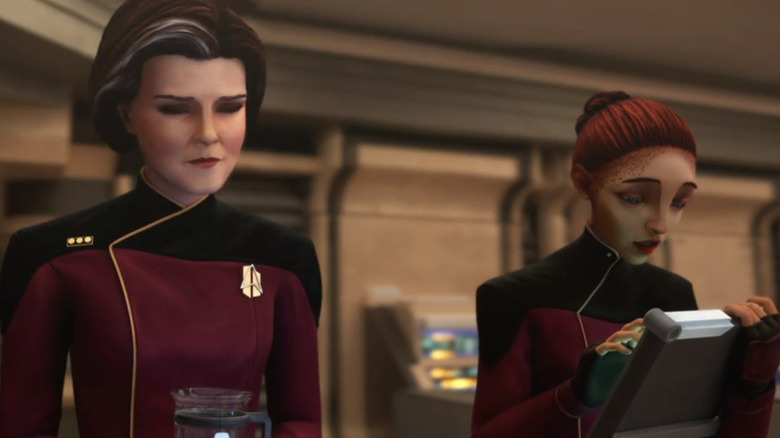 Paramount
Jamil was also eager to point out that she is one acting job away from a pop culture superfecta. With "She-Hulk," she was involved in the Marvel Cinematic Universe. With "Prodigy," she is now part of "Star Trek." She also played Wonder Woman in the recent animated film "League of Superpets," connecting her to DC comics. She feels that if she were to land a performance in one more important entertainment franchise, when she'll have completed the collection. She said: 
"I've hit my nerd EGOT, Right? It's like MCU, DC, 'Star Trek.' If I hit 'Star Wars,' that's it. It's amazing. Science fiction, especially 'Star Trek' – and I think Marvel and DC are doing a really good job too – they were some of the first places where kids like me could see people like them represented, and there were ideas about class and race hidden in all of these stories being told."
While "Star Wars" tends to run more toward high adventure than sociopolitical commentary — at least when compared to the more aggressively political "Star Trek" — there's no reason Jamil couldn't appear in a future "Star Wars" story about class and race. Given her talent and her high profile, Jamil may rest assured that the people at Lucasfilm will eventually come calling. After all, there is hardly a shortage of "Star Wars" in 2022. 
After all, even a galaxy far, far away could use a pain in the ass.