Smile And Terrifer 2 Scare Up Big Wins At The Box Office, Halloween Ends Dies A Horrible Death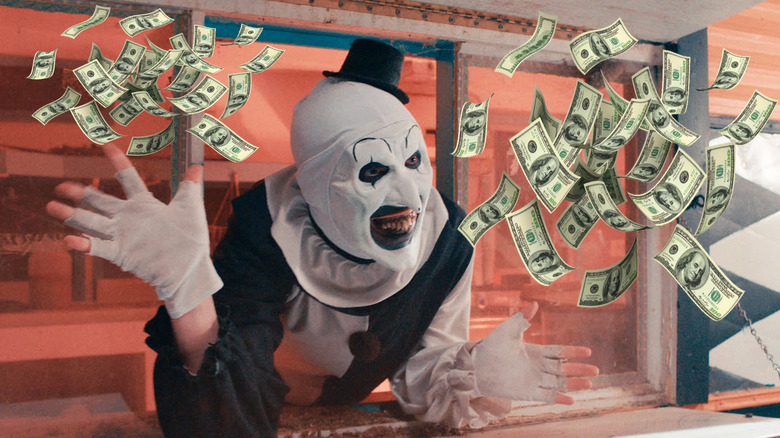 Bloody Disgusting
It was a big weekend at the box office, all things considered, as it was one the industry had marked off for some time. "Black Adam" opened as the first big blockbuster to enter the fold in months and, as expected, The Rock's DC superhero flick topped the charts with $67 million, followed by the A-list rom-com "Ticket to Paradise." But, as has pretty much been the case since the pandemic started (and really, for decades in Hollywood in general), horror was once again propping up the industry. "Smile" stayed strong while "Terrifier 2" straight-up shocked onlookers, while "Halloween Ends" fell from grace, yet still managed to fill theaters.
Director Park Finn's "Smile," in its fourth week, cemented itself as one of the biggest original hits of any kind in 2022. The film landed at number three, earning another $8.3 million and held like gangbusters, outperforming "Halloween Ends" in its second week (more on that in a second). The hit horror flick has now earned $166.2 million worldwide against a $17 million budget, putting it above "The Black Phone" ($160 million) in terms of non-franchise horror. It will soon pass "Nope" ($170 million) to take the crown for the year. Expect a sequel announcement imminently.
The most amazing part of all this is that "Smile" was supposed to go to Paramount+ originally, Paramount, rather wisely, shifted to a theatrical release following positive test screenings. This is a reminder to studios that being flexible can lead to good things. Unfortunately, Universal's flexible thinking with "Halloween Ends" seemed to go the other direction. Aftering topping the charts with $40 million in its debut, the final entry in David Gordon Green's Michael Myers trilogy plummeted a staggering 80% and took in just $8 million in its second frame. Good enough for fourth place.
Micheal Myers peters out, Art the Clown triumphs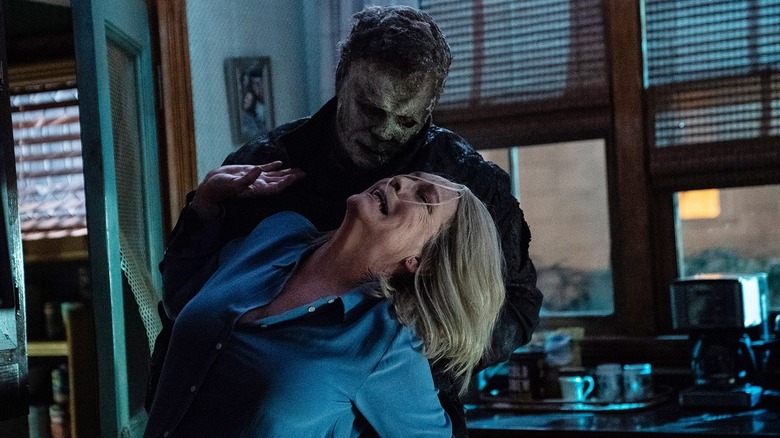 Universal Pictures
Universal opted to put "Halloween Ends" on Peacock on the same day it hit theaters, as they did with "Halloween Kills" last year. However, 2021 was still less certain in regards to the pandemic. Moviegoers were still regaining confidence. That is no longer as much of an issue and it made little sense, in my mind, for the studio to leave money on the table. Peacock is bleeding cash and may be beyond saving. To what degree the streaming release cut into ticket sales is impossible to determine, but it seems fair to say it was a factor. Granted, the reviews weren't super helpful either, but an 80% drop is one for the ages. And so, the saga of Michael Myers and Laurie Strode ends with a whimper when 2018's "Halloween" remains the highest-grossing slasher of all time. Such is the way.
But maybe the biggest story of the weekend overall was "Terrifier 2." The independently produced, unrated slasher with a runtime of nearly 2 and a half hours has continued to find an audience. In its third week, the slasher sequel earned $1.89 million — up 83.9% from last weekend. Put simply, this just doesn't happen. Especially for an unrated follow-up to a relatively little seen movie from 2016. It's the little movie that could at this point.
The return of Art the Clown has now earned $5.25 million domestically against a reported $250,000 budget with next to no marketing budget. The film is expected to be rolling out in other markets as well. Reports of audiences passing out or throwing up in screenings of "Terrifer 2" have created a lot of natural demand. It's a truly unlikely box office victory tale nobody saw coming this year, that much is certain. The only question now is, how high can this violent clown fly?