The Hierarchy Of Your Music Collection Is About To Change With Mondo's Black Adam Vinyl Soundtrack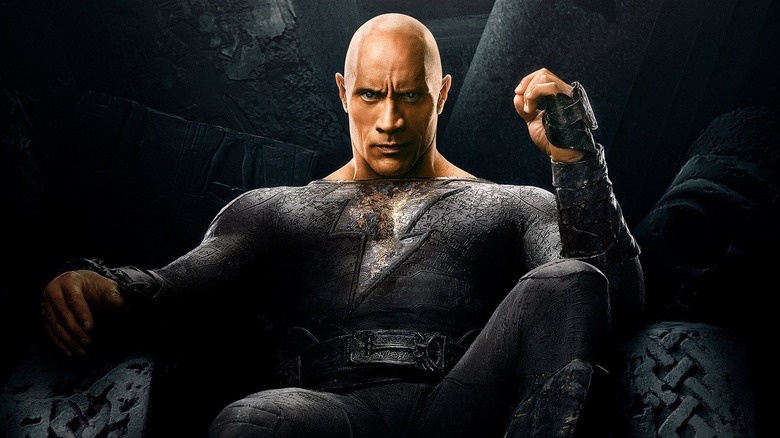 Warner Bros.
It's been well over a year since Dwayne Johnson started posting set photos and video messages to fans on social media about how the "hierarchy of power in the DC Universe is about to change" through his starring role in "Black Adam." Some have suggested, rather heretically, that Johnson's antihero might not actually change the hierarchy of power.
Either way, with "Black Adam" now playing in theaters, anyone who keeps abreast of movie news on a daily basis is likely to have heard more about that than they ever needed to or will want to again. It's almost as if we could use something else to listen to ... say, the "Black Adam" soundtrack on vinyl.
"Ladies and gentlemen and children of all ages" (as Johnson would say), if you inhabit the Venn diagram of rabid DC fans and patient vinyl record collectors, then you are in luck. The "Black Adam (Original Motion Picture Soundtrack)," with 43 tracks by Grammy-winning composer Lorne Balfe, is indeed available now for pre-order via Mondo — which has partnered with Watertower Music to bring you this triple LP in a jacket with artwork by Luke Preece. You'll only have to shell out 50 bucks and wait until April 2023 to get it, and I'm sure we'll all still be talking about "Black Adam" then. Right?!
'The feeling of an ancient world'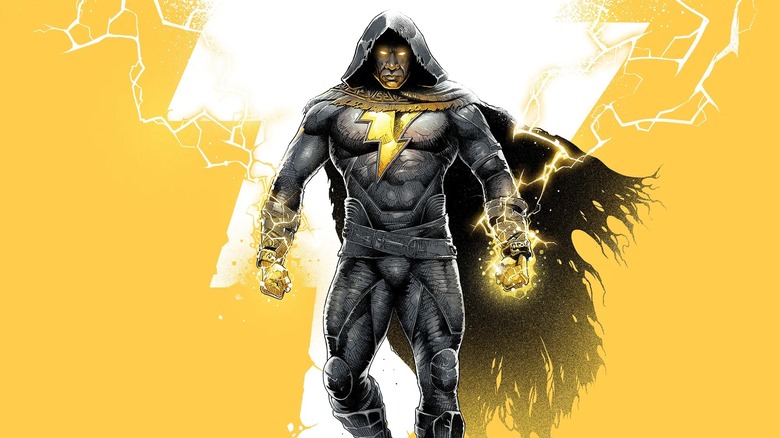 Mondo
Witney Seibold's review for /Film calls "Black Adam," a "superhero movie, but worse" — a pithy summation of the mixed-to-negative critical consensus for the most recent entry in the DC Extended Universe. One way of drowning out such opinions, if you enjoyed the movie, would be to crank the "Black Adam" vinyl release, the latest in Mondo's DC soundtrack series, once you get your hands on it next April.
The pre-order website notes that Balfe's "overall musical and philosophical approach" to "Black Adam" was "to get the emotion and darkness of the main character's back story across to the audience, whilst simultaneously intertwining the old themes and familiarities of the DC comic book world and introducing a new class of superheroes." He added:
"One way to bring in the feeling of an ancient world together was to collaborate with traditional instruments from Latin America, India, Africa and the Middle East. A particular highlight for me was a percussion session I did where we enlisted several musicians playing various traditional instruments together to achieve this specific sound. Further, we had a large brass section across the score to give the weight and power of the main character's past, which I balanced out with high tempo, more melodic sounds to give the audience that more familiar heroic feel. We also experimented a lot with choir on this project which was able to contribute a unique and classical sound that ties in nicely with Black Adam's story."
Balfe has obviously thought this through, just as I'm sure director Jaume Collet-Serra and his three credited screenwriters thought everything through when they were crafting the narrative for "Black Adam." They should really call the inevitable sequel "Black Adam and the Hierarchy of Power."
"Black Adam" is in theaters now.