Aldis Hodge Conquered His Fear Of Heights To Play Hawkman In Black Adam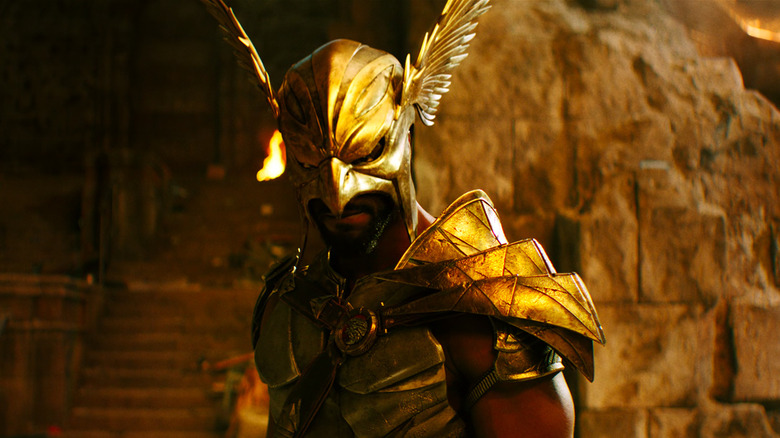 Warner Bros. Pictures
"Black Adam" features the live-action debut of its titular anti-hero, but there are arguably even more exciting characters at play in the film. The Justice Society of America and its band of superheroes form part of the physical (and philosophical) threat to Black Adam's mission to free his home country. Especially Hawkman, played by Aldis Hodge, who has a bone to pick with the murky morals of the anti-hero. However, fighting Dwayne Johnson on the big screen was not the most daring aspect of playing Hawkman for Hodge, shockingly enough.
Not only does he sport a comic-accurate costume, but Hodge encapsulates everything you'd expect from the winged superhero. From his effortless flight to his commanding presence, only a better film around Hawkman is left on the table. Of course, playing the DC Comics superhero had its disadvantages, including having to conquer a very real fear that I think many can relate to. You would think the lack of fear of heights would be a prerequisite to playing Hawkman, but alas, Hodge is human like the rest of us.
'I'm rethinking every choice in my life'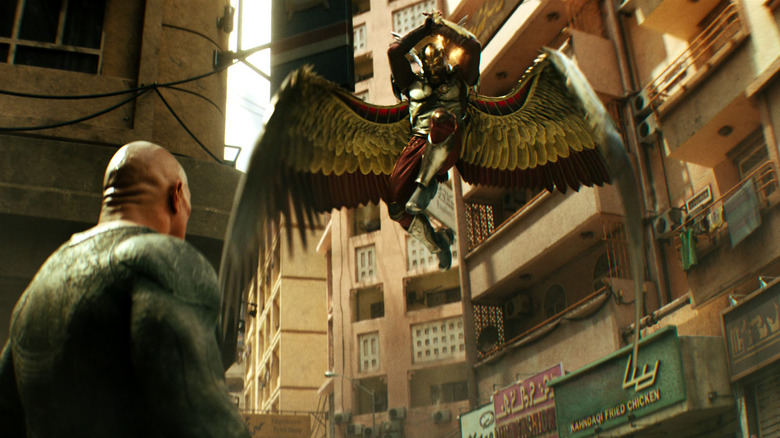 Warner Bros. Pictures
In an interview with Entertainment Weekly, Hodge recalled the moment when his fears were pushed to their limits, before eventually pulling through with a high-altitude stunt:
"I was most proud that I didn't scream every time they dropped me from 50 feet in the air. The first time up, I'm 50 feet off the ground. I'm hanging up there. I'm rethinking every choice in my life. I'm having some real conversations with God at this point. But I see the entire stunt team on the ground, and they live this life. So you can't say, 'Hey guys, slow down, wait a minute.' You've got to man up because your boys are down there, and you know they're going to make fun of you if you do not come through. But I was able to challenge every single fear that I had. I was like, of all the superheroes, I've got to be the one that flies? Lord knows, me and heights, we're not friends like that."
For an immortal warrior whose main superhuman attribute is flight, Hodge actually sells Hawkman's abilities with ease. The film proudly displays Hawkman in all his glory, going toe-to-toe with Black Adam himself. Not for a moment in "Black Adam" did I think it was selling the character short of his epic nature. Moreover, Hodge made sure his fears were out of the way when incorporating flight into the (many) action sequences.
Putting in the work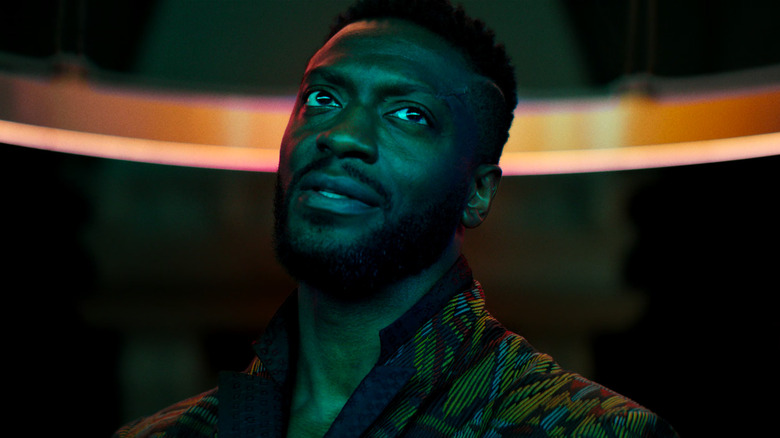 Warner Bros. Pictures
/Film's Jenna Busch interviewed Hodge before "Black Adam" hit theaters to talk shop on all things Hawkman, breaking down his approach to the character and stating superpowers do not define him:
"The idea for the powers was that they were an extension of him. So it's not that the powers defined him as a warrior. He, Carter Hall, is the weapon. When he dons the armor, he's just going to work, but he uses the powers and the wings just like he uses his weapons. They're an extension of him, physically and mentally. So we wanted to bring a nature to it that has not yet been seen before. Even when it comes to the wings and how they move, they move like an actual bird. We haven't seen wings used in this way before. And even when he's in the fight — well, let's say he does use his wings for multiple things."
Despite being scared of heights, Hodge manages to bring Hawkman to life with no visible reservation. Although it would have been nice to see the hero's rich history introduced in his own film, "Black Adam" works hard to ensure Hawkman is done justice. The same could be said about the rest of the Justice Society, but if you ask me, Hawkman is the coolest of them all. As long as Hodge doesn't look down when he is in the sky, I foresee a long road ahead of him as the tenured superhero.
After being in development for well over a decade, "Black Adam" is currently in theaters.