Black Adam's Aldis Hodge Wanted Hawkman's Fighting Style To Reflect That He's Been 'Fighting For Ages' [Exclusive]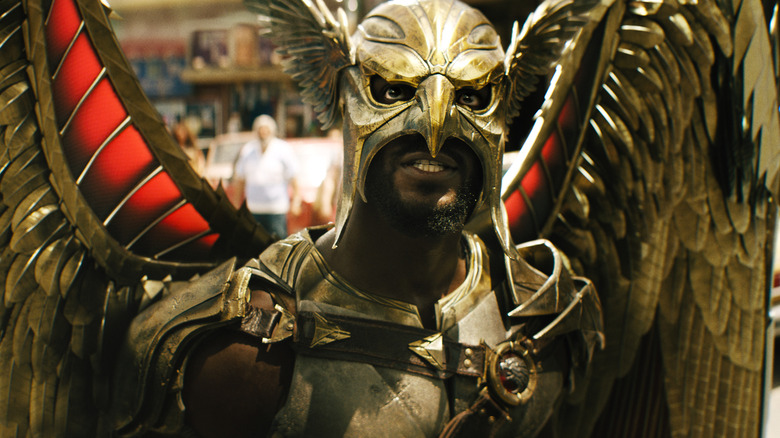 Warner Bros. Pictures
The character of Hawkman is one that, despite being a staple of DC Comics since 1940, has surprisingly been underutilized in live-action media. Sure, he's appeared on "Smallville" and "Legends of Tomorrow," but compared to other mainstay DC heroes, the archeologist known as Carter Hall hasn't had as many appearances outside of comics and animation.
However, that might change soon, as Hawkman is finally being introduced to the DC Extended Universe in "Black Adam." Portrayed by "One Night in Miami" star Aldis Hodge, this version of the character is one that has been a superhero for a while, even leading the Justice Society of America in its fight for the greater good. With that experience under his belt, it would make sense for Hawkman to fight like he's a seasoned pro. In a recent interview with /Film's Jenna Busch, Hodge discussed his approach to crafting his character's fighting style alongside fight coordinator Chris Brewster.
"I talked to Chris, and I said 'Look, I have an idea in my head,'" he recalled. "'I wanted to put these styles together, so we can take some of the principles from each foundation and create a style for Hawkman to represent the fact that he's been fighting for ages.'"
A storied history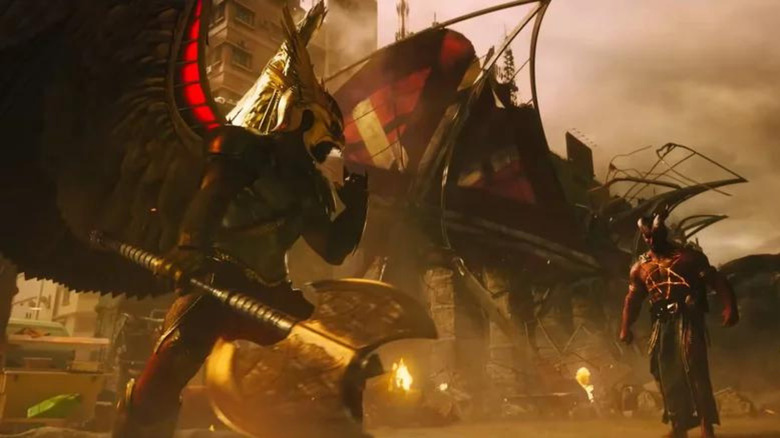 Warner Bros.
In order to make this fighting style a reality, Hodge also worked with his stunt double, David Charles Warren III, to figure out a way to combine different techniques into one. Why exactly is this important? Because Hall is the reincarnation of the Egyptian prince Khufu, meaning he has inherited his ancient fighting techniques and practices. Needless to say, he's got a wide range of styles to fight with, and making that obvious was Hodge's top priority.
"He's picked up styles along the way [...] in the various forms of battle he's been through, so we should do something that reflects that," he said. "It was really finding the best bits of all those styles that I love and studied coming up and putting those together to create something that we can build on."
It's not clear whether these styles and the backstories that influence them will be touched upon in a future project. However, Hodge remains optimistic that he will eventually play Hawkman again.
"If we get to have the opportunity to continue telling Hawkman's story," he said, "we're going to get to expound on that style in really creative and awesome ways that we've never seen on screen."
Hawkman will make his DCEU debut in "Black Adam," which hits theaters on October 21, 2022.