Game Of Thrones Cameo Legend Ed Sheeran Almost Landed The Theme Song For No Time To Die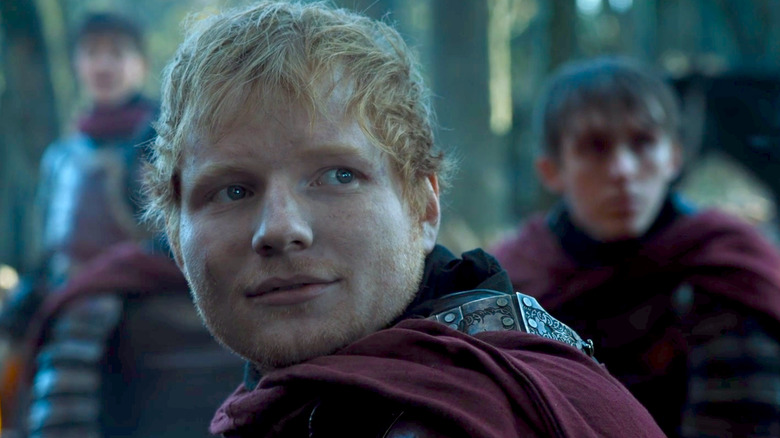 HBO
It's almost unfathomable to think about how long James Bond movies have been around, but after six decades and seven different incarnations of the character, the series is an absolute cinematic treasure. Not only are the films some of the most beloved throughout history, but the music has also been consistently phenomenal, so much so that /Film's own Jeremy Smith considers the music to be the most powerful throughline of the whole franchise. The most recent Bond film, "No Time To Die," marked the farewell of Daniel Craig as the titular character, and brought on sadgirl pop sensation Billie Eilish to perform the titular track. Eilish's eponymous theme nabbed her a Grammy, Golden Globe, and an Academy Award, allowing the final three Daniel Craig Bond films an Oscar hat trick for "Best Original Song."
As it turns out, Eilish almost didn't get the Bond gig, as musician and "Game of Thrones" cameo meme star Ed Sheeran was the original choice. On an episode of That Peter Crouch Podcast, Sheeran confessed that he had been in contention for the job, saying, "I was within a f****** gnat's pube of doing [a Bond theme song], and they changed directors, and then they just changed scripts and that was it." Sheeran claimed to have attended multiple meetings regarding the song and had already started writing it when it all came to an end. The director Sheeran was referring to is Danny Boyle, who left the project citing creative differences with the producers. Here's hoping Sheeran's song wasn't part of those differences.
Sheeran still wants to write a Bond theme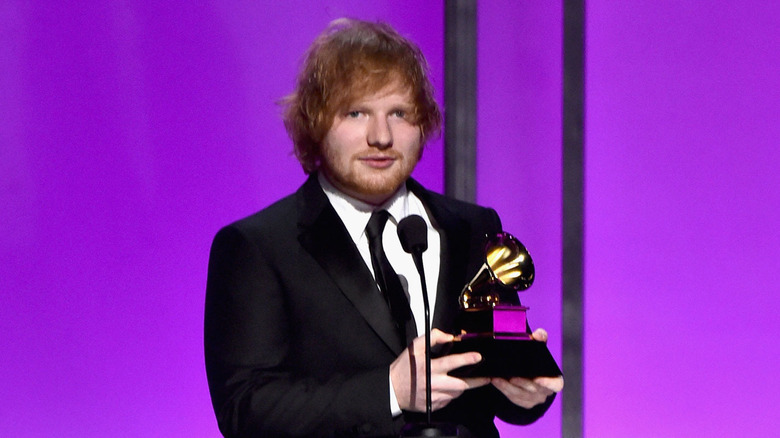 CBS
Performing a Bond theme is viewed as an incredible honor, with music greats like Madonna, Alicia Keys & Jack White, Tom Jones, Sam Smith, Lulu, Rita Coolidge, Tina Turner, A-ha, Gladys Knight, Duran Duran, Sheena Easton, Shirley Bassey, Paul McCartney & Wings, Louie Armstrong, and Nancy Sinatra all having lent their talents to the series. Eilish's powerful ballad was the perfect fit for "No Time To Die," and it's difficult to picture what Ed Sheeran's take on the material would have sounded like. Despite being one of the best-selling artists in U.K. history, Sheeran's more recent hits haven't been able to reach the heights of his earlier singles like "Shape of You" and "Perfect." This isn't to say that Sheeran wouldn't have given it his all and provided something phenomenal, but Billie Eilish is a hell of an act to follow.
Although Sheeran is admittedly disappointed about having lost the opportunity, he told host Peter Crouch that writing a Bond theme is still one of his major career goals. That's certainly a sign of how prestigious it is to be chosen for a Bond film, as Sheeran has already been the world's highest-selling musician for the year 2017. He also told Crouch that he wouldn't say no if he were to be asked again. "I'm not gonna pretend it didn't hurt not doing it, but if they came back I'd be like, 'Yeah, yeah, of course, yeah!'"