Everyone's Favorite Game Of Thrones Actor Ed Sheeran Is Writing A New Song For Ted Lasso Season 3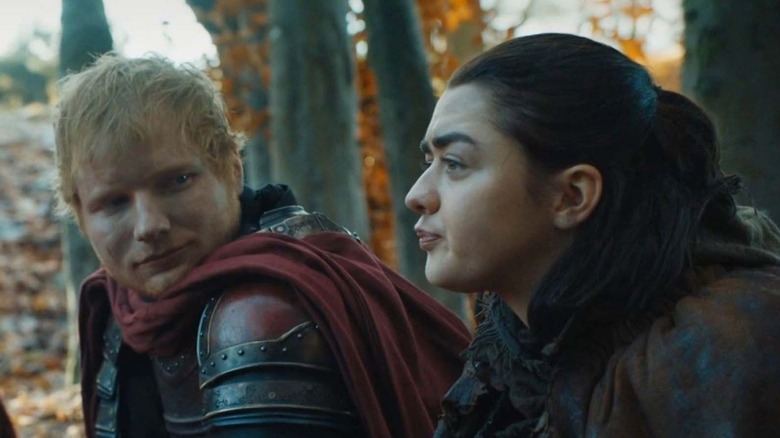 HBO
Ed Sheeran is heading back to the small screen, folks. Now, if you've been waiting with bated breath to see the A-list musician acting once again, you might have to wait a bit — but it seems you will definitely be able to catch his vocal stylings on season 3 of "Ted Lasso."
The English artist — who is currently promoting "Equals," his first album in four years — revealed on "The Jonathan Ross Show" on October 30 that he would be lending his musical talents to the Apple TV+ series, which he added he was "obsessed" with.
While appearing via livestream alongside the show's female lead, Hannah Waddingham — who appeared in person — Sheeran said, "['Ted Lasso' is] one of these shows where I'm constantly recommending it to people, and they're watching it instantly ... I think it's great. I got asked to do the song for the next season."
Yeah, It Might Be All That You Get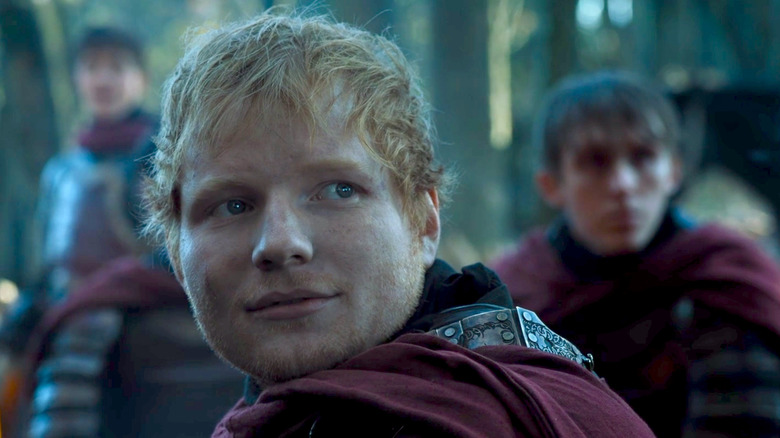 HBO
Waddingham, who is also known for her work on "Game of Thrones," then encouraged the "Shape of You" singer to take the gig, to which he replied, "No, I am. You don't have to convince me."
Sadly, Sheeran didn't elaborate on the nature of the track or any plot details surrounding its usage, but it seems it will be a piece that will exist within an episode rather than taking over for the theme music. The show's title music was written by Mumford and Sons frontman Marcus Mumford and film composer Tom Howe and has gone on to become an international earworm due to its catchy melody and succinct runtime.
If anything, I could definitely see this Sheeran song underscoring a particularly emotional moment for season 3 — perhaps a scene between Waddingham's Rebecca Welton and her current love interest, AFC Richmond's star player Sam Obisanya (Toheeb Jimoh). However, it seems we'll have to wait until next year to see how it is used, as the season won't start filming until January 2022, which means we have a bit of a wait ahead of us.
And Heaven Knows I've Tried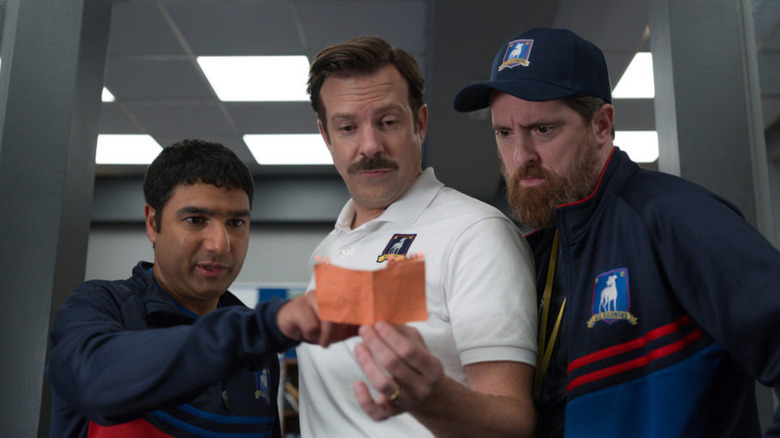 Apple TV+
It'll be really fun and interesting to see if Sheeran ends up doing a cameo on "Ted Lasso" in addition to the song, and possibly alongside Waddingham, with whom he has one thing in common: they've both worked on "Game of Thrones." Sheeran guest-starred on the HBO series in the first episode of season 7.
In fact, this upcoming season may be Sheeran's last chance to show his face on the beloved Apple TV+ series. "Ted Lasso" was originally conceived as a three-season series. That being said, the creators — Jason Sudeikis, Brendan Hunt (AKA Coach Beard), Joe Kelly, and Bill Lawrence — have seemingly become open to continuing the show for the right story, so maybe Sheeran will have a little more time to guest-star.
"This story [we've already mapped out], I know has a beginning, middle and an end, and will end the third year," Lawrence told Deadline in July. "I think there's other stories to tell about Ted Lasso and the gang, and we'll see. I think either way, it'll be important to Jason and all of us to try and go out on a high note."
The show took home a whopping seven Emmy awards this year, including accolades for Sudeikis, Brett Goldstein (who writes on the show and plays Richmond-player-turned-coach Roy Kent), and Waddingham. "Ted Lasso" premiered in August 2020 and quickly got a second and third season order after it became the first fan favorite show for Apple TV+ and garnered international acclaim.