Anson Mount Sees Strange New Worlds Season 2 As Pushing The Boundaries Of What Star Trek Can Be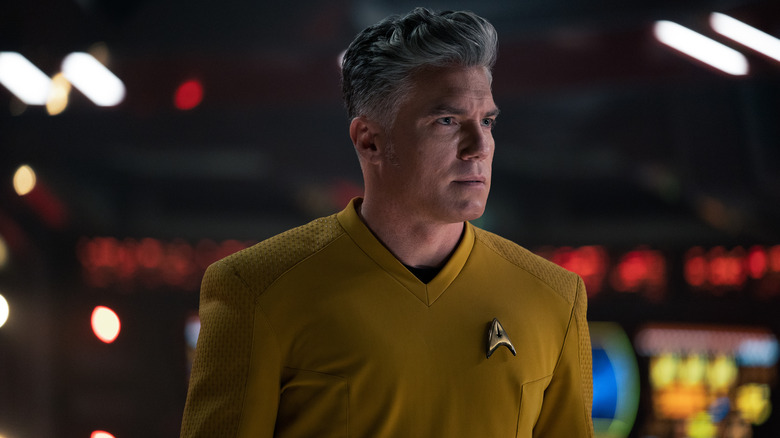 Paramount+
"Star Trek: Strange New Worlds" is already the best live-action "Star Trek" series in a very long time, but according to Anson Mount, who plays Captain Christopher Pike, fans haven't seen anything yet. The first season of this bold new "Star Trek" series set records as the best-reviewed first season of a "Star Trek" series ever, and season 2 will take those successes to new heights. In an interview with Collider, Mount said that season 2 of "Strange New Worlds" is going to push boundaries, even for "Star Trek," and that the showrunners have plans to absolutely melt the faces off of fans, metaphorically speaking. 
The first season already gave us a little bit of everything that there is to love about "Star Trek," including a body-switch shore leave episode, an episode that took place in a fantasy realm, and an episode that used an extended metaphor to tell two stories at once. Seriously, what more could anyone ask for?
If Mount is to be believed, season 2 of "Strange New Worlds" will be just as big and as wonderful of a surprise as the first season. The team behind the series is treating the second season as if it could be their last because streaming renewals are notoriously fickle, but that just means that they're going to deliver the best "Star Trek" possible. 
Exploring not only new galaxies, but new genres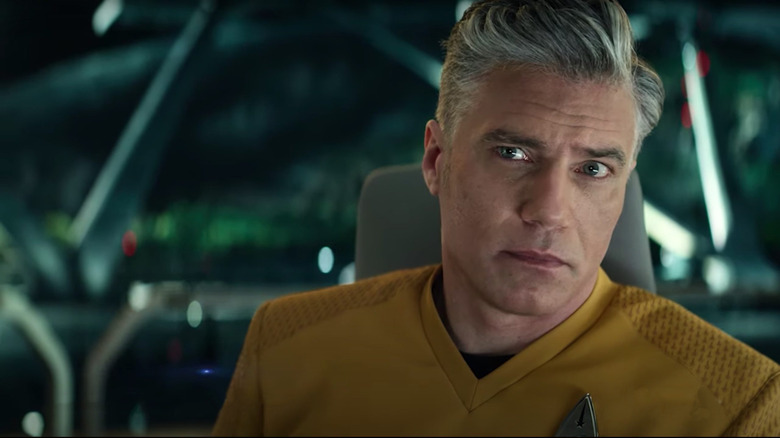 Paramount+
I love the fact that "Strange New Worlds" does so many different things within the "Star Trek" universe. Each week is like a fun little mini-movie, with something completely different and unexpected. Season 1 has horror, fantasy, hard science fiction, action, adventure, and more, and Mount said that the showrunners want to lean into the series' appreciation of varying genres:
"It's like Christopher Guest in 'Spinal Tap,' discovering that these knobs all go up to 11. Akiva [Goldsman] and Henry [Alonso Myers], our two showrunners, are so courageous. I really am not a conservative storyteller, at all. I am all for saying, 'F*** tradition, let's do it our own way.' But I've even found myself going, 'Really? Can we really do this?' Their mantra is that 'Star Trek' can be a lot of things. [...] Star Trek can be a lot of things because 'Star Trek,' as the best TV does, operates as a metaphorical platform, and when you jump into that wholly, you can really find a lot more elbow room than you think, including playing with not just story, but genre."
Hearing that "Strange New Worlds" is going to push the genre boundary even further is very exciting news. The series managed to explore some very big ideas with simple, sweet storytelling in its first season, which is one of the things that makes "Star Trek" what it is. The most memorable "Trek" episodes are the ones that use the sci-fi setting to tell a universal story, like the civil rights allegory of "Far Beyond the Stars" from "Star Trek: Deep Space Nine" or even the brilliance that is "Star Trek VI: The Undiscovered Country," which dealt with both the end of the Cold War and the series original cast growing old in a two-fold set of metaphors. 
"Star Trek" is smart science fiction, and I can't wait to see what "Strange New Worlds" holds in store when it returns for season 2.