Star Trek: Strange New Worlds Is Treating Season 2 As If It Will Be Their Last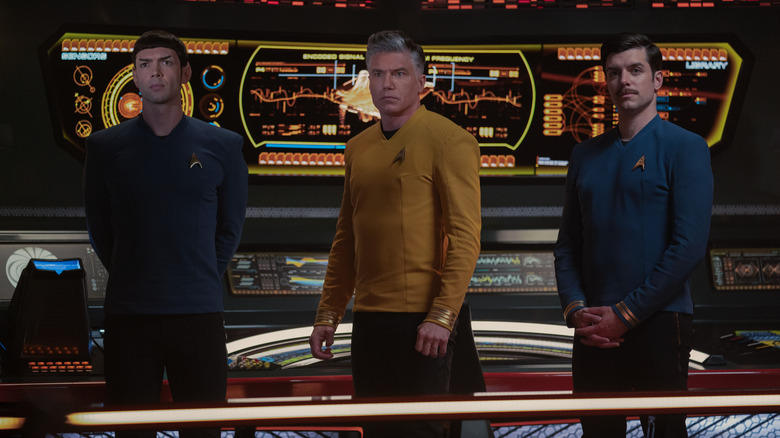 Paramount
Back in 2005, when "Star Trek: Enterprise" was canceled, it seemed that "Star Trek" was, as an institution, kind of at an end. After three previous "Star Trek" shows that lasted seven seasons apiece, the cancelation of "Enterprise" after only four seemed like a clear indicator that the franchise was over and done with. Additionally, "Star Trek: Nemesis" had bombed in theaters just a few years before, so it looked like Trekkies would have to make peace with the fact that Trek would only be seen in the rear-view mirror. 
In 2006, Viacom — the parent company of Paramount and CBS — split into two different companies, with Trek movies belonging to one arm, and Trek TV belonging to another. The split further took away hope from Trekkies of seeing any further adventures aboard a Starfleet vessel. The split did, at the very least, lead to widespread home video and streaming licenses from the Viacom TV arm — CBS — and Trek was, all of a sudden, quite widely available across most platforms and formats. Trek would live on, albeit only as nostalgia. There was no longer an assumption — like back in the glory days of the mid-1990s — that Trek was a cure thing and would be allowed to continue indefinitely. 
In the Paramount+ era, the operational ethos has certainly changed. Since the launch of the service, six new Trek shows have debuted, and at least two others are in currently development. Trek, it seems, will live on for as long as Paramount continues to feed it, overexposure be damned. 
The advantages to episodic storytelling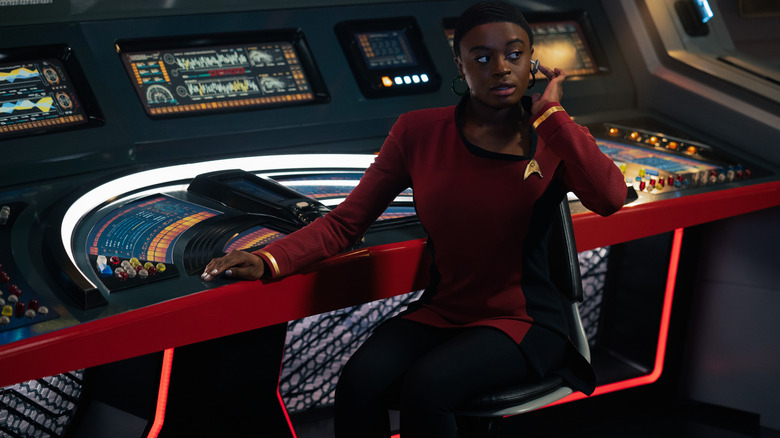 Paramount
The people behind the newest Trek show, "Star Trek: Strange New Worlds," however, are teaching themselves not to take their presence in the Trek canon for granted. Showrunner Henry Alonso Meyers said as much in a recent interview with TrekMovie. He is, perhaps wisely, not thinking beyond the show's second season. "Strange New Worlds," it should be mentioned, is presented as a series of one-off, hour-long episodes rather than as a series of enormous, season-long story arcs. The classic episodic storytelling has allowed "Strange New Worlds" to capture the traditional spirit of "Star Trek," which always functioned better as a bunch of miniature morality plays. 
As such, "Strange New Worlds" is freer to explore the things the showrunners want to do, rather than be beholden to long-term storytelling plans. The first season of "Strange New Worlds," which concluded on July 7, worked just fine. Meyers said that he would like to continue in the same tradition. 
"I want to [do] more of what's worked. But I would also say, in some ways, it's different. We were trying to take what worked and really amplify that. And then try to correct where we weren't happy with it. But the biggest thing we tried to do was not hold back stuff. We were really like, 'Okay, let's pretend this is our last season. And let's absolutely go for everything that we wanted to do.'"
While "Star Trek: Discovery" and "Star Trek: Picard" may have their fans, it may be to both those shows' detriments that they adhere so closely to larger story arcs. As such, plot supersedes all else, and there will be little time for the trademark optimism, idly philosophizing, and workplace camaraderie that are Trek's signatures. 
Bigger comedy! More drama!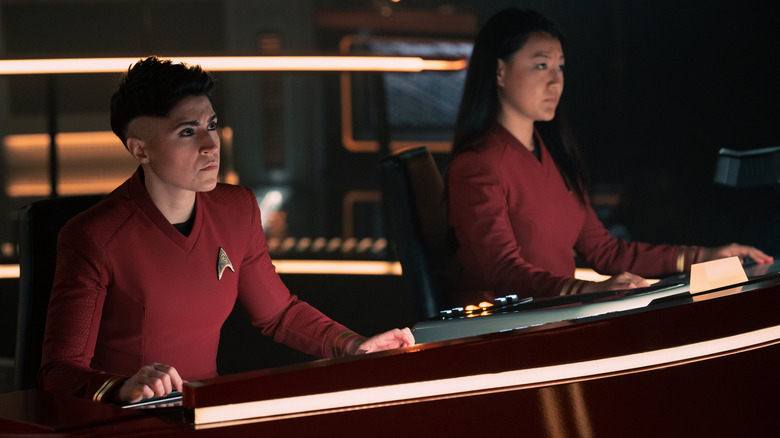 Paramount
The first season of "Strange New Worlds" ended on a cliffhanger. The Enterprise's first officer, Cmdr. Una Chin-Riley (Rebecca Romijn) had been, she confides, lying about her species. She is, in fact, a genetically enhanced Illyrian, and genetic enhancements are verboten in the world of "Star Trek." Cmdr. Chin-Riley was, at last check-in, arrested by Starfleet and taken away for lying on her Starfleet applications. The second season of "Strang New Worlds" will have to address the cliffhanger. Given the episodic nature of the show, however, the setup could conceivably pay off in a single episode. 
Additionally, the fate of Capt. Pike (Anson Mount) is known (see: the two-part Trek episode "The Menagerie"). It seems that Pike's worries about his fate were handled and kind of brought to a meaningful close in the final episode of the first season. Lingering plot threads are tied up quickly on the show. 
Meyers was far more concerned with ratcheting up the successful elements of "Strange New Worlds" than he was in discussing specific arcs. He was seemingly fond of the show's lightness and frequent sense of humor. That, it seems, he would like to play up in the upcoming season: 
"I would say we tried to do comedy, and we were like, 'Let's go for bigger comedy. Let's make things bigger and crazier.' We tried to do drama, so we wanted to really kind of go to the gut of stuff and make episodes that were going to make you cry."
In the truest theatrical sense, Meyers is presenting the most vital elements of a great show. Laughter. Tears. Curtain. See you next week.