Henry Cavill 'Never Expected' The Sherlock Role When He Was Offered Enola Holmes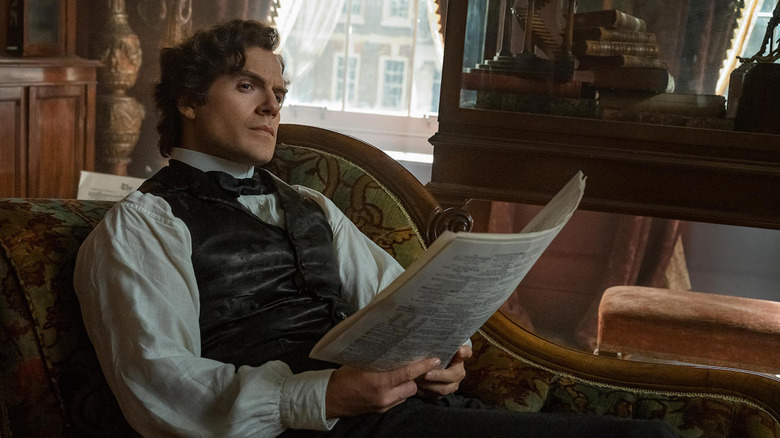 Netflix
With a sequel well on its way, Netflix's "Enola Holmes" film series has firmly carved out its place among the plethora of Holmes-focused adaptations. This is not only thanks to an inspired performance by Millie Bobby Brown in the titular role, but to Henry Cavill, who plays her on-screen brother, Sherlock Holmes. The lighter tone, relative to other adaptations, lets the actors have fun with the high stakes mysteries and familial relationships. Relegating Sherlock Holmes to a supporting role works far more than it reads on paper, and Cavill capitalizes on that fact in spades.
Although it seems like a miscasting at first glance, the "Man of Steel" actor embodies the long-tenured character with ease and confidence. However, even Cavill himself was shocked that he was approached for the role in the first place. The uber-intelligent fictional detective is typically played by less physically imposing figures on the big screen (no offense to Robert Downey Jr.), but it turned out Cavill was exactly what "Enola Holmes" was looking for.
'Well, it's for Sherlock'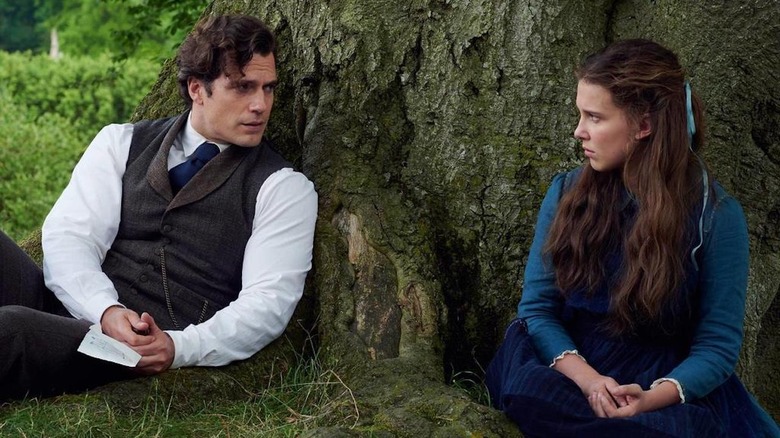 Netflix
During the Empire magazine podcast, Cavill revealed that when he first read the script for "Enola Holmes," he was confused as to why it was sent to him in the first place. Not that it was bad, but it was hard to instantly envision himself in any particular role. And then, Cavill got the news:
"And then I spoke to my agent and I said, 'Okay, so who am I reading – like, why have you sent this to me?' And they went, 'Well, it's for Sherlock. They want you to play Sherlock.' And I was like, 'No! You're kidding me, right?' And I was so in love with the story, and I thought you know what, this is great, absolutely. And the emotional connection that Sherlock and Enola have was something that I found really special."
Any groans attributed to this casting may have been due to Cavill being type-cast in gruff, tough-as-nails roles. Outside of maybe "The Man from U.N.C.L.E," where he gets to stretch his comedic timing as an action star, Cavill typically has to grunt his way through enemies as "The Witcher," or even Superman, for example. And he is great at doing that, by the way. But "Enola Holmes," even in its most outrageous moments, lets Cavill have his mind be his greatest attribute — even if he keeps his imposing figure.
Thankfully, for those who enjoyed his turn as brotherly detectvie, Cavill's Sherlock plays a much more important part in the upcoming sequel starring Bobby Brown. "Enola Holmes 2" begins streaming on Netflix on November 4, 2022.