Sherlock's History Was Freeing For Henry Cavill While Filming Enola Holmes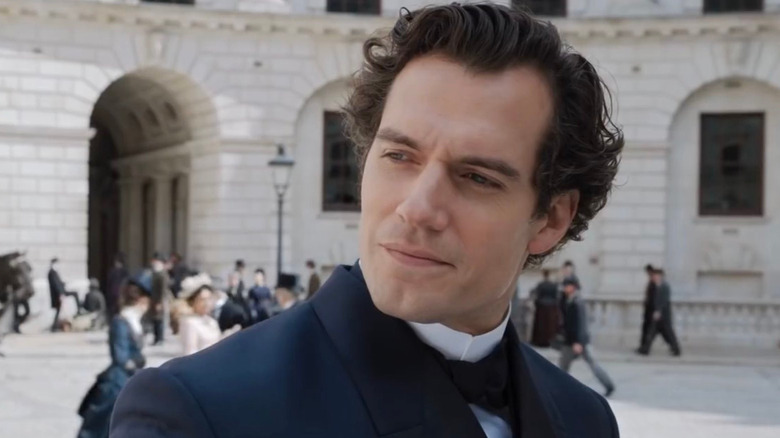 Netflix
Sherlock Holmes films and TV shows have been all the rage since most of Sir Arthur Conan Doyle's original stories about the character entered the public domain at the turn of the century. In the years that have followed, the super-sleuth and his deerstalker hat have been re-imagined as everything from a troubled modern-day detective to a quirky 19th-century investigator to a cartoon garden gnome prone to twerking. Okay, fine, I made that last one up (no I didn't).
Consistently, however, Sherlock is portrayed as a bit of a jerk who's rarely fussed about the feelings of others, with the notable exception of Henry Cavill's curly-haired take on the crime-solver in "Enola Holmes." The delightful 2020 film stars Millie Bobby Brown as Enola, the younger sister to Sherlock and Mycroft Holmes (Sam Claflin) and a detective-in-the-making encouraged by their mother, Eudoria (Helena Bonham Carter), to rebel against the sexist standards of Victorian society. When Eudoria abruptly vanishes on Enola's 16th birthday, the conservative Mycroft becomes her legal guardian and does his best to curb his sibling's disobedient behavior. Spoiler: He fails.
Cavill's Sherlock, on the other hand, is both empathetic to Enola and critical of Mycroft, arguing they should leave their sister alone to pursue the life she wants. It's an effective but unusually emotional take on the customarily prickly character, so much so that it led the Conan Doyle Estate to file a lawsuit, alleging the film's interpretation of Sherlock is based on the handful of Doyle stories still under copyright. For his part, Cavill told Empire's podcast he found the movie's unconventional take on Sherlock quite liberating, coming after so many other adaptations in recent years.
The Sherlock only Enola knows?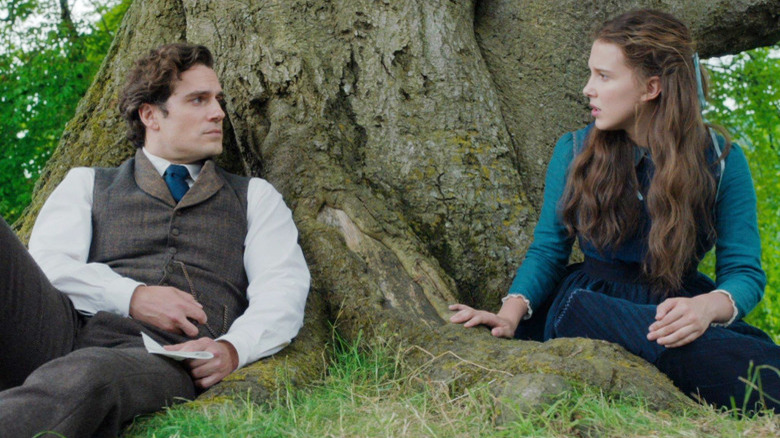 Netflix
One of the biggest differences between "Enola Holmes" and the many, many other "Sherlock Holmes" projects out there is that Sherlock is very much a supporting player in the former. What's more, most of the film frames the character from Enola's point-of-view, where he's painted in a gentler and more caring light. This is also part of why Cavill was so comfortable with deviating from typical portrayals of Sherlock for the movie. He told Empire:
"I think it's important to keep some of the traditional aspects of Sherlock in there because, obviously, it's Sherlock, and Sherlock, as you say, is an icon of pop culture. But for this, because he's a supporting character, you get to play with it a bit more. It's Enola Holmes' story, and for Enola Holmes' story to really blossom and work, and for Sherlock to be an effective supporting character, I think having that emotional connection is really, really important."
Continuing, Cavill noted it's possible their connection is the reason Enola sees Sherlock as being so much warmer than more traditional depictions of the character seen through the eyes of others. At the same time, he admitted the issue is open to interpretation and barely touched on the film (given that, again, it's Enola and not Sherlock who acts as the focal point of its story):
"And it's important, I think also, to have that emotional connection with Enola, but not necessarily with anyone else. And as much as it's not explored to a massive degree in this particular movie, it's there, and we see that Sherlock is – his treatment of Enola is quite special, and I really enjoyed that."
A change would do you good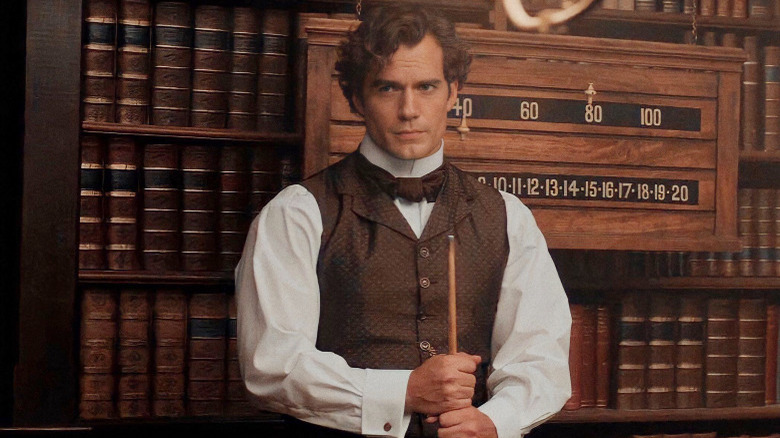 Netflix
Over time, Sherlock Holmes has become a bit like your average A-lister superhero in that it feels like he's always being repurposed for the screen in some way. "We have so many iterations of Sherlock in film and TV that it's wonderful – it's been done! It's been done so bloody well that it's so nice to actually have the opportunity to play something which is a bit different," Cavill reasoned. He noted this was a change of pace for him, as his creative instinct is to remain ardently faithful to the source material when it comes to these types of adaptations:
"By nature, I am a law loyalist, and I can be a bit of a psychopath when it comes to law and when it comes to doing things just as it says in the book, but this time 'round – because it's been done by so many other people already, and done fantastically well – I got to have a bit of freedom, and I got to play the character with more of a deep connection and hook into who I am as a human being, and how I would have treated a young Enola if I were Sherlock Holmes. And so it was a lot of fun to play as you say, and I enjoyed the experience enormously."
The proof is in the pudding when it comes to Cavill's sentiments, granted that he's committed to playing a far bigger role as Sherlock in "Enola Holmes 2." Perhaps we will get to see yet another side to Enola's mystery-loving brother when the sequel begins streaming on Netflix on November 4, 2022.