'Sherlock Gnomes' Trailer: There's A Fart Joke 25 Seconds Into This (And Also Johnny Depp)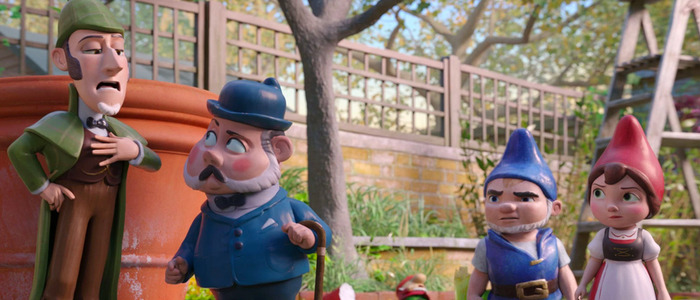 What have we done to deserve Sherlock Gnomes? You know what? Don't answer that. Gnomeo & Juliet, a very real movie about sentient garden gnomes, was apparently a big enough hit to warrant a sequel. That sequel? Why Sherlock Gnomes, of course! Finally, lawn ornaments and detective work have been combined into a candy color nightmare, and you can share in the nightmare by watching the new Sherlock Gnomes trailer!
How long does it take the Sherlock Gnomes trailer to unleash a fart joke? Twenty-five seconds. Yes, we don't even get to the half-a-minute mark before Sherlock Gnomes starts busting out the flatulence. What a time for cinema! In Sherlock Gnomes, Gnomeo (James McAvoy) and Juliet (Emily Blunt) find themselves at the center of a mystery when all their joking, screaming, farting gnome friends go missing. What to do? Why, hire Sherlock Gnomes, of course! Ha ha ha! What the hell is happening? Someone make this stop. Here's the Sherlock Gnomes trailer to prove to you I'm not making this up.
Sherlock Gnomes trailer
Once you get over the initial shock of a movie called Sherlock Gnomes, you'll notice this animated fever dream has a really impressive cast. James McAvoy and Emily Blunt are both extremely talented, and then you have Michael Caine, Maggie Smith, Stephen Merchant, Chiwetel Ejiofor and Mary J. Blige! Talk about an impressive roster! The film features original music by Elton John and Bernie Taupin. Crazy! Someone tell these performers they don't have to be in this dreck.
Oh, the film also features Johnny Depp. At least that part makes sense.
Here's the official Sherlock Gnomes synopsis, because I know you're dying to learn more about this:
When Gnomeo and Juliet return home one day to find that everyone in their garden is missing – there's only one gnome to call... Sherlock Gnomes. The famous detective and sworn protector of London's garden gnomes arrives with his sidekick Watson to investigate the case. The mystery will lead our gnomes on a rollicking adventure where they will meet all new ornaments and explore an undiscovered side of the city. This action-packed sequel features the voices of returning cast, James McAvoy, Emily Blunt, Michael Caine, Maggie Smith, Stephen Merchant and Ozzy Osbourne, plus Johnny Depp as Sherlock Gnomes, Chiwetel Ejiofor as Watson and Mary J. Blige as Irene.
I have so many questions. Mainly, why? Did someone open one of the Cenobite puzzle boxes from Hellraiser and unleash this thing? Also: is this sequel keeping up the Romeo and Juliet angle of the first film, meaning this is a combination of both Shakespeare and Sir Arthur Conan Doyle? If so, that would mean...eh, who cares.
Sherlock Gnomes opens March 23, 2018.