James Wan Sees A Feminist Streak Running Through Malignant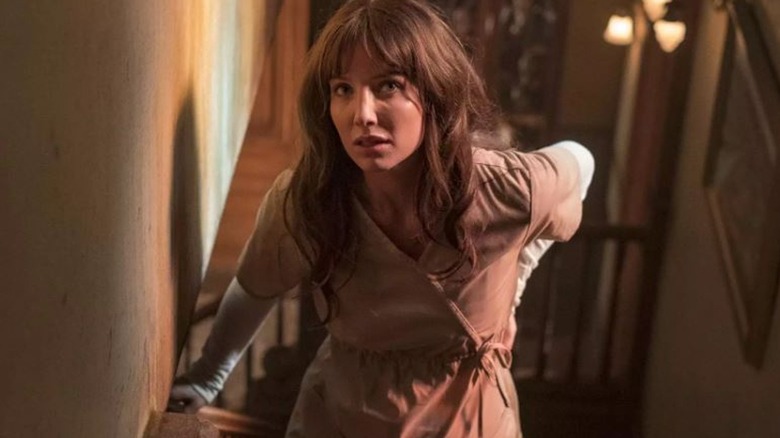 Warner Bros.
With the recent trailer release of "M3GAN," which features many outrageous moments that have already been gif-ed and meme-ed many times over, another movie is back in the discussion ring. We're talking about "Malignant." It's been a little over a year since "Malignant" was released, and its balls-to-the-wall energy and jaw-dropping twist still have both horror and non-horror fans shooketh.
Spoilers ahead! In the third act of "Malignant," audiences learned that Madison (Annabelle Wallis) has a premature twin still fused to her body. Named Gabriel, he is the one responsible for all the violent things happening in the film after the incident with her boyfriend in the first act of the film. His dramatic reveal, though, and subsequent slaughter scene set in the police station still live rent-free in people's minds. Who can blame them? It was well-executed.
So much attention has been centered on Gabriel's dramatic reveal and the third act that the core theme of "Malignant" seems to have been lost in the discourse. Gabriel is utilizing Madison's body as his instrument, wearing her mind and body down to the point where she can't even suss out what's real and what's not. Oh, and did we mention using her body (and subsequently her DNA) to carry out murders? Oh yeah. He does that.
While the film doesn't take itself too seriously, "Malignant" is ultimately about a woman fighting for her right to bodily autonomy. And it's this theme that director James Wan feels best encapsulates the feminist streak running through "Malignant."
Act of sharing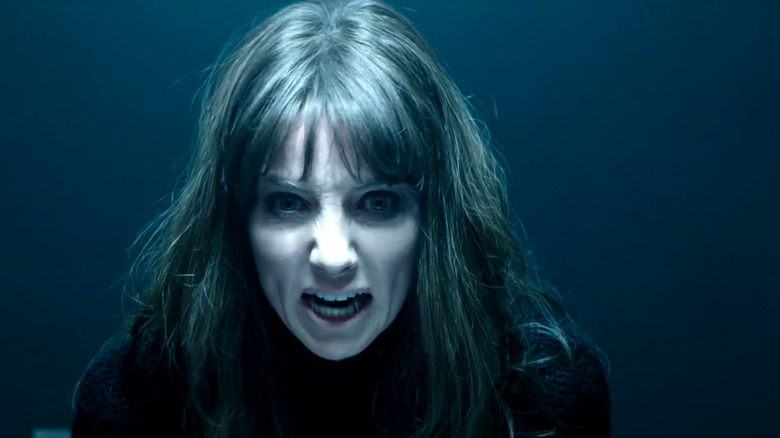 Warner Bros.
The premise itself was simple enough. As story writer and executive producer Ingrid Bisu shared with /Film's own Jacob Hall in an interview, "I think this creature, this twin, is evil, and it's manipulating the person that's inhabiting the body because he doesn't have his own body. He has to share this body." But this act of sharing is parasitic.
As viewers saw in "Malignant," Gabriel is siphoning nutrients from Madison's body, causing her to rapidly deteriorate. It's this revelation that prompts doctors in her youth to do everything in their power to separate them to try and save her life. But, as we would all come to learn, the separation attempts weren't a success. He's still in her.
So, where does the feminist streak come in? As Wan described it to Yahoo!, the idea to inject this into the film came from Bisu: "Even though the movie has all these crazy over-the-top gore and prosthetic effects, Ingrid has a really sort of feminist bone to her, and so the idea of women having control taken away from them [comes from her]." The fight for bodily autonomy does apply to all genders. But women throughout history (and even today with the overturning of Roe V. Wade) have had to fight daily for their right to control their bodies.
Somehow, this overarching theme got lost in the discourse shuffle. One scene would have been too hard for viewers to ignore the theme, but it got cut in post-production.
'It's my body'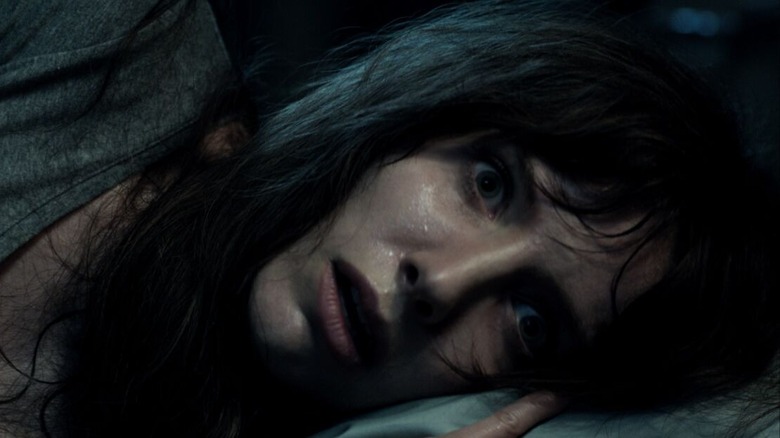 Warner Bros.
When it comes to delivering on theme, it's a balancing act that is very hard to get right. As it came to the underlying theme of "Malignant," one cut scene might have made the difference in viewers keying into the feminist leanings of the film.
Wan shared with Yahoo! that, "At the end, we initially had this [scene] that I thought was a bit too on the nose. Madison fights to get her body back and she says, 'It's my body, it's my body, it's my body.'" While what Wan describes is, in fact, in your face with its messaging, it might not have hurt to leave in. However, for a film that doesn't take itself seriously, that moment may have gone against the overall vibe.
That said, Wan's complicated feelings surrounding the audience's takeaway is understandable. The internet dissected and glorified the big twist for months, and seemingly missed the core story in the process.
"You can have all these crazy horrific things in it, but at the end of the day, it is a story about a woman and her evil brother trying to take [control] away from her, and she has to wrangle and fight to get it back," Wan shared. "That was very important for us: that the film has something to talk about and is not just cool effects."
Put into perspective, he's right. Knowing the twist, a re-watch and re-evaluation of "Malignant" is definitely overdue.