M3GAN Trailer: James Wan And The Writer Of Malignant Made A Killer Doll Movie, And It Looks Wild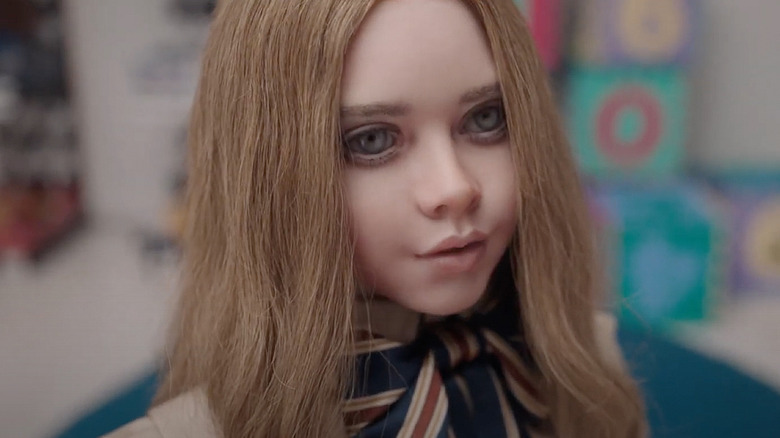 Universal Pictures
Anyone who's ever seen a James Wan horror movie knows the man is downright terrified of human-like dolls, as well as he should be. So it's no surprise to see him involved in the making of "M3GAN," the upcoming Blumhouse thriller about a killer doll that looks like a cross between Annabelle from "The Conjuring" and the teched-out Buddi doll version of Chucky from the "Child's Play" remake.
Allison Williams, who's quickly evolved into a Scream Queen of twisted modern horror thanks to her roles in "Get Out" and "The Perfection," stars in "M3GAN" as Gemma, a roboticist who comes up with the design for the titular doll (voiced by Kimberley Crossman), a life-like A.I. toy that's "programmed to be a child's greatest companion and a parent's greatest ally," as the film's synopsis words it. But just as Gemma finds herself under increased pressure at work to finalize the M3GAN prototype, she suddenly becomes the caretaker of her recently orphaned eight-year-old niece, Cady ("The Haunting of Bly Manor" alum Violet McGraw).
Hoping to kill two birds with one stone (an ominous expression, given the context), Gemma introduces Cady to her M3GAN prototype. Before they know it, the pair have formed a strong bond with one another — strong enough for M3GAN to, you guessed it, start killing anyone who dares threaten Cady or their relationship.
Watch the M3GAN trailer
While its "A.I. kids' doll robot goes on a murder rampage" premise isn't anything that new (again, the "Child's Play" remake only just did something similar back in 2019), the trailer for "M3GAN" makes the movie seem pretty dang wild. Between M3GAN running on all fours as she chases Cady's bully through the woods, wielding a nail gun, blowing things up, and dancing like she's auditioning for a role in the "Step Up" films in-between her homicidal acts, the film looks as ridiculous and pulpy one might hope for, given its B-movie premise.
Gerard Johnstone ("Housebound") directs "MEGAN" from a script by Wan's "Malignant" co-writer Akela Cooper, which certainly accounts for the go-for-broke hammy vibe of the film's trailer. Wan, who co-wrote the movie's story with Cooper, and Jason Blum are co-producers here, with Williams also serving as an executive producer. Rounding out the cast are Ronny Chieng ("Shang-Chi and the Legend of the Ten Rings"), Brian Jordan Alvarez ("Will & Grace"), Jen Van Epps ("Cowboy Bebop"), Lori Dungey ("Power Rangers Ninja Steel"), and Stephane Garneau-Monten ("Straight Forward").
"M3GAN" arrives in theaters on January 13, 2022.