The 14 Best Civil War Movies, Ranked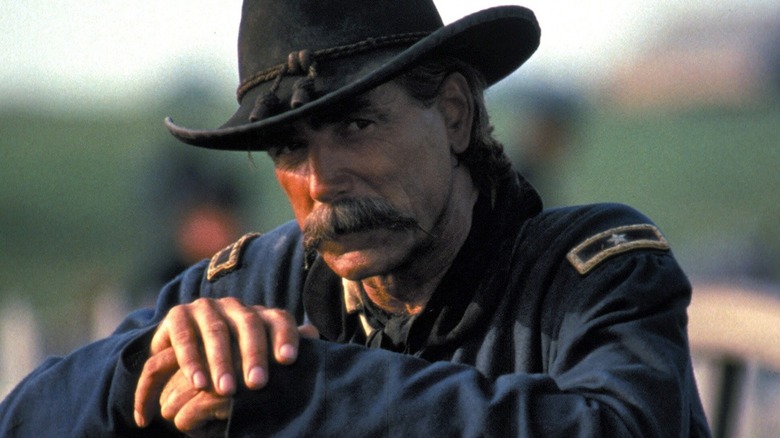 New Line Cinema
The American Civil War of 1861-1865 is such an extensive topic due to just how vast the United States is. It is unsurprising that it has proved a fertile ground for filmmakers, and that the movies which tackle the period are largely disparate, with little in common. Some writers and directors have chosen to focus on famous figures of the war, like General Custer, or on pivotal battles like Gettysburg. Some focus on the home front and the women left behind, from Scarlett O'Hara to the women of a Virginia girls' school in "The Beguiled." Some Civil War films look more like westerns, especially when focusing on Bleeding Kansas and the guerilla warfare of Missouri.
If you look at Civil War movies through the decades, not only do the styles of hair change but also the styles of filmmaking. They include everything from silent comedies to film noir to Elvis Presley musicals all the way through to modern twists on the southern gothic. These Civil War movies also reflect the times they were made in, whether that's during WWII, the Korean War, Vietnam, or post-9/11. Join us on a tour through the best of nearly a hundred years of Civil War movies, ranked.
14. They Died with Their Boots On (1941)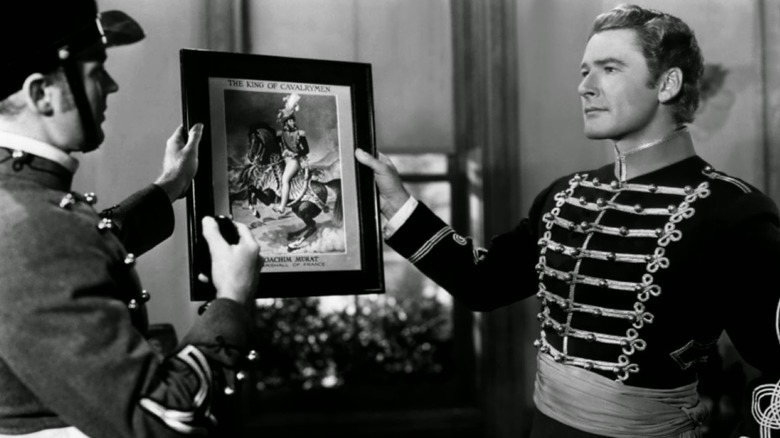 Warner Bros. Pictures
General Custer is one of the most well-known figures of the Civil War, a dashing war hero with distinctive long blonde hair. In pitch-perfect casting, Errol Flynn plays Custer in "They Died with Their Boots On," the eighth film that he made with Olivia de Havilland ("The Charge of the Light Brigade," "The Adventures of Robin Hood"). As a highly fictionalized account of Custer's military career, it gets some things right, such as the fact that he was bottom of his class at West Point Military Academy. The movie depicts Custer rocking up to school in a ridiculous uniform acting as if he's already a Brigadier General. Flynn is brilliantly comedic as he pranks his way through the academy and flirts with Libbie Bacon (de Havilland).
Custer continues his rebellious streak during the war by disregarding orders, but always with brave and heroic results. Much to the shock of himself and those around him, Custer is promoted to Brigadier General at the age of 23 and rises to the challenge. He leads his men valiantly during the Battle of Gettysburg, putting himself and his men at great risk. After the Civil War, there is still half a movie left, which is one of the reasons why it's at the bottom of our ranking. While there is much hokum involved, this is a fun and entertaining war movie built around Flynn's charm.
13. Love Me Tender (1956)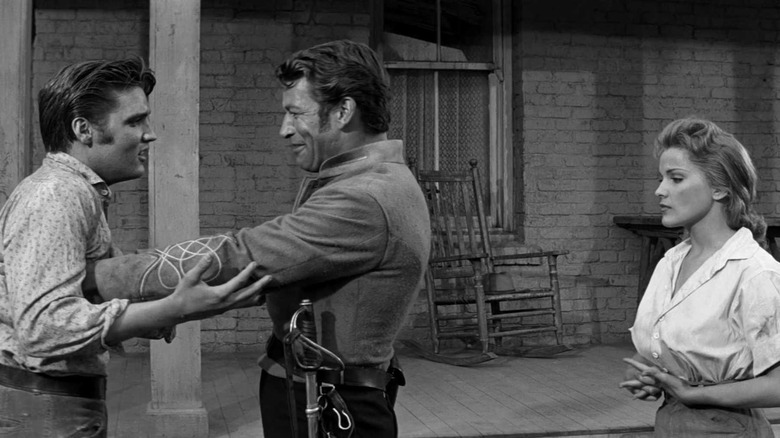 20th Century Fox
One of the most entertaining aspects of watching Civil War movies across the decades is the variety of haircuts and facial hair involved. If you're going to put Elvis Presley in a Civil War movie, you're going to get Elvis hair. "Love Me Tender" was Elvis' first film role and the only one where he didn't get top billing. While this film has a lot going on ⁠— a love triangle, pausing for Elvis' swinging hips musical numbers ⁠— it actually covers one of the most fascinating periods of the war.
The war didn't just stop on the day when Robert E. Lee surrendered to Ulysses S. Grant. It took time for the news to spread, especially in Texas and the West. The film begins on the day after the surrender and covers this limbo period, which for the Reno brothers (led by Richard Egan's Vance) is only a few days. Under Confederate orders, they rob a train of its Union payroll. When they discover their unit has been disbanded, they decide to keep the loot. It takes around 18 minutes for Elvis to show up, becoming more of a central figure in the second half of the movie. Surprisingly, Presley's character is unlikeable and aligns with the villains of the piece. The fate of his character is also pretty shocking, and would rarely happen in his subsequent career. An interesting movie that covers the messy end of the war.
12. Savage State (2019)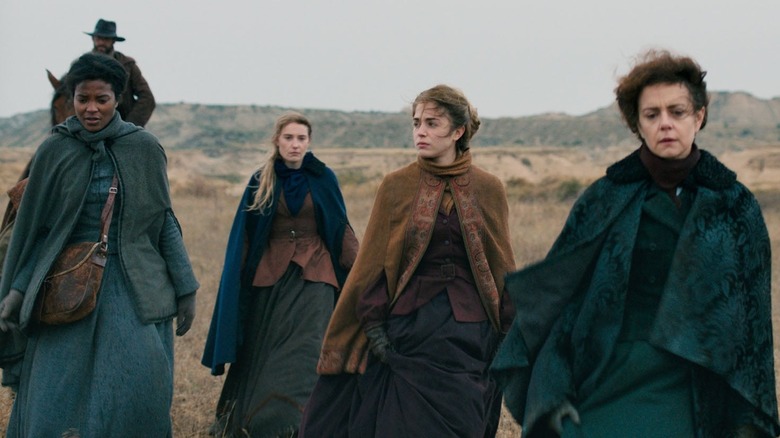 Samuel Goldwyn Films
This is the first of three movies on this list set in Missouri, which had its own border war with Kansas that predated the Civil War and was a lawless place full of roaming gangs. "Savage State" focuses on a community of wealthy French immigrants who realize they need to move back to Paris once the Civil War reaches them. So begins a vast journey to the coast with a family of five, including three daughters of marrying age and their servant Layla. They are transported by the mercenary Victor, whose past catches up to them during their travels: Bettie and her gang ⁠— wearing terrifying skin-like masks ⁠— are out for revenge.
An early scene shows the brutality of war interrupting the civilized and genteel life the family has been living in St. Louis when Union soldiers violently gatecrash a ball, which is the final straw for the French family. Christophe Duchange's cinematography of the vast landscapes that the family travels through is stunning. One of the most beautiful sequences happens when the wagon gets caught on a cliff edge and the sisters must start flinging their dresses and books over the side. Alice Isaaz (the youngest daughter Esther) is the stand-out. It's good to watch a Western where women are both the heroes and villains, not just the ones needing to be saved. It's also an unusual perspective on the time period, focusing on a family who is familiar with the territory but ultimately outsiders.
11. The General (1926)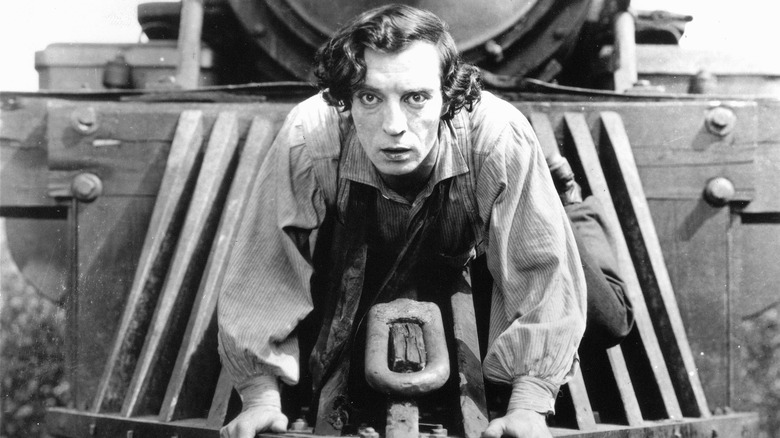 United Artists
The silent era had not been short on Civil War melodramas as it was relatively recent history, with the most famous example being 1915's "The Birth of a Nation." When Buster Keaton came to make "The General," he allegedly said that the audience wouldn't accept the Yankees as heroes and the Southerners as villains. The story follows engineer Johnnie (Keaton), who is in love with Annabelle (Marion Mack). When war breaks out, Annabelle's father and brother immediately sign themselves up for the Confederate cause. Johnnie is rejected due to his important job, and Annabelle is outraged that he's not going to fight. He spends the rest of the movie trying to prove himself brave and worthy of her.
This leads to a series of classic Keaton set-pieces in which he performs death-defying stunts after Johnnie's beloved train (the General of the title) is commandeered by Union soldiers. Surprisingly, the events are based on the Great Locomotive Chase, a real event that took place in 1862. One of the most audacious stunts involves Johnnie trying to pull up two railroad ties (heavy wooden planks) lodged in the track, while the runaway train approaches behind him. "The General" works better as a comedic Keaton vehicle than as a Civil War movie. It has not come under as much scrutiny as "Gone With the Wind" or "Birth of a Nation," but there is still an uncomfortable undercurrent to it when watched almost 100 years later.
10. Lincoln (2012)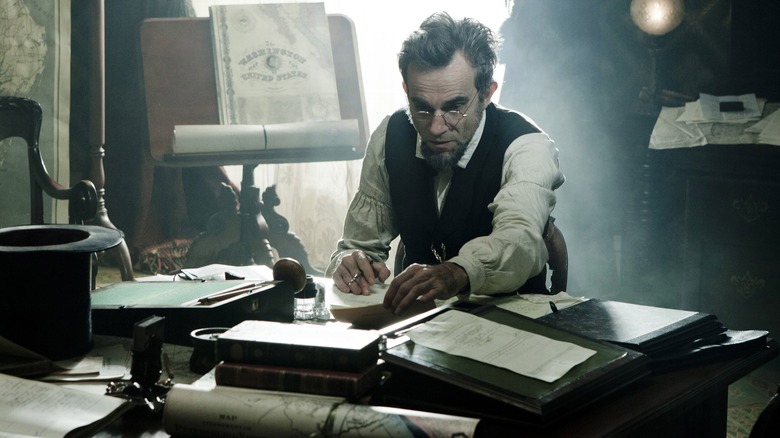 Dreamworks Pictures
For a complete picture of the Civil War, it's important to watch stories involving the lowliest soldier on the battlefield, the women left on the home front, and all the way up to those at the highest levels of power. Steven Spielberg's "Lincoln" wisely focuses on the four months leading up to his assassination, rather than attempting a broader scope. Even with this narrow focus, the cast is still absolutely enormous, with Jared Harris (as Ulysses S. Grant), Colman Domingo and David Oyelowo as soldiers, and Adam Driver as a telegraph operator.
Tommy Lee Jones has a significant role as Thaddeus Stevens, and a large part of the success of "Lincoln" is down to Sally Field as Mary Todd Lincoln. Spielberg's regular collaborator Janusz Kaminski ensures that the film looks absolutely beautiful, elevating scenes in the parlors and offices of the White House to something special. The inclusion of Lincoln's son Robert is another important decision, as his eagerness to join the union army makes the war more personal than ever for the President. "Lincoln" examines the extremely difficult negotiations and compromises that he faced in order to end the war while ensuring that the southern states could not revert back to practicing slavery. It makes it clear that the battles in Congress and the House of Representatives were just as important, if not more so than the actual battles which raged across the nation. "Lincoln" is a crucial part of the overall picture of the Civil War.
9. The Red Badge of Courage (1951)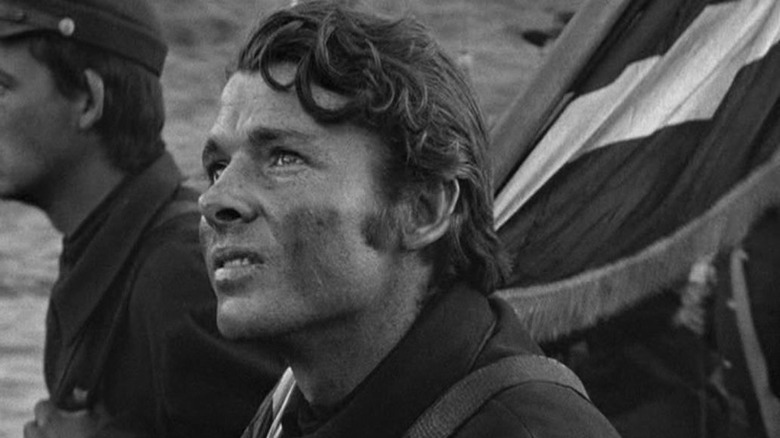 MGM
John Huston's Civil War movie is unfortunately a butchered version of what should have been a two-hour masterpiece. It's frustrating that the 70-minute version that exists is so good because it could have been even better. The production of "The Red Badge of Courage" was covered by Lillian Ross in The New Yorker then later in "Picture," one of the best books on filmmaking. Huston's depiction of the Civil War is absolutely unique, never looking or feeling like this before or since. Harold Rossen's stunning black-and-white cinematography captures the war as if it's a film noir, complete with light shafts and unusual camera angles. 
Highly decorated World War II hero Audie Murphy plays The Youth at the center of the story, and other characters are identified as archetypes such as The Tall Soldier, The Cheery Soldier, and The Tattered Man. Huston brings his own WWII experience to bear and cleverly subverts Murphy's heroism (of which the contemporary audience would have been aware) by addressing themes of desertion and cowardice in war. Made during the Korean War, this film has a lot in common with war movies and Westerns made during the Vietnam era of the '70s. It is a somber and melancholy piece about the futile waste of life, with tattered flags rendered meaningless and blowing in the wind. It's a film that provokes us to mourn the loss of life and the loss of Huston's vision for what the film should have been.
8. Cold Mountain (2003)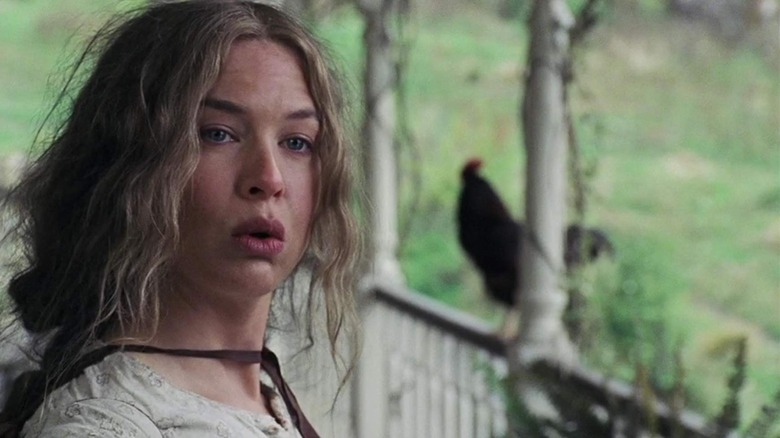 Miramax
Anthony Minghella's Civil War film mainly focuses on the hardships faced by the women left on the home front. An epic romance, adapted from the book by Charles Frazier, "Cold Mountain" has an all-star cast and was nominated for seven Oscars. Nicole Kidman is Ada, a preacher's daughter who is trying to establish a farm, while Jude Law is Inman, a carpenter. They meet and are drawn toward one another, but almost immediately the war breaks out and he is taken from her. 
While it's mainly set away from the frontlines, "Cold Mountain" does open with a spectacularly-rendered battle in which the Union forces find themselves trapped in a crater with the rebel army descending on them from above. Inman, a confederate soldier, is shot in the neck and spends a long time recovering before deciding to desert so he can find his way back to Ada, who is now starving after the death of her father ... that is, until Ruby (Renee Zellweger) arrives to assist her in running the farm. "Cold Mountain" has an exceptional cast, with both Philip Seymour Hoffman and Natalie Portman both having memorable cameos. There's also Ray Winstone, Brendan Gleeson, Eileen Atkins, Charlie Hunnam, Jena Malone, and Cillian Murphy. It should be noted that absolutely no one comes out well in the accent department, but it is hard not to get swept up in the emotionally devastating climax of this well-directed epic.
7. The Outlaw Josey Wales (1976)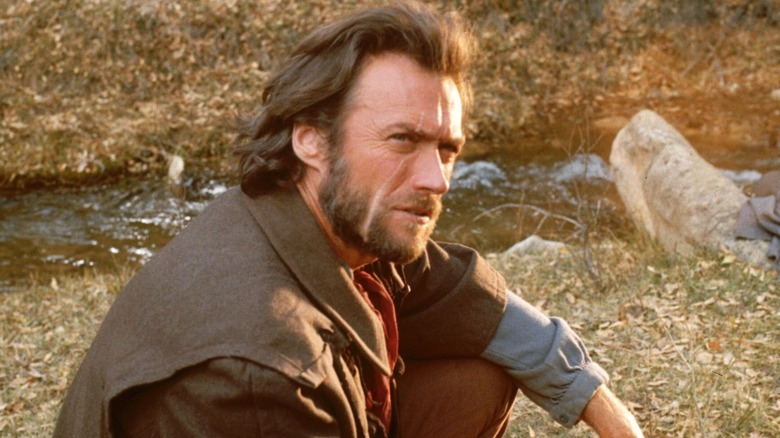 Warner Bros. Pictures
The Kansas-Missouri border region has been fertile ground for Civil War movies, where bands of guerilla fighters known as Jayhawkers AKA Redlegs (ostensibly on the Union side) and Bushwhackers (on the Confederate side) would battle it out in bloody skirmishes rather than in organized, regimental fashion. "The Outlaw Josey Wales" opens with the wife and son of Wales (Clint Eastwood) being murdered by Redleg militants, prompting him to join a band of Missouri bushwhackers. It is one of many revisionist Westerns that depicts the confederate side as brave rebels standing up against the evil Union. It's based on the book that was supposedly written by a Cherokee man called Forrest Carter but was actually written by a white supremacist called Asa Carter.
Eastwood delivers an impressive performance as Wales, as well as being in the director's chair. A Cherokee man (Chief Dan George) and a Navajo woman (Geraldine Keams) become significant in the second half. Sondra Locke also makes an impact in her first of many collaborations with Eastwood. Sam Bottoms is also cheekily charming as Josey's young blonde companion Jamie, and there's a memorable scene where he pretends to sing deliriously in order to give his friend a helping hand. Bruce Surtees' cinematography gives the film that distinctly hazy quality and the dialogue is full of memorable bon mots. "The Outlaw Josey Wales" holds up against Eastwood's other Westerns, and is another interesting exploration of one of the most complicated areas of the Civil War.
6. Ride With the Devil (1999)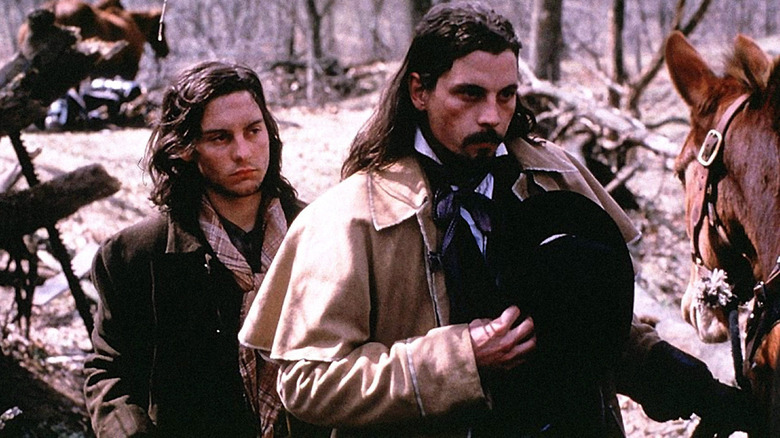 Universal Pictures
Taiwanese director Ang Lee turned his attention to the Civil War in "Ride with the Devil," another movie set amongst the Bushwhackers and Jayhawkers (the marauding gangs who roamed a lawless Missouri) and also sports dramatic hairstyles. Jake (Tobey Maguire) and Jack Bull (Skeet Ulrich) are childhood friends who join the Bushwhackers, where they meet Daniel (Jeffrey Wright). Jewel plays Sue Lee, who falls in love with Jack Bull and becomes pregnant before he dies.
Unsurprisingly, Wright delivers the most impressive performance as a Black man who has a precarious position amongst these disparate forces who are ostensibly pro-Confederate. Jonathan Rhys-Meyers plays Pitt Mackeson, who embodies just how ruthless the Bushwhackers could be; they were often stealing and murdering under the guise of being part of the war effort but were more about self-interest. Tom Wilkinson and Margo Martindale play an older couple who take the pregnant Sue Lee in and later care for a wounded Jake and Daniel. "Ride with the Devil" does a good job of conveying the complicated, confusing situation in Missouri and Kansas during the Civil War. The shoot-outs that occur have more in common with the Wild West than the regiments we see in "Gettysburg." It also balances depictions of the home front, as well as of soldiers who would rally around any kind of leadership they could find in this guerilla warfare. As always, it is well-directed by Lee.
5. Shenandoah (1965)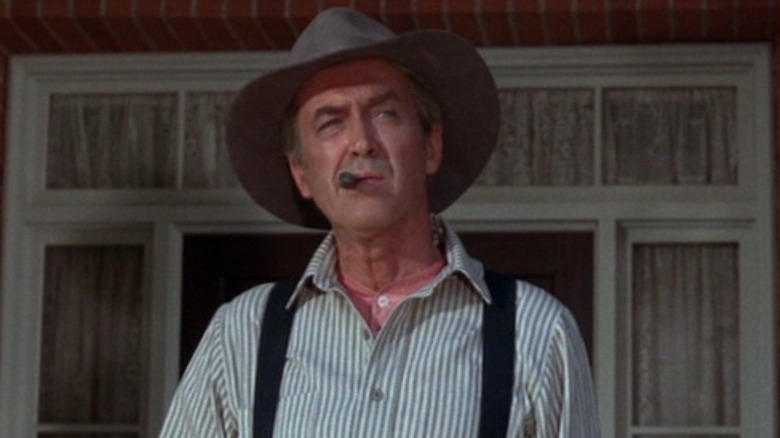 Universal Pictures
While James Stewart had a distinguished military career during WWII and beyond, he didn't actually appear in many war movies. He did star in the anti-Nazi movie "The Mortal Storm" in 1940. In "Shenandoah" Stewart plays Charlie, the patriarch of a large family who runs a farm in Virginia during the Civil War. He is unusual in a few important ways: he only attends church because his wife asked him to continue the practice after her death, and despite the fact that he has six strapping sons, he has not encouraged any of them to join the war. He very much views it as "none of his business," until his own family is under threat.
The youngest child of the family is simply known as Boy (played by Phillip Alford from 1962's "To Kill A Mockingbird"). One day he is taken prisoner by a Union patrol, who believe he's a rebel soldier due to the cap he wears. This provokes Charlie and his children (including his daughter) to get involved by setting out in pursuit of Boy. There follows much tragic and needless waste of life, made all the more heart-wrenching by Stewart's performance. The release of "Shenandoah" roughly coincided with the US fully entering the Vietnam War, and while it's not exactly an anti-war film, it's not gung-ho about fighting and dying either. A surprisingly nuanced approach to complex themes from a mid-60s Western.
4. The Beguiled (2017)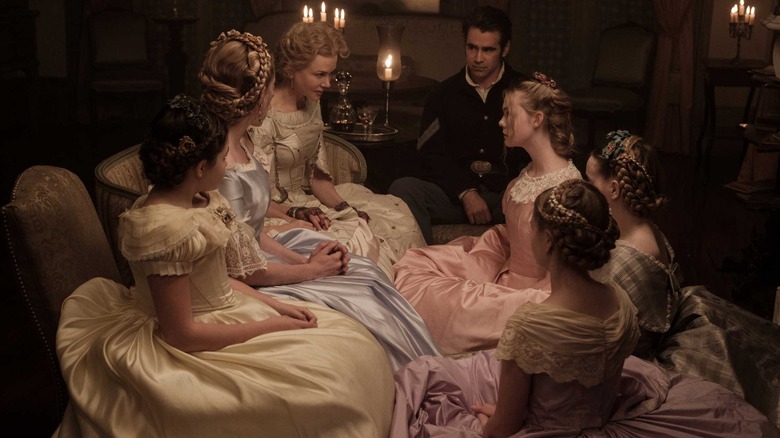 Focus Features
Based on the novel published in 1966, this Southern Gothic twist on the Civil War has had two well-known adaptations: "The Beguiled" starring Clint Eastwood in 1971, then Sofia Coppola's take in 2017. Set in a genteel girls' school in Virginia in 1864, Miss Martha (Nicole Kidman) is desperately trying to give the remaining few girls a sense of normalcy by practicing their French verbs while the sounds and smells of war grow ever closer.
Colin Farrell's injured Union soldier McBurney encroaches on this feminine world when one of the girls brings him back from the nearby woods. He immediately causes a stir amongst the teachers (mainly Kirsten Dunst's Edwina) and the students, (including Elle Fanning's Alicia) as they begin vying for his attention. While the '70s version is certainly sexy, we're mainly aligned with McBurney's point-of-view, as Eastwood is the star. In this version, the voyeuristic female gaze thrills at the sexual awakening and danger that McBurney's interloper provokes. Dunst's Edwina is the most sympathetic character, which isn't surprising given Coppola and Dunst's long working relationship. It makes an interesting counterpoint to Kidman's other Civil War movie "Cold Mountain," in which she longs for a soldier to return. In this, she desperately wishes to get rid of this soldier's intrusion on their lives. The juxtaposition of fear, delicate feminism (the white and pastel-colored dresses), and then corruption and violence are all brilliantly balanced by Coppola. 
3. Glory (1989)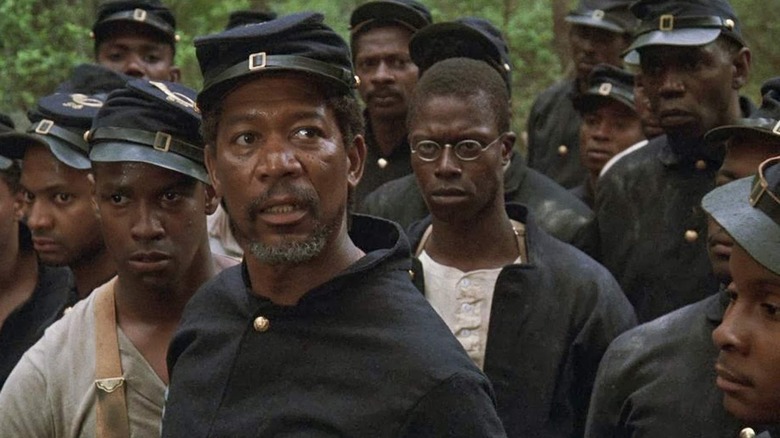 Tri-Star Pictures
One of the lesser-known aspects of the Civil War is the existence of regiments made up of Black soldiers on the Union side, and one of the reasons they're not so well-known is that Civil War movies have historically tended to have overwhelmingly white casts. That is until "Glory" focused on one of the first of these regiments, led by Colonel Shaw (Matthew Broderick). The cast is rounded out by Cary Elwes, Morgan Freeman, and an Oscar-winning turn from Denzel Washington.
One of the strongest through-lines of "Glory" surrounds Andre Braugher (now best-known for "Brooklyn Nine-Nine") who plays Thomas Searles, a childhood friend of Shaw's. The two must adapt to their new relationship, with Shaw in charge of the regiment. This is not easy for the bookish Searles, though he is determined to become a true soldier. Broderick's casting certainly paints Shaw as a much more mild-mannered leader than we typically see, and one who is frequently unsure of himself. "Glory" is elevated by the cinematography of Freddie Francis, known for his stunning black-and-white work in "The Innocents" (1961) and "The Elephant Man" (1980). The scenes where large numbers of soldiers are gathered together have a certain intimacy, with Francis' camera picking out individual faces to remind us that they aren't just a generic mass, making the ending far more tragic. "Glory" is one of the most important Civil War movies, shining a light on a part of history that has been overlooked.
2. Gone With the Wind (1939)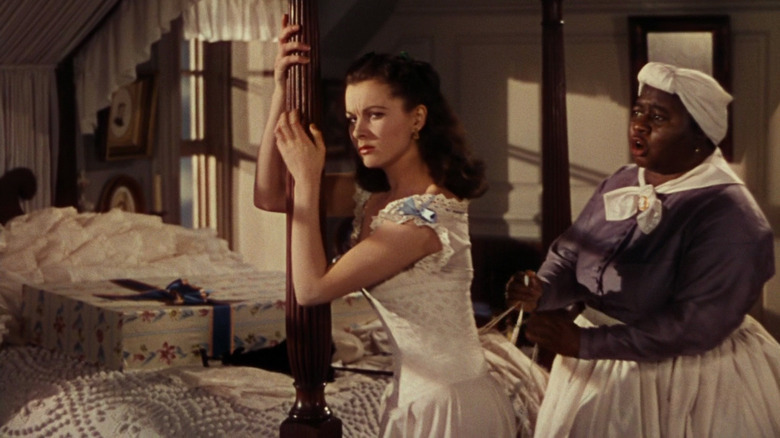 MGM
The epic saga that is "Gone With the Wind" follows Scarlett O'Hara (Vivien Leigh) as she goes from being a Southern belle to the struggles she faces when the Civil War imposes on her idyll. The gallant South is depicted as a place of gentility and chivalry, and the slaves working the cotton of the Tara plantation as happily subservient until the evil Union disrupts the status quo. Much has been written about the characters of house servants Mammy and Prissy, with HBO Max temporarily removing it before adding an introduction that places it in its historical context.
The four central characters of Scarlett, Rhett Butler (Clark Gable), Scarlett's true love Ashley Wilkes (Leslie Howard), and his angelic wife Melanie (Olivia de Havilland) are so perfectly cast that it's a struggle to see the actors in other roles after this. Scarlett is an insufferable central character, and Rhett is generally much more appealing until he makes some controversial choices toward the end. Gable is such a dominating force of nature that the film suffers whenever he leaves, but Leigh's performance is undeniably great. Ernest Haller, working with Technicolor cinematographer Ray Rennahan, produced some stunning images involving silhouettes against sunsets or fires. While "Gone With the Wind" is difficult to watch now, its cultural and societal impact on how people viewed the Civil War is undeniable. It's extremely important that it be preserved for future generations.
1. Gettysburg (1993)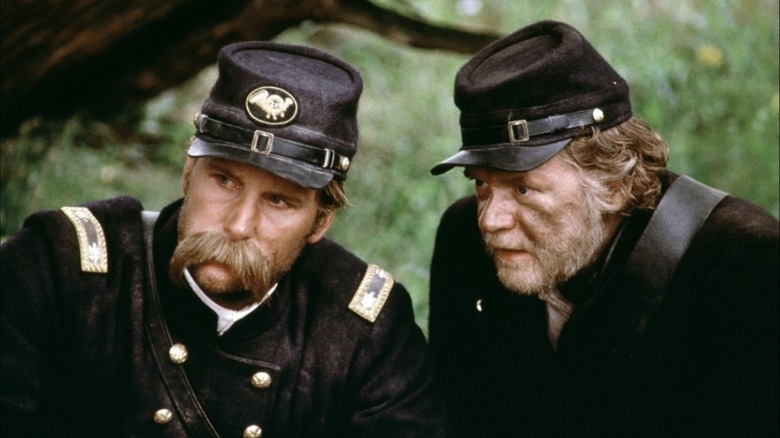 New Line Cinema
At 4.5 hours, it feels unfair to compare one "movie" to others that are much shorter, because they can cover events in far more depth. "Gettysburg" is a faithful recreation of the pivotal three-day battle that took place in Pennsylvania in 1863. It gives equal time to the Union and Confederate sides, focusing on leaders of divisions who were involved in key moments of the battle. For example, Robert E. Lee (played here by Martin Sheen) himself was personally involved in Gettysburg, while Ulysses S. Grant was busy in Mississippi at the time.
Jeff Daniels is a standout amid a vast cast as Union Colonel Chamberlain. His relationship with his Irish confidante Buster (one of the few invented characters) is a highlight of the movie. Sam Elliott — whose enormous mustache was always destined to be in a Civil War movie — also plays a Union soldier named General Buford, who unfortunately is only in the first day of battle. On the Confederate side, Tom Berenger impresses as General Longstreet. One of the best aspects of "Gettysburg" is the interactions that we see between the Yankees and the Rebs: when some are taken prisoner by the others, they chat quite amenably. There is a moving scene where Richard Jordan's Confederate General Armistead talks about his best friend, Union General Hancock. The battle scenes involving thousands of reenactors are of course spectacular, but you wouldn't be invested if you didn't have the performances to draw you in.