Elvis Fans Will Want To Watch These 10 Movies Next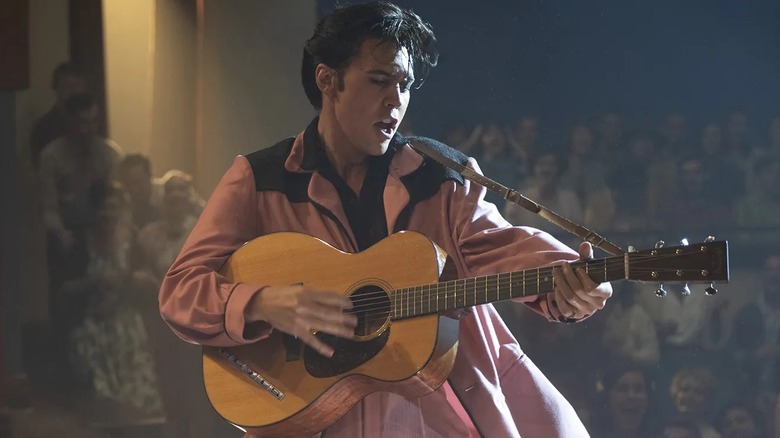 Warner Bros.
"Elvis" is many things: a biopic of one of the biggest stars in the world, a Baz Luhrmann movie, a star vehicle for the relatively unknown Austin Butler, and a chance for Tom Hanks to play a villain. While your head may be spinning after two hours and forty minutes of Luhrmann's typically frenetic editing, it may have given you the taste for more. So, where to turn to next?
If you're unfamiliar with Elvis' movie career, you may want to know which of his 30 movies to check out first. If you're new to the work of the Oscar-nominated filmmaker, let us point you in the direction of a little thing called "The Red Curtain Trilogy." If "Elvis" has given you the taste for biopics of music stars, there are certainly some to be recommended and some to be avoided. 
If you want to know more about this Austin Butler kid, we have you covered, and if you're in the mood for more weirdness from America's Dad and all-around Mr. Nice Guy Tom Hanks, we can point you in the right direction there, too. Whatever you're hunka hunka hankering for, let us guide you through the 10 movies to check out next after watching "Elvis."
King Creole (1958)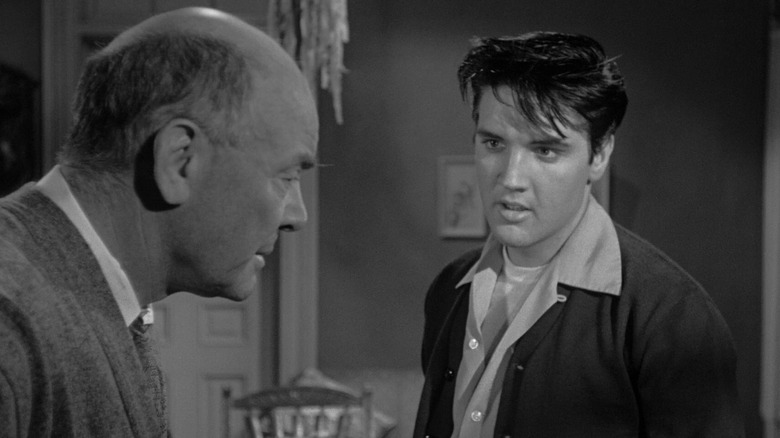 Paramount Pictures
You might have an image of an Elvis movie in your head, and it probably involves bright colors and surfboards. Surprisingly, some of his earlier black-and-white movies were grittier than expected. If you took Elvis (and the singing scenes) out of "King Creole" and replaced him with James Dean or Paul Newman, you probably wouldn't bat an eye. Elvis plays the rebellious, angry young man type that rails against his father that we saw from many young actors in the '50s. Helmed by Michael Curtiz, who also made "Angels with Dirty Faces," "Mildred Pierce," and "Casablanca," it should come as no surprise that it's well-directed and looks great.
"King Creole" is a tension-filled gangster thriller, with the odd Elvis song thrown in there to keep the fans (and Colonel Parker) happy. It's easy to imagine that this was at a stage when Presley wanted to take acting seriously and not just use movies as vehicles to sell records. He plays Danny, a teenager whose father is desperate for him to finish school, but he just wants to make money as a singer and he's torn between a nice girl, and a gangster's moll. When he starts to achieve success and bring in crowds at the King Creole club, it attracts the attention of the local New Orleans kingpin (amusingly played by Walter Matthau) who wants Danny to work for him. "King Creole" is a good movie, not just a good Elvis movie.
Viva Las Vegas (1964)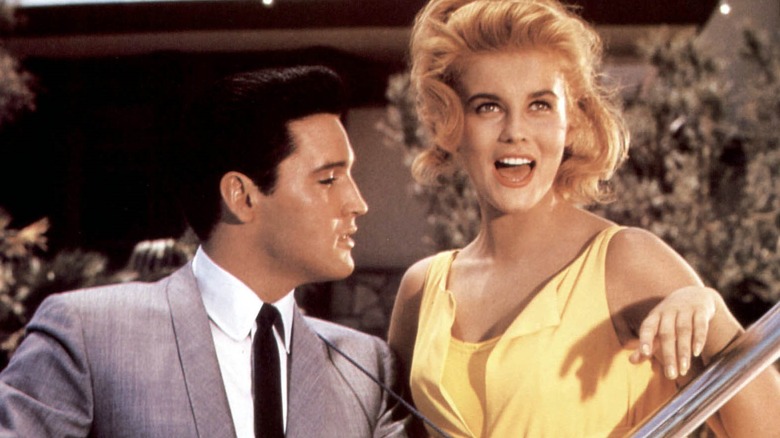 MGM
If you're looking for a more typical Elvis movie, you can't go wrong with "Viva Las Vegas." The title song is among the best of all Elvis tracks, for starters. The movie also features a leading lady possibly best-suited to Presley, and with whom he had the best chemistry: Ann-Margret. She could certainly keep up with him in the hip-swiveling dancing stakes, as you'll see in some fast-paced scenes involving the twist, and Ann-Margret generally shaking her funky stuff.
The plot is based around car racing, of all things, with Elvis playing Lucky Jackson, a young racer who is desperate to enter and win the local Grand Prix. He has money troubles, and this being Vegas, he both wins and loses a large amount in an effort to fix his engine. While doing various odd jobs in order to earn money, he manages to woo the lovely red-head Rusty, a swimming instructor at one of the Vegas hotels. Lucky knows the right people, because he manages to borrow boats and helicopters to aid him in his courtship. Of course, the movie culminates with the race itself, and Rusty following along in a helicopter above. "Viva Las Vegas" is silly fun, but the song-and-dance numbers are great, and there are some fantastic sequences set at Rusty's house and on the Hoover Dam.
Strictly Ballroom (1992)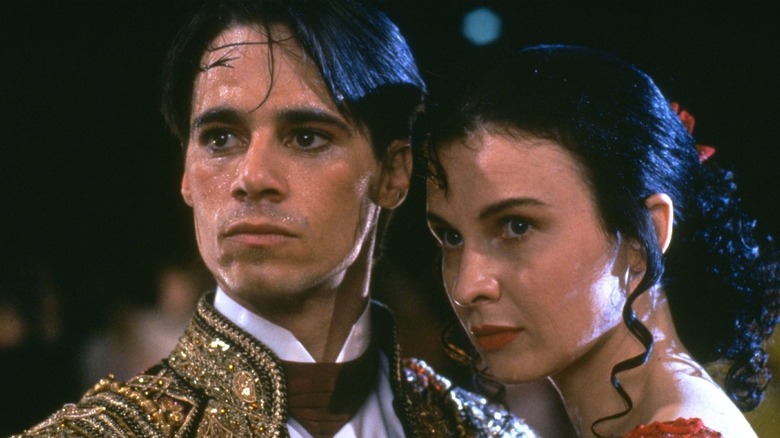 Miramax
It's doubtful that "Elvis" is your first Baz Luhrmann movie, but if you haven't seen much of his work and want to explore more, you should definitely go back to where it all began. 1992's "Strictly Ballroom" is the only Luhrmann movie set in contemporary Australia and it's populated by an amazing supporting cast of character actors, most of whom are covered in thick layers of fake tan and hairspray. Many of Luhrmann's hallmarks are already present, including his frenetic editing and use of close-ups that don't shy away from the grotesque.
The tracks "Love Is in the Air" and "Time After Time" are both set to gorgeously memorable sequences. Dance champion Scott Hastings has a rebellious maverick streak, wanting to break out of the strict confines of ballroom dancing and do his own steps. He also needs a new partner and finds one in an unlikely source; a wallflower beginner from his mother's dancing school. The performances of Pat Thompson and Barry Otto as Scott's parents, as well as the dancing federation head-honcho Barry Fife (Bill Hunter), really elevate "Strictly Ballroom" to something special.
This is by far Luhrmann's funniest film, and it's a shame that he doesn't inject as much comedy into his later work. With 1994's "Muriel's Wedding" and "The Adventures of Priscilla, Queen of the Desert," this was a mini golden age for Australian comedy movies. If you haven't seen Luhrmann's first film, you should definitely rectify that.
Moulin Rouge! (2001)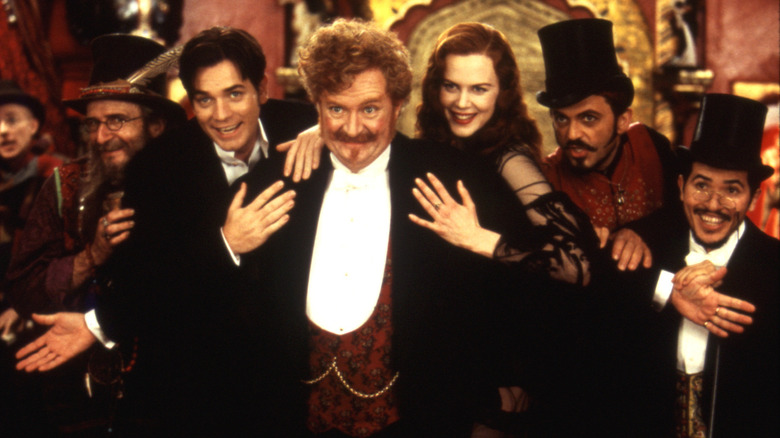 20th Century Fox
The final part of Baz Luhrmann's "Red Curtain Trilogy," following "Strictly Ballroom" and "Romeo + Juliet," is where it reached its zenith. "Moulin Rouge!" is the Baziest Baz Luhrmann film, and the one where you can really decide if you fall into the love or hate camp. Nicole Kidman (Satine) and Ewan McGregor (Christian) are both extraordinary in this musical dialed-up-to-11, set during the Belle Époque. Jim Broadbent and John Leguizamo are also fantastic in their supporting roles. 
The songs are a huge reason for the success of "Moulin Rouge!" from the famous "Elephant Love Medley" to "Your Song" and the "Tango de Roxanne." The film's crowning achievement, though, is McGregor's performance of "Come What May" at the climax of the film; utterly shattered, voice and heart breaking, as Christian gradually makes his way back to Satine on the stage. Neither McGregor nor Kidman has the range or power of Broadway singers, but they absolutely know how to sell the emotion of the music. The songs are performed extremely well largely due to their acting doing all of the heavy lifting.
Musicals that are all about putting on a show are often the most successful. Luhrmann, and his crucial collaborator Catherine Martin, could dial the theatrical style up limitlessly in this red satin draped theatre with a windmill out front and a giant elephant in the garden. Little touches, like Kylie Minogue's Green Fairy, only add to the magic. "Moulin Rouge!" is easily one of the best musicals of all time.
Velvet Goldmine (1998)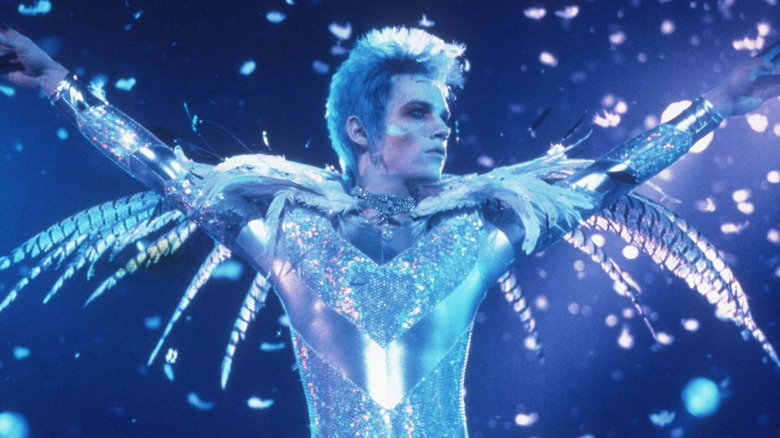 Miramax
Biopics of any kind, and particularly ones about musicians, can be extremely formulaic, leading to a particularly famous parody of the subgenre. Biopics tend to be more successful when they take a less conventional approach, and that is certainly something that director Todd Haynes has done. His 2007 Bob Dylan biopic "I'm Not There" famously uses many different actors — including Cate Blanchett, Heath Ledger, Ben Whishaw, and Richard Gere — to embody the soul of the folk singer at different stages of his life. 
"Velvet Goldmine" takes an even more loose approach, with Jonathan Rhys Meyers playing Brian Slade (a stand-in for David Bowie) and Ewan McGregor playing Curt Wild (who looks like Iggy Pop, but is based on both Iggy Pop and Lou Reed). Because Bowie did not give permission for his songs to be used, the soundtrack is made up of '90s musicians such as Thom Yorke, Bernard Butler, Thurston Moore, Pulp, and Placebo either covering songs by the likes of Brian Ferry and Marc Bolan, or contributing new ones.
Like "Almost Famous," a journalist is at the center of this story, here played by Christian Bale. Bale, McGregor, Meyers, and Toni Collette (as Brian's wife) give brilliant performances and it goes without saying that John Dunn's costume design is second-to-none. Biopics will always be subjective, and the figure at the center will be viewed with a particular lens, so acknowledging this and layering fact and fiction is often the most successful route.
Walk the Line (2005)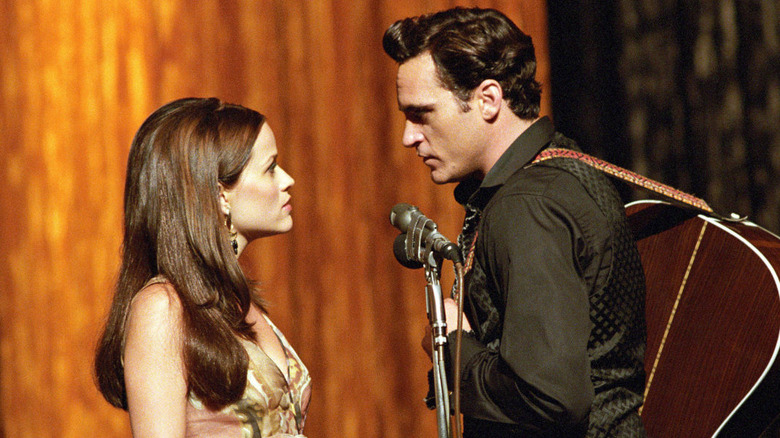 20th Century Fox
Since the release of "Walk Hard: The Dewey Cox Story," the music biopic can never be viewed in the same way again. Unfortunately, the film most affected by this is 2005's "Walk the Line," which is a shame because while it may be considered conventional, it's a well-acted and directed biopic. With Johnny Cash coming up in Memphis in the mid-1950s and rising in fame during the 1960s, there are many parallels with Elvis, including them both having served in the military.
Reese Witherspoon is the surprising secret weapon of "Walk the Line." You might think that her energy would seem in total contrast to Joaquin Phoenix, but they actually complement each other extremely well. Director James Mangold has had an eclectic career, including the excellent thriller "Cop Land" and 2017's brilliant "Logan." He knows that Witherspoon's June is the heart and soul of this story and that it works best as a romance. Witherspoon absolutely deserved her Oscar for showing how June transformed on stage, along with her annoyance when Johnny brings their real-life into the performance — not least when he proposes in front of an audience.
Movies about performers should have an interest in performance, which is why a director like Baz Luhrmann is a good match for a music biopic. "Walk the Line" does a nice job of revealing the public and private lives of two country stars, and their interdependence is crucial to their story.
Rocketman (2019)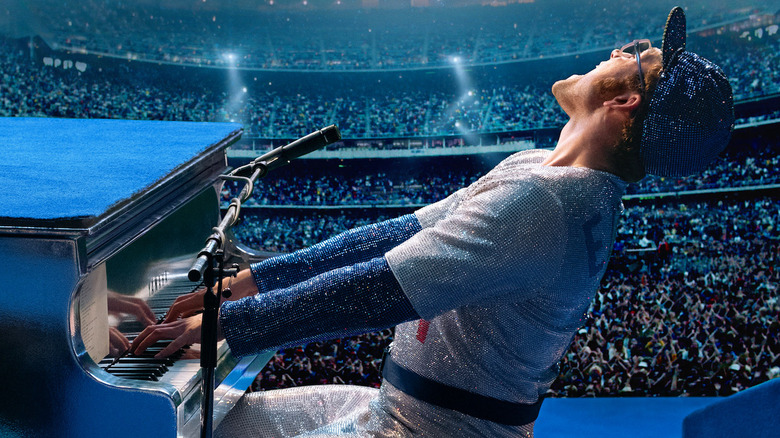 Paramount Pictures
In a clear example that not all music biopics are created equal, Dexter Fletcher's biopic of Elton John will stand the test of time. One of the things that makes "Rocketman" stand out is that it's a fully-fledged musical, with spectacular song-and-dance numbers. Starting on a high with "Saturday Night's Alright (For Fighting)" through to "Crocodile Rock" at the Troubadour and continuing with "Honky Cat," we are taken on flights of fancy and fantasy, into the mind of Reg Dwight as he dreams of becoming a pop star and then, of course, becomes one of the most successful recording artists of all time. Julian Day's costumes are also, unsurprisingly, a highlight; this film only winning one Oscar is a travesty.
Jamie Bell gives a typically impressive performance as John's long-term friend and songwriting partner Bernie Taupin, and Richard Madden plays his lover John Reid. But it is Taron Egerton who is the whirling dervish at the center of this wild ride, a centrifugal force drawing the audience in and not letting them go for the entire runtime. "Rocketman" deserved more attention, and it's a brilliant example of everything a music biopic can be.
Cloud Atlas (2012)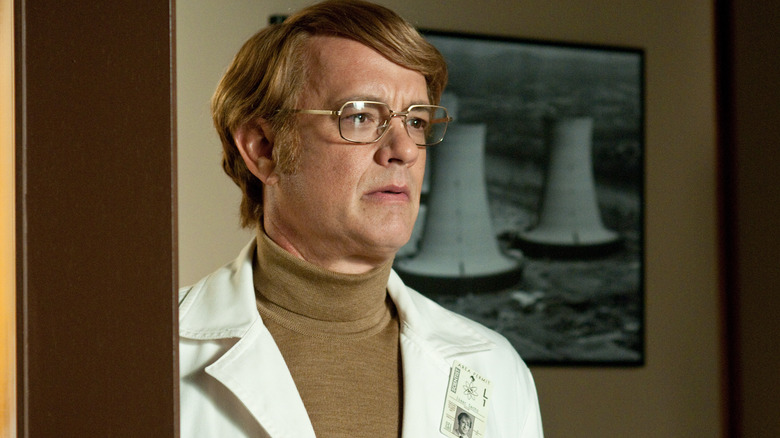 Warner Bros.
You may leave "Elvis" thinking that you've witnessed Tom Hanks' weirdest performance, but let me stop you right there. Back in 2012, Hanks starred in "Cloud Atlas" a century-spanning epic directed by Tom Tykwer and the Wachowskis. Like the other stars, Hanks takes on around six roles, including a devious ship's surgeon in 1849, a scientist in 1970s San Francisco, an ill-mannered Cockney bad-boy gangster/author in 2012, and finally his main role: a humble goatherd in 2321.
As there are six different stories from six different time periods, some are stronger than others. The 1930s segment starring Ben Whishaw, Jim Broadbent, and James D'Arcy is probably the best, and the most emotionally stirring. The 2012 segment — which also stars Broadbent, as well as a hilarious and great Hugh Grant — features Hanks' entirely unexpected character and his murderous ways as the inciting incident of this storyline. The cast also includes Susan Sarandon, Hugo Weaving, Jim Sturgess, Keith David, and Bae Doona.
Hanks' main screen partner is Halle Berry in both the 1970s and the 2321 sections. They actually have good chemistry with one another, despite the challenges of some bizarre makeup and wigs. "Cloud Atlas" is even longer than "Elvis," and certainly not to everyone's taste. However, it's not often we get filmmaking that is this bold and risky, and that is always worth your time.
Once Upon a Time... In Hollywood (2019)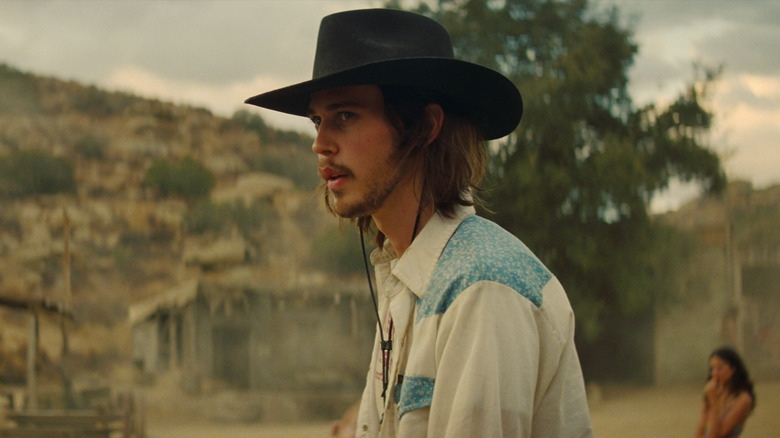 Sony Pictures
It is likely that you will come away from "Elvis" so impressed by Austin Butler that you'll want to know what other projects you can see him in. Butler began his career at a young age on the likes of "Hannah Montana," "Zoey 101" and "Ruby & The Rockits." He has since graduated into more mature roles, such as in Jim Jarmusch's "The Dead Don't Die." His most significant pre-"Elvis" film role is probably as Tex Watson, one of the ringleaders (alongside Charles Manson) in the murders of eight people, including Sharon Tate. Although in Quentin Tarantino's "Once Upon a Time... In Hollywood" version of events, things work out somewhat differently.
While Butler only has a small role, he interacts with both Brad Pitt's Cliff, who has a memorable visit to Spahn Ranch, and with Leonardo DiCaprio's Rick who becomes enraged when the "hippies" visit his street in a loud car. And more crucially, he also "interacts" with Brandy the dog. Butler is understated in his role as Tex, remaining an enigmatic figure. Tarantino seems uninterested in the motivations of the Manson Family, and more focused on their violent actions being thwarted by two bumbling action stars.
If there's any justice, "Elvis" will be a launchpad for Butler's career and he will have bigger roles in more movies in the future, starting with "Dune: Part Two." He's already worked with four prestigious directors, and received an endorsement from none other than Denzel Washington, so his career should be about to take off into the stratosphere.
Zola (2020)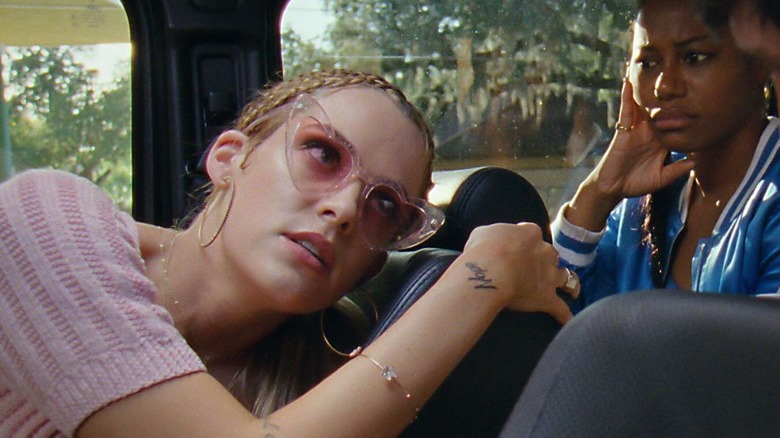 A24
Did you know that Elvis Presley's granddaughter is an actor? Riley Keough has been steadily racking up an impressive list of credits including "Mad Max: Fury Road," "American Honey," "Logan Lucky," and "Under the Silver Lake." Maybe her most impressive turn thus far is in Janicza Bravo's "Zola," in which she plays stripper Stefani who brings her friend Zola on a wild road trip to Florida, where things start to go awry.
Famously based on a viral Twitter thread, "Zola" makes a good companion piece to "Elvis" in more ways than one. It's a very modern tale of fame and celebrity, and with a story that originated on social media, it is ever-present in the narrative. Stefani makes the trip seem glamorous with constant selfies and videos, but as things spiral out of control, there's less documenting. One of the strongest aspects of this film is Ari Wegner's cinematography, which enhances the "Spring Breakers" feel. Neon bikinis shine out against dismal backdrops, with constant scenes of driving under sickly yellow streetlights and the use of mirrors meaning that the two central characters have nowhere to hide.
Keough is a revelation. Her culturally-appropriated accent will make you cringe, but this only works so well because it bounces off Taylour Paige's stoicism. There is propulsive energy and humor throughout "Zola" which comes directly from the Twitter-thread source. It's one of the best contemporary films to capture the times we live in, and Keough proves that she's a star.