How Austin Butler Landed The Role Of Elvis In Baz Luhrmann's Biopic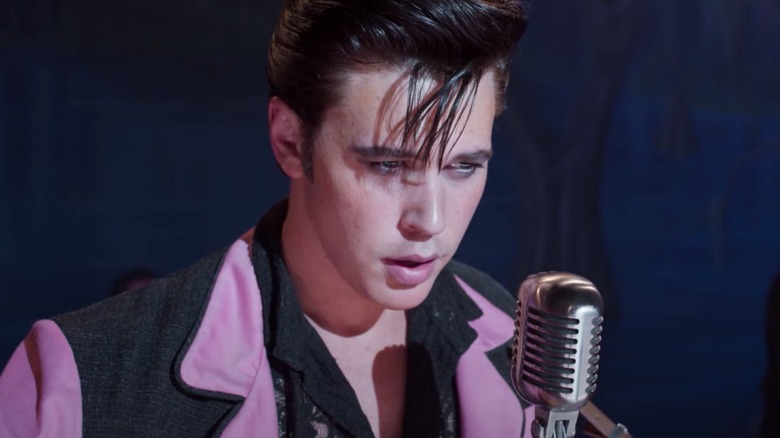 Warner Bros. Pictures
Austin Butler will be donning the title of The King in Baz Luhrmann's upcoming biopic, "Elvis," and the way in which he managed to land the seminal role is interesting, to say the least.
Butler's journey of transformation for the coveted role began with a video he sent to Luhrmann, in which he performed "Unchained Melody" with a bathrobe on. Luhrmann was "equal parts confused and intrigued," and had the following to say about the video in question, along with Butler's intense commitment to the role (via GQ):
"Was it an audition? Or was he having a breakdown? ... I asked one of my assistants [about Butler's accent], and the guy said, 'Well, he's not Southern. He's from Anaheim.' I don't think, until recently, I actually came to understand how Austin actually sounded."
As seen in the clips and the official trailer released for "Elvis" so far, it is clear that Butler has completely immersed himself into the role, to the point that he voiced the singing parts of the film, while focusing on capturing the rock n' roll legend's electrifying personality. 
Making a biopic about a musical legend is not an easy task by any means, as only a few attempts are able to succeed and successfully capture the essence of the icons in question. Butler's commitment to the role is necessary, sure, but the results do speak for themselves, as the actor's way of assuming the aura of Elvis has already been lauded. While it is too early to comment on Luhrmann's biopic, and how he ends up handling the narrative, it is safe to say that critics and audiences will take a liking to Butler's dedication to the role, for sure.
Perfecting a role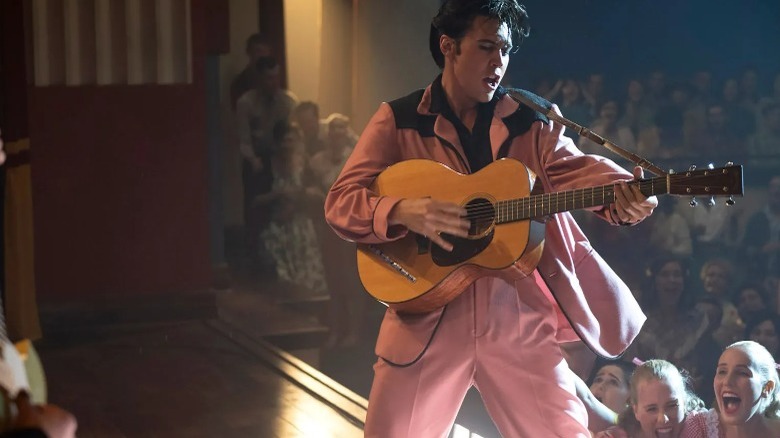 Warner Bros. Pictures
Butler is no stranger to the laborious process of perfecting a role, as his devotion to acting has been vouched for by none other than Denzel Washington, who made a personal phone call to Luhrmann, and praised Butler's "work ethic" prior to his casting for "Elvis":
"I get a phone call out of the blue from Denzel Washington, who I did not know. Denzel Washington just said, in the most incredibly emotional and direct way, 'Look, I've just been on stage with this young actor [Butler]. I'm telling you, his work ethic is unlike anything I've ever seen. I've never seen anyone who devotes every single second of their lives to perfecting a role.' "
In turn, Butler told GQ that he was "so grateful" for Washington's kind words, and that "it was this generous thing he just did," without calling him before or after. Needless to say, this is extremely sweet.
Here's the official synopsis for "Elvis:" 
"Baz Luhrmann's "Elvis" explores the life and music of Elvis Presley, seen through the prism of his complicated relationship with his enigmatic manager, Colonel Tom Parker. The story delves into the complex dynamic between Presley and Parker spanning over 20 years, from Presley's rise to fame to his unprecedented stardom, against the backdrop of the evolving cultural landscape and loss of innocence in America. Central to that journey is one of the most significant and influential people in Elvis's life, Priscilla Presley."
"Elvis" hits theaters on June 24, 2022.