Elvis Director Baz Luhrmann And Star Austin Butler On Capturing The Humanity Of The King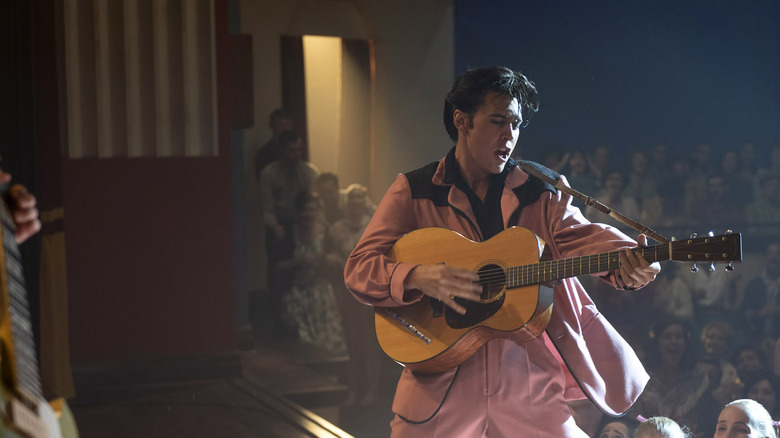 Warner Bros. Pictures
The full trailer for the Baz Luhrmann film "Elvis" is out, and that's not all. /Film recently attended a virtual Q&A featuring Luhrmann and star Austin Butler, where we learned about Butler's transformation into the King, how the film will address the major influence that so-called "Black music" had on the star, and Tom Hanks playing Colonel Tom Parker. We've had to wait a long time for this one after a Covid delay, so it's exciting to finally see it all come together.
According to Luhrmann, we're not just getting the life story of a musical icon here — we're getting a backdrop for history. He said that even Shakespeare "never did the biography of King Richard. What they did was they took a life, and they used the life as a canvas to explore a larger idea." He compared the idea to the film "Amadeus" being less about Mozart and more about jealousy. For "Elvis," Luhrmann is using this as "a canvas on which to explore America in the fifties, the sixties and the seventies."
One thing the film won't shy away from exploring is the influence that music from Black performers had on Elvis Presley. "The number one thing about Elvis Presley's journey is that Black music and culture isn't a side note or a footnote or a bit," Luhrmann said. "It's absolutely the canvas on which the story is writ. Meaning, if you take that out of the Elvis Presley story, there's no story. I mean, he grew up in the community from the get-go ... You have the Civil Rights movement emerging, you have him becoming a problem in terms of jumping the race line. He's a problem. It's dangerous. ... Who he really is, is gospel music. He's spiritual."
Filling some big blue suede shoes
In the trailer, Hanks' Colonel Tom Parker narrates the story, which seems appropriate since he steered Presley's career — sometimes to its detriment. Luhrmann said Hanks "ran towards" the idea of playing an unsympathetic character. As the filmmaker pointed out, it's not a villainous story from Parker's perspective. "From that character's point of view, he's defending, actually, his telling of that story ... when it comes to a historical character, there's only ever somebody's telling of that story. Even in life, if you live with an Elvis or you live with an Amadeus, it's your memory, your version of their life."
Meanwhile, Butler not only spent three years on this role, but he fully immersed himself in reading and watching and learning about the man he was playing. There are so many Elvis impersonators out there, and as Butler said, the King left big shoes to fill. He sang some of the music, so it was a lot of work. He said, "I think when I began the process of this, I set out to get my voice to sound identical to his. That was my goal is, if you heard a recording of me and you heard a recording of him, you wouldn't be able to tell the difference. I held that for a long time. What that does is it also instills fear. This fear that I'm not going to achieve that or whatever, and that kept the fire burning inside me to work, and work, and work. Maybe a year before I even started shooting, I was doing six, seven days a week of voice coaching and working with different experts" to be able to get those vocal intonations down. But he finally realized the important thing was getting his version of Elvis right, and he needed to "find this humanity and the life within, and the passion and heart."
Why Butler is singing part of the soundtrack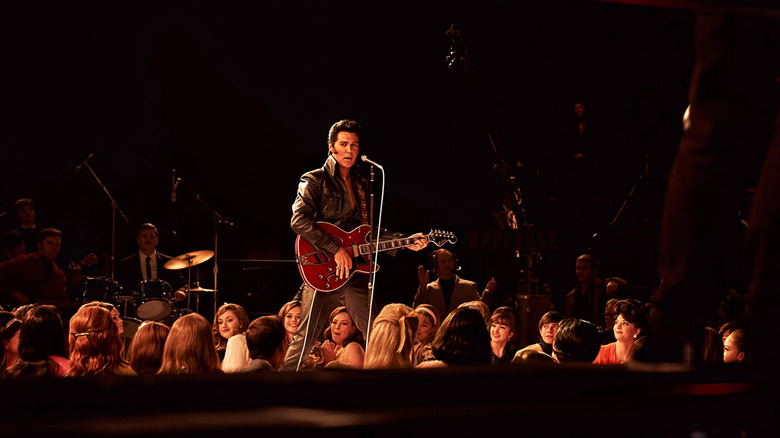 Warner Bros. Pictures
Butler is indeed singing some of the music, and there is a good reason for that. Luhrmann says that a lot of the early recordings of Elvis songs before the 1960s are unusable in a film because "they were recorded mono, and they're so nostalgic sounding. So the idea that you believe that someone's miming it, you're miming a very old record ... you can reproduce it with a soundalike, but what you're actually doing is a photocopy of a performance that's of a record." Butler ended up singing all the young Elvis songs used in the film, but from the 1960s on, they used the real Elvis recordings. 
Luhrmann took a moment to thank everyone at Graceland for being allowed into the world of Elvis. He even gave us a peek at something cool that he discovered while being allowed to listen to recordings there. "There's a few rare recordings where the Colonel's being interviewed and in the background, you can hear Elvis on stage. This is really early in the fifties. And the way he's singing and by description of people that were there, I mean, he is the original punk in some regards, because they're not nostalgic, they're not polite. He's wildly provocative."
Elvis performing and swiveling his pelvis caused people in the audience to faint in a way we didn't really see again until The Beatles came to America. "There really were riots," Luhrmann said. "How do we translate strange and shocking to a contemporary audience?" It's a hard job, because swiveling pelvises aren't really that shocking anymore. He explained that his mission here, along with Butler's, was to humanize Elvis, making this their own interpretation. The wild gesticulation we see in the trailer almost seems to me (and I'm admittedly not an Elvis historian) to be more intense than videos I've seen of the late musician. I may be wrong about that, but what comes across is the sexuality of it all, more so than what I've watched on old videos.
I've got the moves like Elvis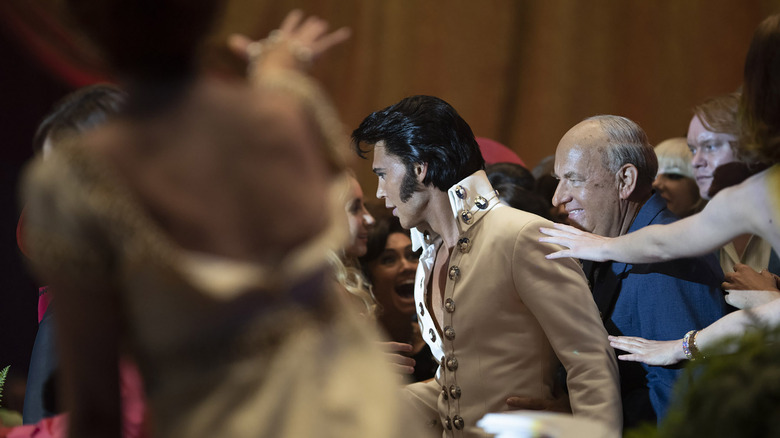 Warner Bros. Pictures
Butler said that he did a ton of research on Elvis' movement, and that it was very different in each decade in which he performed. He even worked with a movement coach named Polly Bennett (who had worked with Rami Malek on "Bohemian Rhapsody") to find not just what Elvis did physically, but why he did it. "Then I found that once you do that enough, then you stop," Butler said. "It stops feeling external and then it suddenly just, it feels like it's a part of you."
He said that he felt a lot of responsibility not only to Elvis himself, but "to [Elvis' ex-wife] Priscilla, [his daughter] Lisa Marie, his entire family, and all the people around the world who love him so dearly. I've used the analogy before but, when I first started, it really felt like when you're a kid and you put on your father's suit and the sleeves are much too long and the shoes are like boats on your feet."
He also said that there were different sorts of takes on set, some that were "just purely for getting every finger to be in the exact same way that he moved," and some "where we just threw it away and allowed visceral life to come out." 
We look forward to seeing exactly how that balance was struck when "Elvis" hits theaters on June 24, 2022.