The Top 15 Best Ewan McGregor Movies Ranked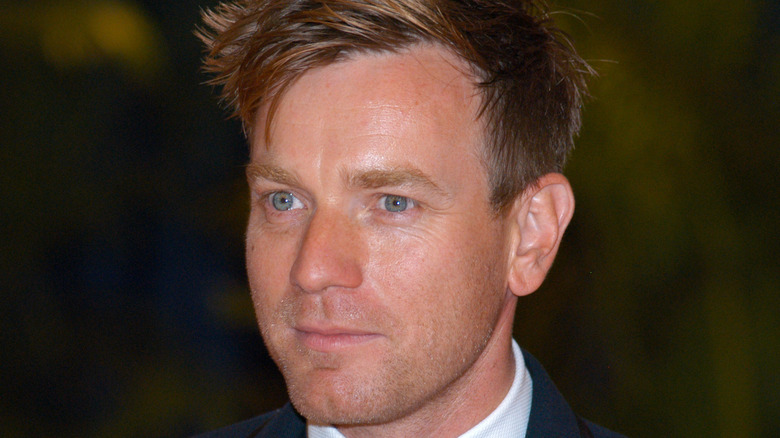 Rena Schild/Shutterstock
Ewan McGregor is one of the most fascinating actors working today. Between dramas, comedies, romances, musicals, biopics, horror films, action films, and major studio franchises, McGregor has pretty much done it all. Ironically, one of McGregor's most iconic performances is from some of his less well-received films. Although the initial reaction to the "Star Wars" prequel trilogy was mostly disappointment, critics and fans were united in their love of McGregor's performance as Obi-Wan Kenobi.
McGregor will return to the role this year in the Disney+ series "Obi-Wan Kenobi," and it's not the first time he's entered the small screen. In between film roles, McGregor has delivered award-winning performances on the third season of the FX dark comedy "Fargo" and the Netflix biopic miniseries "Halston." McGregor has also sat in the director's chair, releasing his adaptation of Philip Roth's beloved 1997 novel "American Pastoral" in 2016. Here are the top 15 greatest Ewan McGregor movies, ranked.
15. Birds of Prey (2020)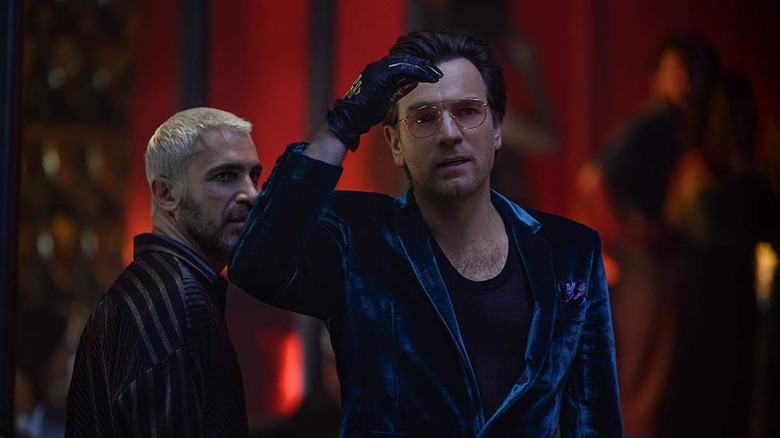 Warner Bros. Pictures
The modern DC Extended Universe has struggled with crafting compelling villains, but Ewan McGregor changed that with his uproarious performance as Roman Sionis, the Batman villain who takes on the "Black Mask" persona. Cathy Yan's underrated 2020 film "Birds of Prey" was a refreshing change of pace for the DCEU. Rather than the dark and gloomy Zack Snyder films, "Birds of Prey" has a sense of frantic comedy that completely fits the personality of the chaotic Harley Quinn (Margot Robbie). McGregor is simply having a blast with his surprisingly uproarious performance as a self-centered mob boss.
Roman kidnaps Harley and orders her to steal a diamond for him, but she's quickly able to escape and begin forming her team of titular anti-heroes. Roman is hilariously overconfident, and while his indulgences are eccentric (he gathers statues of himself), he's not a complete fool. McGregor was able to chew the scenery without decreasing the stakes of the action.
14. Haywire (2011)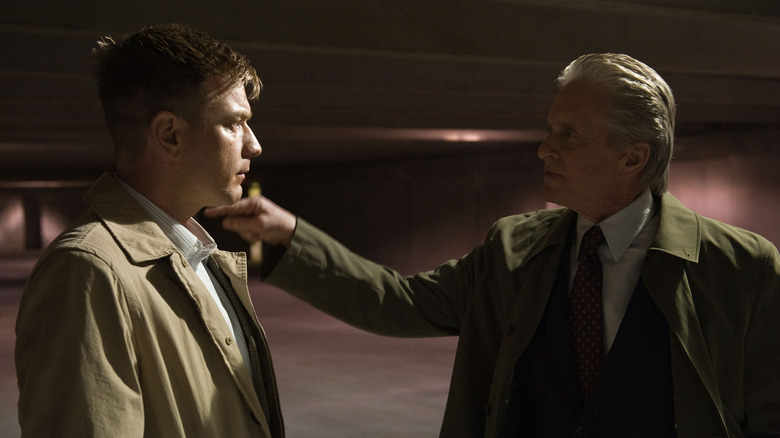 Relativity Media
Steven Soderbergh's 2011 action thriller "Haywire" is a complex take on the espionage genre that focuses on the interconnectivity of politics and international conspiracies in meticulous detail. The narrative centers around the black ops agent Mallory Kane (Gina Carano) and features a massive ensemble of famous faces. Even if it's hard to keep track of all of the characters, Ewan McGregor is the one that kicks off the manhunt for Mallory. He plays her ex-boyfriend Kenneth, the film's central antagonist who leads Mallory into a trap.
Kenneth approaches Mallory by assigning her to pose alongside his accomplice Paul (Michael Fassbender) and infiltrate a dinner party. Paul tries to kill her, and Mallory realizes that Kenneth is just as distrustful as she remembered. In a film that focuses on female empowerment, McGregor embodies the mannerisms of a toxic man. He sheds all of his inherent charisma to be completely detestable.
13. Rogue Trader (1999)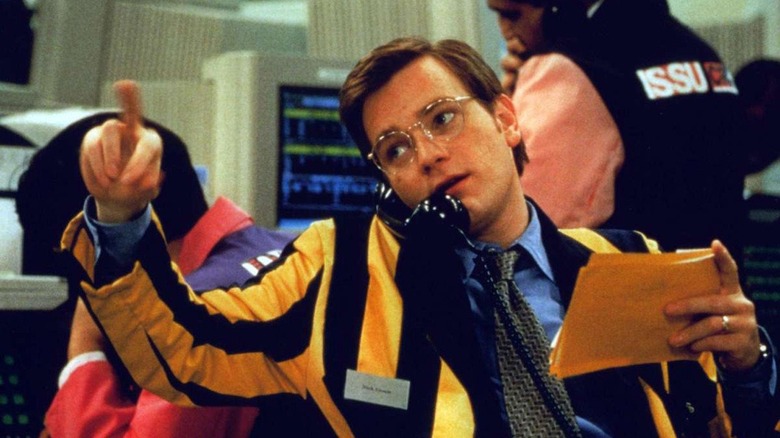 Pathé Distribution
The same year that Ewan McGregor announced himself to a new generation of young people with his appearance in "Star Wars: Episode I – The Phantom Menace," he starred in a very underrated biopic that's made strictly for a much older audience. The world of financial thrillers can be hit-or-miss, but "Rogue Trader" tells a fascinating true story that is lurid, humorous, and insightful all at once. McGregor stars as Nick Leeson, a young trader at the Barings Bank whose financial mismanagement ended up collapsing the bank in 1995.
McGregor shows Nick's initial introduction to the trading floor, and how his reckless ambition allows him to quickly rise within the ranks. While he has a natural eye for good trades, Nick is also irresponsible and makes risky moves that he keeps under wraps. He is eventually pursued by the police for his crimes. McGregor turns Nick into a complex character who is not completely unlikeable, but rather a childlike hooligan who bit off more than he could chew.
12. Black Hawk Down (2001)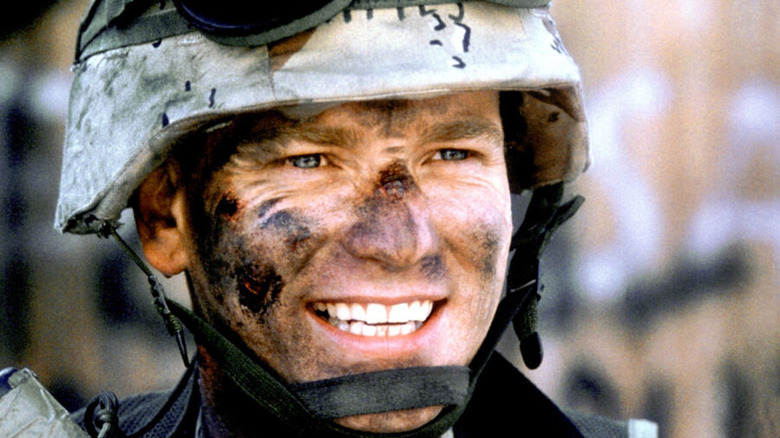 Columbia Pictures
Ridley Scott's epic 2001 war film "Black Hawk Down" is one of the greatest war movies of the 21st century, featuring a massive ensemble that launched a generation of young stars. The film is based on the 1999 nonfiction novel of the same name and tells the true story of the U.S. military's 1993 raid in Mogadishu that caught the soldiers within the heights of the Somali Civil War. Given the many soldiers involved, each actor had only brief screen time to flesh out their characters. Ewan McGregor stands out by creating an interesting perspective on the 75th Ranger with only a few moments on screen.
McGregor appears as SPC John Grimes, a new recruit working alongside Josh Hartnett's SSG Matt Eversmann. While all the characters are sympathetic due to the tragic nature of the story, seeing the conflict unfold through the eyes of a new military serviceman was even more emotional.
11. Our Kind of Traitor (2016)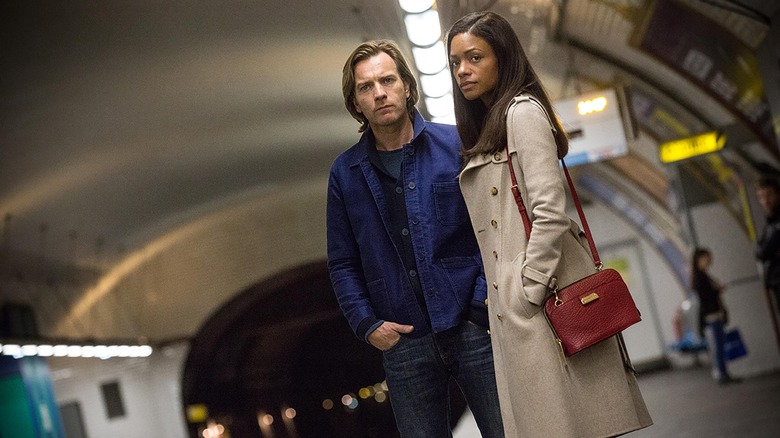 StudioCanal
"Our Kind of Traitor" is a fascinating departure from the typical adaptations of legendary spy novelist John le Carré. It contains no less of the meticulous political intrigue that le Carré is renowned for, but the story is centered around an everyman that gives it a Hitchcockian feel. Susanna White's adaptation of the novel made excellent use of Ewan McGregor as an audience surrogate getting used to the spy world for the first time.
McGregor stars as university lecturer Perry MacKendrick, who goes on vacation to Morocco with his wife Gail (Naomi Harris) in an attempt to rekindle their relationship after he had an affair. Perry has a casual tennis conversation with the eccentric Russian nationalist Dima (Stellan Skarsgård), whom he befriends. It's discovered that Dima is looking to turn himself over to MI6, and Perry becomes the negotiator between the government and the Russian mafia.
10. Star Wars: Episode III - Revenge of the Sith (2005)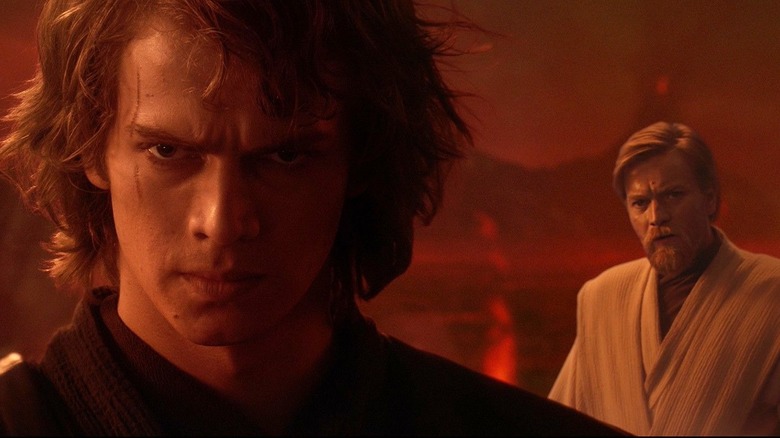 Lucasfilm
Regardless of whether you're a staunch "Star Wars" prequel defender or one of that trilogy's harshest critics, the one thing most fans can agree on is the perfection of Ewan McGregor's performance as Obi-Wan Kenobi. George Lucas has many talents as an imaginative filmmaker with technical mastery, but his dialogue can frequently be lacking. McGregor transcended the cheesier elements of the material with an in-depth examination of a character whose wisdom was so important within the original trilogy.
If the prequels intended to be a tragedy about Anakin Skywalker's (Hayden Christensen) descent to the dark side, the more heartbreaking story is that of his teacher. McGregor's finest hour is in 2005's "Star Wars: Episode III – Revenge of the Sith," where Obi-Wan is forced to watch Anakin transform into Darth Vader. The film's epic duel on Mustafar ends with McGregor's incredible final word to his apprentice: "You were my brother, Anakin. I loved you."
9. Doctor Sleep (2019)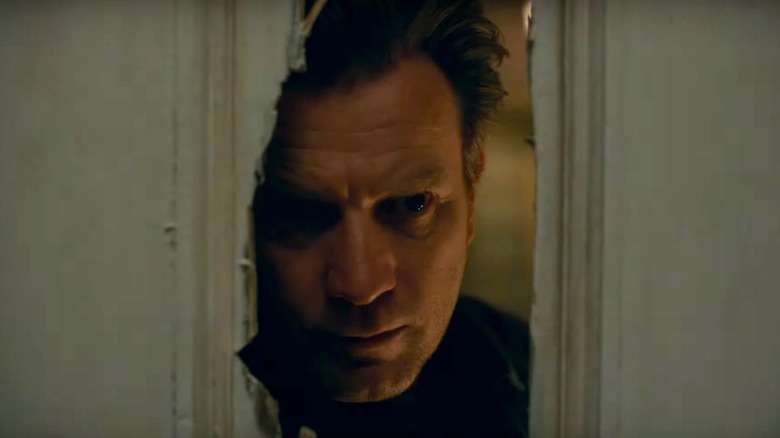 Warner Bros. Pictures
Stanley Kubrick's 1980 classic "The Shining" is considered by many as one of the greatest horror films of all time, so any attempted sequel had very high expectations. Not only is the original film iconic, but it is resolved on an ambiguous note that didn't need to be resolved. However, horror master Mike Flanagan took a refreshingly new take on the genre with 2019's "Doctor Sleep." Ewan McGregor stars as the now-grown Danny Torrance, who is suffering from the childhood trauma of his experiences at the Overlook Hotel.
Danny has become an alcoholic and struggles with guilt after accidentally causing the death of a woman. He attempts to enter rehab and moves to a small New Hampshire town, but he still feels the call of the magical force known as "the shining." Danny communicates via telepathy with the young girl Abra (Kyliegh Curran), who shares his powers. He must face the demons of the Overlook and the magical villain Rose the Hat (Rebecca Ferguson) as he and Abra work together.
8. I Love You Phillip Morris (2009)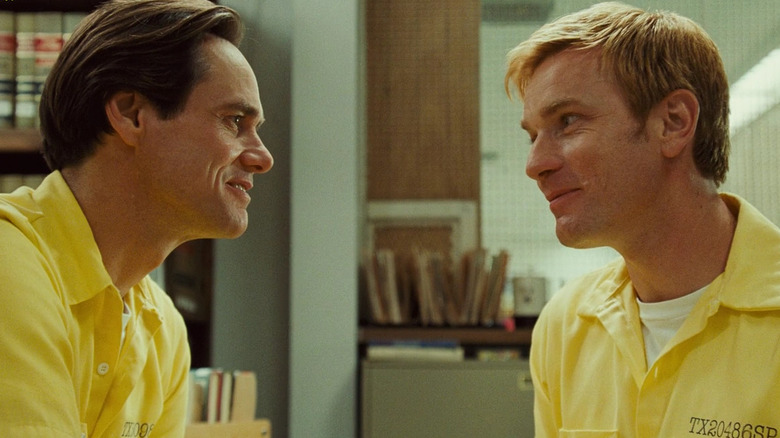 Roadside Attractions
The 2009 film "I Love You Phillip Morris" asked Ewan McGregor to do something he's clearly great at, namely being the object of affection. The film centers around former police officer Steven Jay Russell (Jim Carrey), who one day comes out as homosexual to his wife and decides to become a con man. When he winds up in jail, he bonds with fellow prisoners through his idiosyncratic sense of humor. However, Russell soon finds true love for the first time when he meets the seemingly ideal partner in McGregor's titular character Phillip Morris. Although he was initially looking forward to escaping prison, he soon fears having to leave Phillip behind.
The romance is equally earnest and hilarious as McGregor and Carrey have great chemistry together. Their characters have both seen the other side of the law and share some unusual first dates. McGregor had a difficult task to handle, as Carrey is a comedic dynamo who often takes over the films he's in with little room for his co-stars to shine. Morris is not a particularly eccentric character, but McGregor's soft-faced romanticism fits perfectly within the film's tone and makes the story all the more touching.
7. Stay (2005)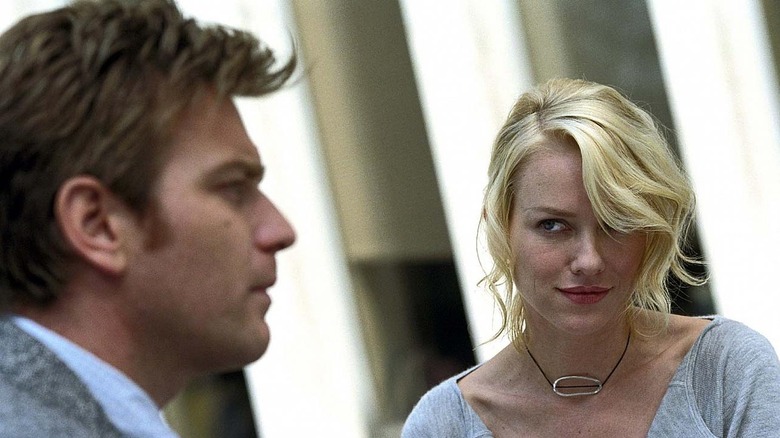 20th Century Fox
The 2005 mystery "Stay" from director Marc Forster (with whom Ewan McGregor would reunite in a much different role for 2018's "Christopher Robin") is an underrated thriller. While it's a confusing initial watch, there are so many latent details and hints incorporated throughout that pay off beautifully by the film's conclusion. McGregor had to be willing to trust the unusual nature of the screenplay and give a grounded performance that didn't accidentally reveal any of the film's mysteries early on.
McGregor stars as Dr. Sam Foster, who works as a psychiatrist in New York while going through a happy relationship with his girlfriend Lila Culpepper (Naomi Watts). Sam meets with the young college student Henry Letham (Ryan Gosling), who has been referred to him for suicidal thoughts. Sam discusses the situation with Henry and discovers that he does not want to die, but rather believes without a shadow of a doubt that his death is impending. Sam realizes that this gives him little time to find out what's going on.
6. The Ghost Writer (2010)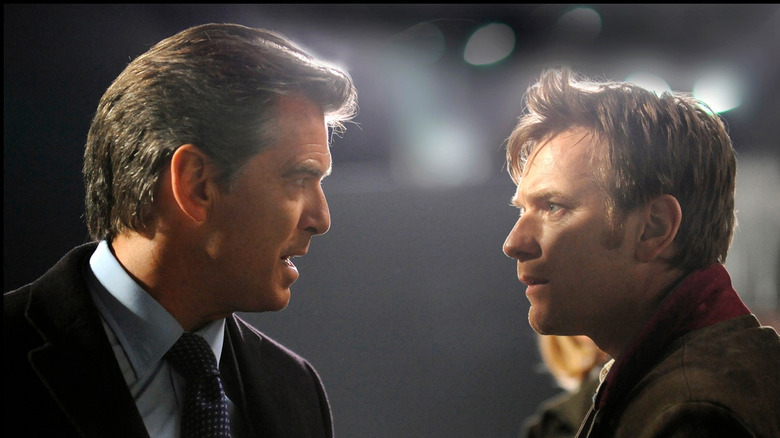 Lionsgate
Ewan McGregor has a natural intelligence and reasonable nature that makes him perfect for mysteries and espionage thrillers, as he can play mature and professional. Many of the best entries within the genre are the classic political anxiety tales of the 1970s, but Roman Polanski's "The Ghost Writer" (known simply as "The Ghost" in the U.K.) is a modern take on the classic thriller. McGregor captures the anxiety of a man who slowly realizes that he's being manipulated by exterior government forces and conspiracies.
McGregor stars as an unnamed author and novelist who is hired to be the ghostwriter for the former British Prime Minister Adam Peter Benet Lang (Pierce Brosnan). While he's not politically inclined himself, McGregor's character understands the obvious positive ramifications that such a major subject would have on his career. However, as he investigates Lang's backstory he is continuously blocked by his domineering wife Ruth (Olivia Williams). As he digs deeper, he discovers that the former prime minister was involved with some organizations that are now trying to silence him.
5. The Impossible (2012)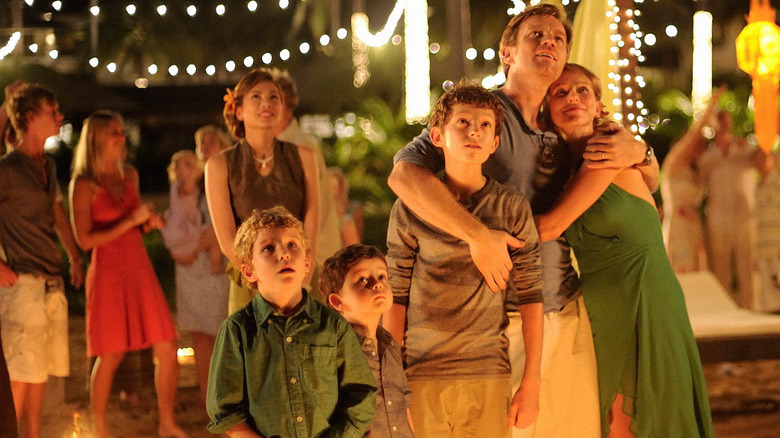 Warner Bros. Pictures
"The Impossible" is one of the most potently emotional films that Ewan McGregor has ever starred in, showcasing the challenges that an average family man goes through during a devastating disaster that caused the suffering of thousands. The film centers around the true story of the 2004 Indian Ocean tsunami that wrecked the coasts of Khao Lak, Thailand. McGregor stars as Doctor Henry Belon, who is on Christmas vacation with his wife Maria (Naomi Watts) and their three sons Lucas (Tom Holland), Thomas (Samuel Joslin), and Simon (Oaklee Pendergast). The American upper-class family is caught in the middle of the devastating disaster and separated from each other.
McGregor and the co-stars playing his family faced numerous challenges with their roles. To start off, playing real victims comes with an added responsibility to them, and they certainly have to depict some of the most grueling moments imaginable. However, spotlighting a wealthier American family could have felt disrespectful considering the many Thailand natives who were affected and the permanent lasting damage on their homes. Thankfully, director J.A. Bayona incorporated a large international cast, and McGregor works expertly at interacting with the many characters who are caught up in the storm. Although "The Impossible" doesn't shy away from violence and hardship, it's an inspirational story about people connecting amidst a crisis.
4. Big Fish (2003)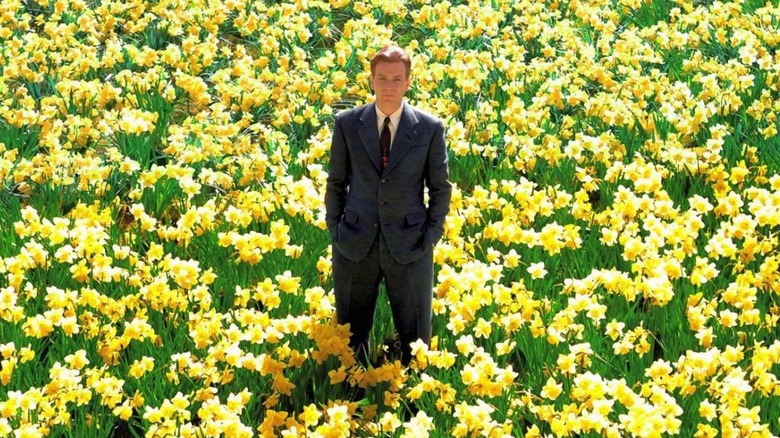 Columbia Pictures
Tim Burton is known for his gothic adventures and idiosyncratic comedies that blend fantasy with fairy tales, so 2003's "Big Fish" was certainly a departure from his typical work. While it incorporates many fantasy elements and a love of storytelling, the film is more of an emotional drama that centers around a troubled father and son trying to connect during the old man's final days. Burton certainly does away with many of the clichés that one would expect from the "cancer movie" genre, as it features flashbacks that are fantastical in tone with a sharp contrast to the present. These pivotal sequences relate to the central relationship, and Ewan McGregor leads these segments as a young Edward Bloom with a brilliant performance.
The older Edward Bloom (Albert Finney) has always charmed his friends with eccentric stories of epic adventures, but he's struggled to connect with his son Will (Billy Crudup). Will spent his entire childhood watching his father leave, and for once he just wants him to stop spinning stories and tell him what his life was actually like. McGregor appears in flashbacks as Finney narrates his younger days, incorporating elements of the fantastic into his recollections. McGregor has a natural charisma that fits perfectly within the quirky tone, but he's able to grow more serious as the film reaches its conclusion. 
3. Beginners (2010)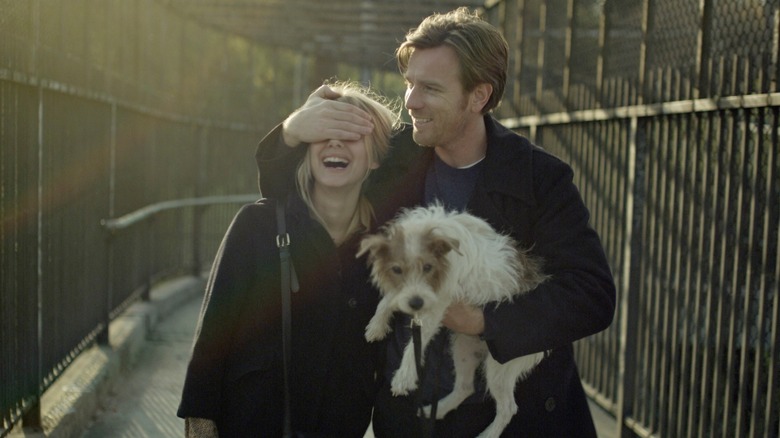 Focus Features
Although Ewan McGregor is renowned for his ability to transform himself physically, portray prominent figures, and wow the viewer with his musical abilities, he's also able to step aside from the spotlight and play a normal guy. Mike Mills' 2011 romantic drama "Beginners" captured a realistic (if slightly idiosyncratic) story of fathers and sons, relationships, sexuality, and growing older. McGregor stars as Oliver Fields, an artist who works in advertising trying to cope with his father Hal's (Christopher Plummer) cancer diagnosis. Oliver has a complicated relationship with his father, who has recently come out as a homosexual man with a much younger love interest named Andy (Goran Višnjić). 
Oliver tries to care for his father while also pursuing the French actress Anna Wallace (Mélanie Laurent). Both Anna and Oliver are searching for a way to stay inspired as their artistic pursuits are diminished due to corporate politics within their respective fields. Plummer was one of the great movie stars, and in "Beginners" delivered the kind of late-career Oscar-winning performance that every actor yearns for, while McGregor is worthy of sharing the screen with him. They craft a nuanced, extremely touching relationship as two men who learn to understand one another.
2. Moulin Rouge! (2001)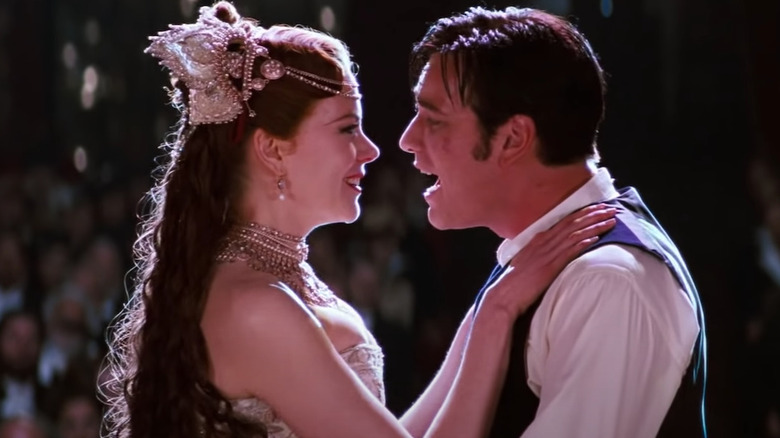 20th Century Fox
One of the most unique distinguishing factors about Ewan McGregor is his fantastic singing abilities. There are many Hollywood stars who may attempt to take on musical projects to varying degrees of success, but McGregor has shown a natural affinity for the craft that has made him perfect for a variety of musical roles. Baz Luhrmann's 2001 musical "Moulin Rouge!" allowed him to create a unique bohemian character within an eccentric period piece set in an early 20th-century Parisian cabaret but utilizing a pop soundtrack featuring everything from Elton John to Madonna.
It was a bold reinvention of the form, and McGregor helped turn the risky endeavor into a knockout. McGregor stars as Christian, a young poet who has barely seen a penny for his writing. When he catches the sights of cabaret dancer Satine (Nicole Kidman), they quickly fall in love through their shared love of art, but Christian knows that Satine is married to the selfish aristocrat The Duke of Monroth (Richard Roxburgh). Although "Moulin Rouge!" is frequently hilarious and allows McGregor to incorporate sight gags within the musical numbers, the sweeping romanticism is delivered with complete sincerity. McGregor's raw mournful yearnings make the story's heartbreaking conclusion even more impactful. His chemistry with Kidman is unmatched.
1. Trainspotting (1996)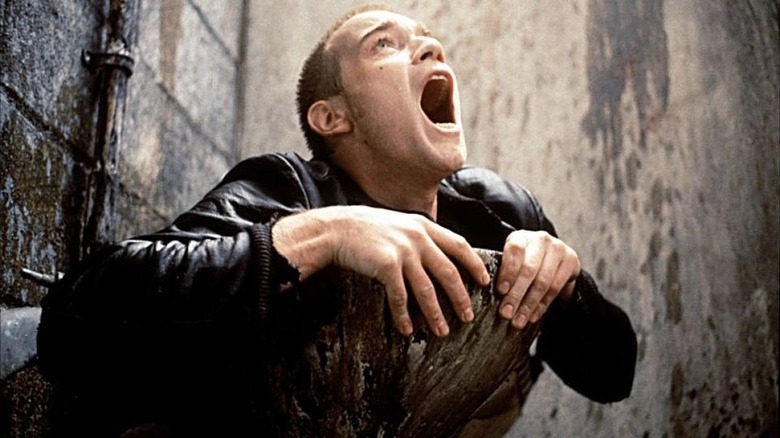 PolyGram
Ewan McGregor in large part owes his career to the great British filmmaker Danny Boyle, who gave him his first role in 1994's "Shallow Grave." The acclaim for the low-budget thriller established McGregor as one to watch and helped introduce him to a larger mainstream audience. However, both Boyle and McGregor would see their careers taken to the next level with the 1996 adaptation of Irvine Welsh's novel "Trainspotting." The result was one of the most important independent films of the '90s, a stylized and bold barrier breaker that became an international success.
"Trainspotting" is one of the most in-depth depictions of drug culture ever seen on film. A strange coming-of-age story of sorts, the film centers around friends Renton (McGregor), Spud (Ewen Bremner), Sick Boy (Johnny Lee Miller), Begbie (Robert Carlyle), and Tommy (Kevin McKidd) as they indulge in heroin and run away from the police. Soon their free-natured lifestyle becomes debilitating, but "Trainspotting" wasn't just iconic because of the graphic content. The film's bold stylistic choices focused heavily on Renton's voice-over, and McGregor is a terrific narrator for the sordid tale. "Trainspotting" forced McGregor to go through the emotional ringer as Renton learns to leave his friends behind, delivering some of the most brilliant monologues of his career. The parody of the "Choose Life" anti-drug campaign is utilized throughout and pays off wonderfully in the film's emotional conclusion.