The 15 Greatest Jude Law Movies Ranked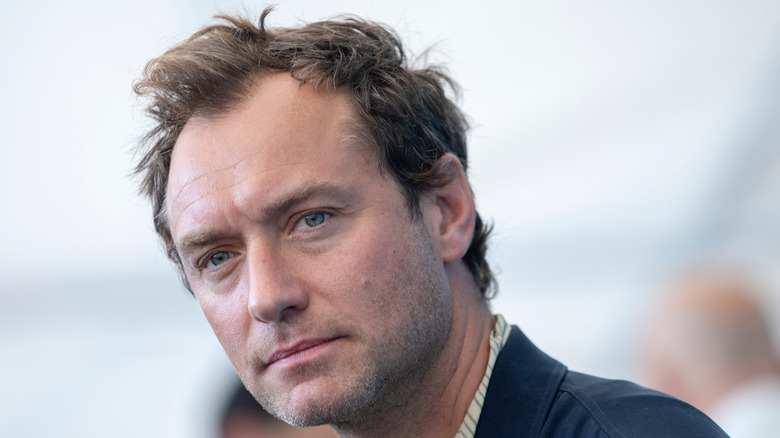 Denis Makarenko/Shutterstock
Jude Law is one of the most versatile actors of his generation. With more than two decades in the industry, it's impressive that Law continues to reinvent himself. Law is part of a generation of young stars that emerged in the late '90s and was frequently cast in leading roles because of his natural charisma and ability to reliably bring in an audience.
What remains interesting about Law is that his star power hasn't faded as he's grown older. While other actors might be so egocentric that they're unwilling to take on smaller parts, Law manages to crush any role he's handed regardless of his screen time.
Law has managed to take lead roles in major film franchises, including the modern "Sherlock Holmes" series that may be returning for a third installment. He's also done some equally strong work on television, playing major parts in the HBO shows "The Third Day," "The Young Pope," and its sequel series "The New Pope." The prolonged storylines show his ability to develop a character over time.
Here are the fifteen greatest Jude Law movies, ranked.
15. King Arthur: Legend of the Sword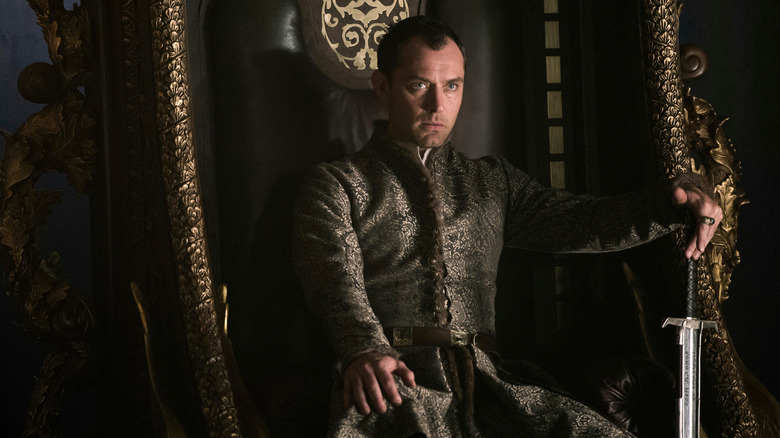 Warner Brothers
Jude Law has always remained grounded in his career, and he's also grounded in the roles he chooses to tackle. There's a sense of realism that he carries that distinguishes him from other movie stars, but his performance in Guy Ritchie's 2017 Arthurian action epic "King Arthur: Legend of the Sword" is not that at all. Every great actor deserves the opportunity to chew the scenery with a truly hammy performance, and as the film's villain Vortigern, Law appears to be having an absolute blast.
"King Arthur: Legend of the Sword" retells the classic medieval legend by turning King Arthur (Charlie Hunnam) into a brawling warrior raised in the slums of Camelot. Arthur's unusual origin begins with Vortigern, the vengeful prince who killed Arthur's father (Eric Bana) and rules Camelot with an iron fist. Law is an over-the-top villain who takes pleasure in his own wickedness.
14. Side Effects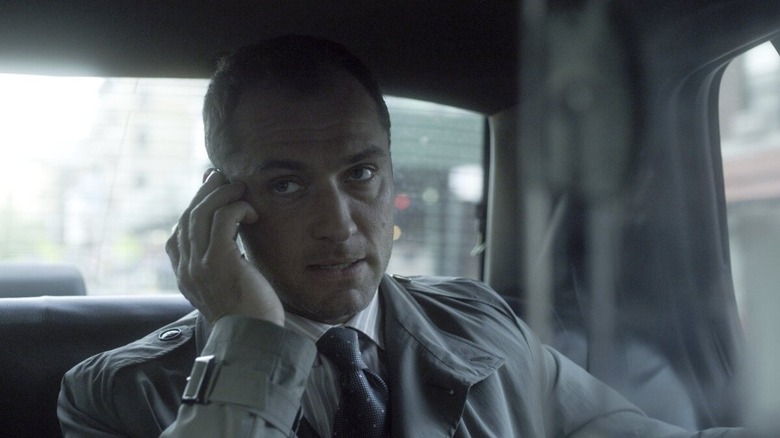 Open Road Films
Steven Soderbergh's 2013 thriller "Side Effects" is an unusual mix of tones. While the film centers around complex themes within the medical field, relating to the psychological, ethical, and moral debates surrounding experimental drugs, it's also a lurid romantic thriller. The brilliant screenplay by Scott Z. Burns required the cast to have a working knowledge of their respective on-screen medical careers while also embracing the story's pulpy romantic elements — something Jude Law is perfect for. He is charismatic and intelligent and fits in perfectly with the grounded nature of the story.
Law stars as Dr. Jonathan Banks, a psychiatrist assigned to the suicidal (and wealthy) Emily Taylor (Rooney Mara). Emily's husband (Channing Tatum) has recently been released from prison. Banks understands the stress that Emily is under, despite her privilege. In order to best serve his patient, Banks reaches out to Emily's former psychiatrist, Dr. Victoria Siebert (Catherine Zeta-Jones).
13. Hugo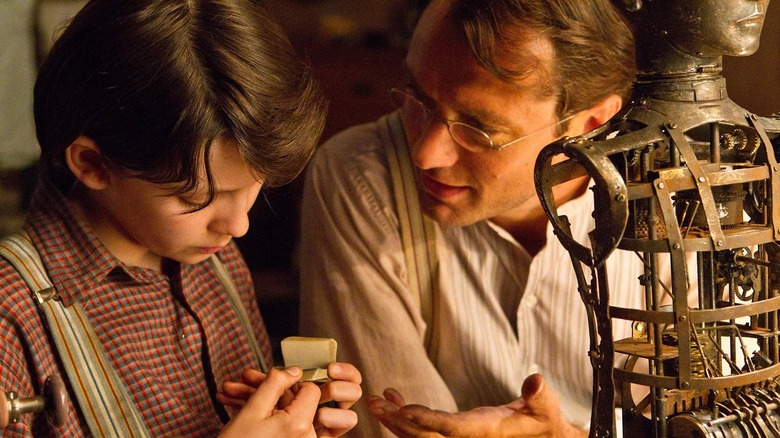 Paramount Pictures
Following his standout supporting turn in 2004's "The Aviator," it was exciting to see Jude Law take on another collaboration with the great Martin Scorsese. "Hugo," released in 2011 is a much different film compared with the rest of the legendary director's filmography. Scorsese is known for violent films centered around Catholic guilt and the Mafia. However, "Hugo" is an adaptation of a children's novel and tells a classic story of adventure. Law contributes to the magic of this joyous celebration of a film with a critical scene in the film's opening.
"Hugo" centers around the exploits of the young adventurer Hugo Cabret (Asa Butterfield). One of the reasons Hugo is such a relatable character is the tragic origins of his isolation. The opening moments show a sensitive relationship between the young boy and his father (Law), a widowed clockmaker. Hugo's father tragically dies in a fire in his factory but leaves his son with knowledge of craftsmanship and technology.
12. A.I. Artificial Intelligence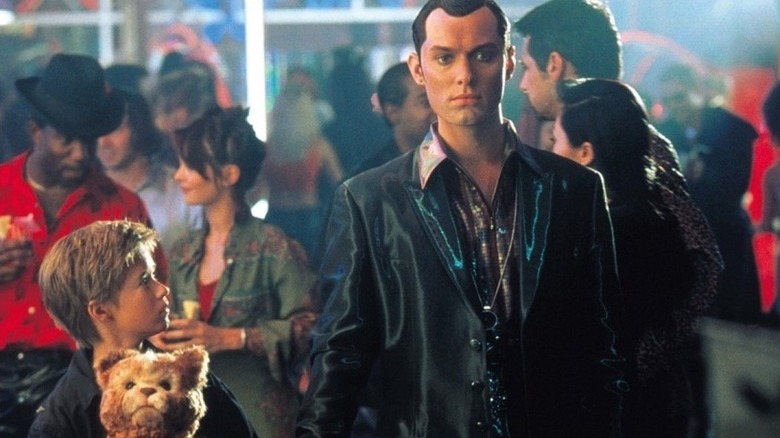 Dreamworks Pictures
If great actors are praised for the "humanity" they bring to their roles, then Jude Law deserves particular credit for bringing empathy and emotion to a robotic character. The 2001 science fiction drama "A.I. Artificial Intelligence" is a film from two cinematic masters. It was initially developed by the late, great Stanley Kubrick (who died in 1999) and eventually completed by the legendary Steven Spielberg. Both directors are geniuses and among the best filmmakers of all time, but their stylistic impulses are very different.
Thankfully, "A.I. Artificial Intelligence" combines the warm humanity of familial relationships and a sense of adventure with darker philosophical themes of identity, death, and the passage of time. While the story primarily centers around the childlike android David (Haley Joel Osment), Law has a standout supporting role as the entertainment robot Gigolo Joe who must cope with existing solely to fulfill sexual fantasies.
11. Vox Lux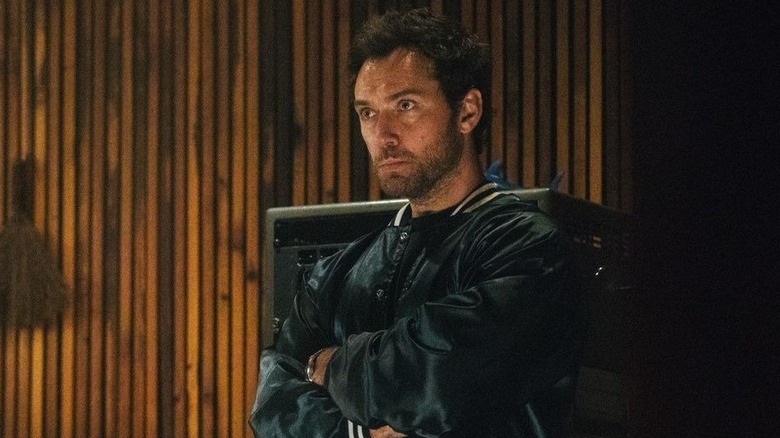 NEON
Jude Law is often drawn to controversial material, and it's impressive that such an A-lister is willing to take risks on projects that may be deemed divisive by critics and audiences alike. Law was certainly invested in Brady Corbet's stylized dramatic musical "Vox Lux." He even helped the small indie film by serving as an executive producer. The film's violent and sexual content is not for the faint of heart, but for those who can stomach the graphic material, the film raises fascinating questions about violence and celebrity culture.
The film centers on the impact of pop star Celeste (played by Raffey Cassidy as a child and Natalie Portman as an adult) who survives a school shooting that profoundly affects her life. The young Celeste writes the song "Wrapped Up" about her experience, and she's courted by a mysterious unnamed producer (Law) who promises to launch her into stardom. Law makes his ambiguous motivations unnerving.
10. The Aviator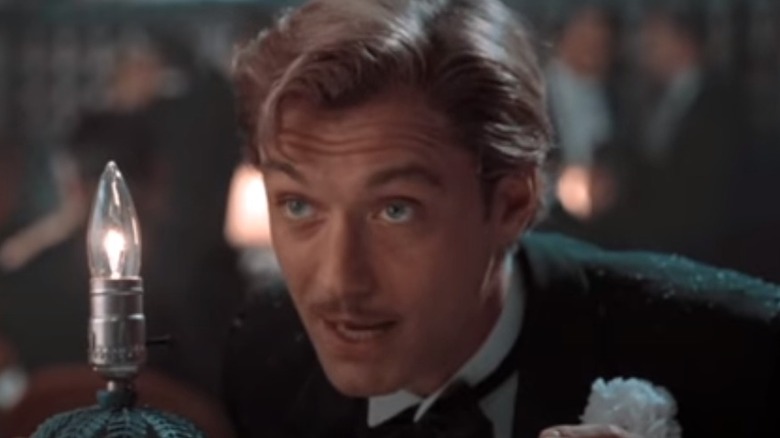 Warner Brothers
Taking on biopic roles always requires a bit of research on an actor's part, and that's certainly the case when they're playing an iconic figure from Hollywood history. Martin Scorsese's 2004 biopic "The Aviator" explores the life of idiosyncratic inventor and entrepreneur Howard Hughes (Leonardo DiCaprio) during his rise to prominence in the aviation and film industries and his eventual descent into madness. The film's early moments depicting old Hollywood are particularly compelling. Jude Law appears in the critical role of Robin Hood himself, movie star Errol Flynn.
Flynn was one of the most famous stars of that era, and Law captures his mannerisms and charisma perfectly. It would be one thing if the performance was nothing but a recreation, but Law's portrayal of Flynn lends fascinating insight into the behind-the-scenes workings of movies during film's Golden Age. Law also has excellent chemistry with Cate Blanchette who plays Katherine Hepburn.
9. Gattaca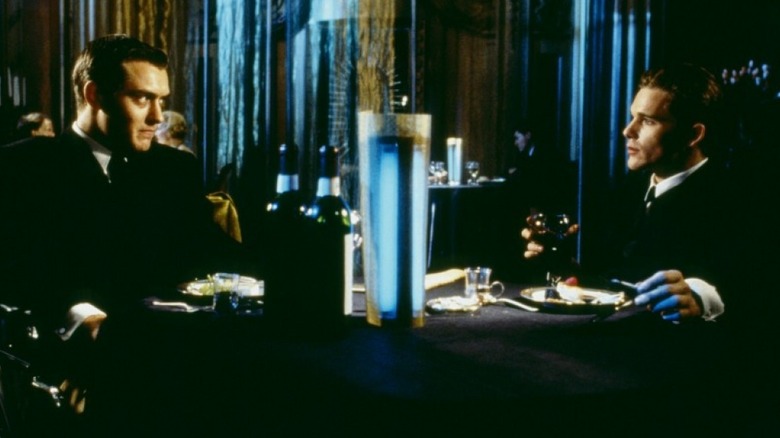 Sony Pictures
Andrew Niccol's 1997 science fiction mystery "Gattaca" takes on the complex science and morality of artificial genetics and eugenics. The eight-letter title is a reference to genetic character, and the film tackles how predetermined roles based on genetic makeup affect social conflicts and social positioning. Jude Law has a particularly emotional role, and given the nuanced material, "Gattaca" required compelling characters to engage the viewers in its complicated story.
The film centers around a young man named Vincent Freeman (Ethan Hawke) who is determined to achieve his dreams despite being deemed "unfit" for many jobs because of undesirable genetic traits. Freeman wants nothing more than to be an astronaut and is willing to work around official guidelines in order to make it to space. In order to enter the training program, he makes a deal with Law's character, Jerome Eugene Morrow. Jerome, who relies on a wheelchair, allows Vincent to steal his identity by giving him genetic material.
8. Sherlock Holmes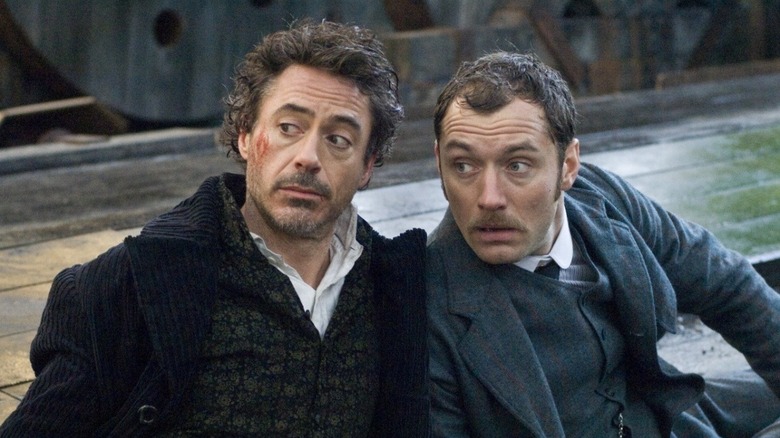 Warner Brothers
Sherlock Holmes and Dr. John Watson are two of the most frequently adapted film characters of all time. It's particularly challenging for a new version to have a refreshing take on Sir Arthur Conan Doyle's iconic sleuth and his partner. The mysteries need to feel exciting and stay true to the essence of the characters despite the audience's familiarity with the fascinating relationship between Holmes and Watson. Guy Ritchie took a new stab at the material with 2009's hyper-stylized "Sherlock Holmes." The film is much more action-packed than older interpretations, but what makes it so much fun is the "buddy cop" relationship between the central characters.
Robert Downey Jr. gives a now-iconic performance as the titular character. Casting an American was a surprising choice given the character's history. Downey's performance is highly eccentric and drew acclaim for honing Holmes' mind. As a result, it was harder for another actor to play Watson. Jude Law, however, had no problem delivering, and their comedic banter is hilarious.
7. Contagion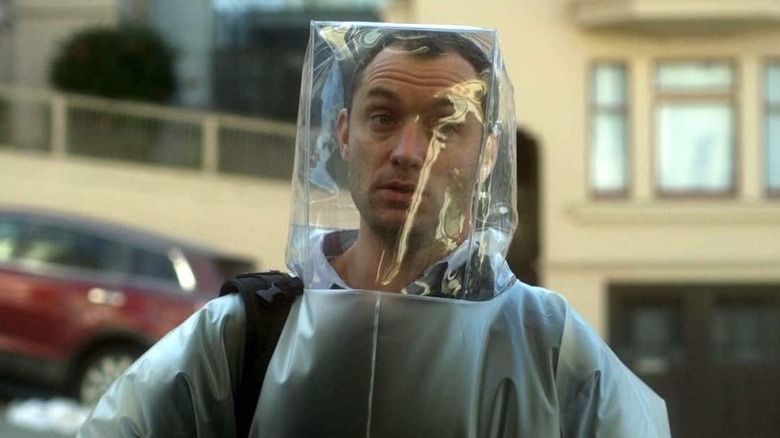 Warner Brothers
No film of the past decade grows as relevant with each passing day as Steven Soderbergh's 2011 ensemble thriller "Contagion." Soderbergh is a notorious stickler for detail when it comes to realism, and his fictional story about the spread of a devastating virus and its impact on world politics bears enough resemblance to the actual ramifications of COVID-19 that it's more than a little disturbing. One of the best aspects of "Contagion" is its incorporation of multiple points of view that flesh out the reactions to the pandemic. Few are quite as important as those of journalists.
Jude Law appears as Alan Krumwiede, a conspiracy theorist who has always distrusted the government and is skeptical of all things related to the public's reactions to the virus. Running a program outside of the mainstream, he calls on the audience to question his motivations as he attempts to gather evidence to support his claims.
6. Sky Captain and the World of Tomorrow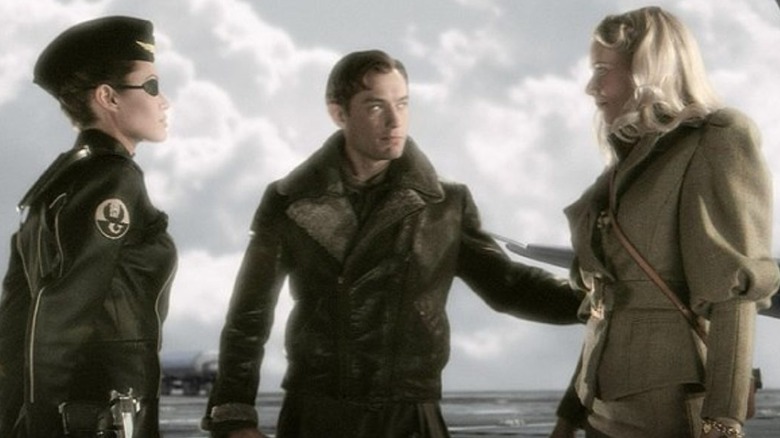 Paramount Pictures
Jude Law is one of those actors who seems to seamlessly navigate between independent arthouse dramas and mainstream blockbuster fare. "Sky Captain and the World of Tomorrow" is a little bit of both. Kerry Conran's nostalgic take on the superhero story incorporates the influences of classic serials, comic books, steampunk, World War II dogfight movies, and real aerial combat to create a brilliant modern adventure movie. 
Law is the focus of the film and gives a winking performance that acknowledges its hyper-stylized tone. He's not openly mocking the material but rather playing up the classic movie star charisma of actors like Errol Flynn (who, ironically enough, he'd already played). 
The film centers around World War II pilot Joseph Sullivan (Law) who, with the help of his journalist companion (and romantic interest) Polly Perkins (Gwyneth Paltrow), discovers that a wicked scientist is planning to build a destructive weapon that will change the course of the war. A famed hero of almost supernatural abilities, he takes on the persona of Sky Captain as he leads a group of flying aces on a secret mission to save the world.
5. Road to Perdition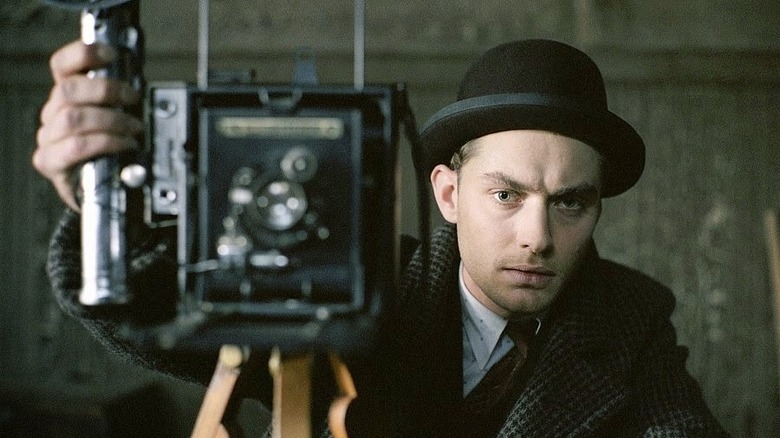 Dreamworks Pictures
Jude Law is a naturally likable presence, so when he gets to play a villain, it's a real treat. Sam Mendes' 2008 crime thriller "Road to Perdition," inspired by the DC graphic novel of the same name, is an unusual film that features a cast of acclaimed performers acting outside of the types of characters they usually play. The avuncular Tom Hanks is rarely cast as a violent man. However, in "Road to Perdition," he stars as Tommy Sullivan, a gangster who attempts to escape his past by leaving the Mafia to go on a road trip with his son, Tommy Jr. (Tyler Hoechlin). Law gives one of the most surprising performances in the film. His character Harlen Maguire doesn't reveal his villainous intent at first, but over the course of the film, his idiosyncrasies become threatening.
Maguire is a photographer obsessed with death, and his meticulous nature has an unnerving edge. Fascinated by corpses and their artistic value, he likes to restage crime scenes to live in these violent moments. He's first introduced as a somewhat friendly but peculiar stranger to the Sullivans. Yet, his initial fascination with the father-son duo grows more sinister. "Road to Perdition" is certainly a film with a lot of surprising moments, but Law's twist in the film's climax is one of the most shocking. This devastating film gains an added sense of realism because of his gripping work.
4. I Heart Huckabees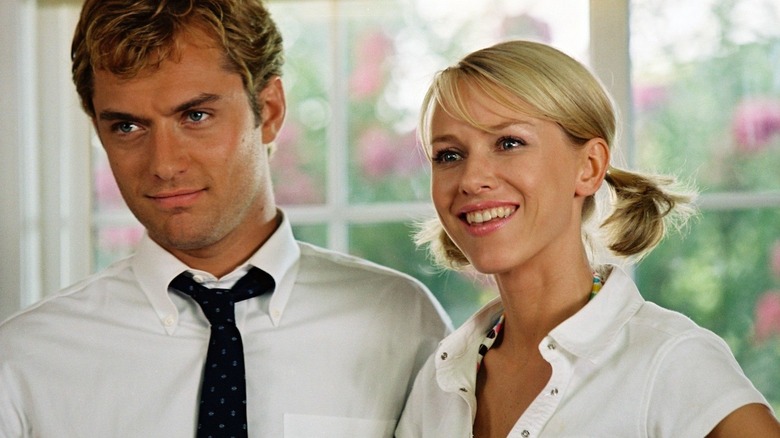 Fox Searchlight
Jude Law is capable of balancing major tonal shifts and tackling projects with experimental and ambitious mixes of comedy and drama. He's equally capable of being absolutely hilarious and eccentric and delivering devastating moments of emotion. Writer and director David O. Russell certainly takes bold swings with his films, and 2004's "I Heart Huckabees" is his wildest project to date. A bizarre satire of psychology, consumerism, class, and relationships, "I Heart Huckabees" isn't meant to be completely appreciated on an initial viewing. Law had the unique challenges of having to be completely sincere and being unafraid to act like a total fool. There was a risk that if his performance was too over-the-top, the satire would be too obvious. However, Law is subtle enough to incorporate the film's latent humor into his performance.
The film centers on the "existential" psychological detectives Bernard Jaffe (Dustin Hoffman) and Caterine Vauban (Isabella Hupert) as they serve a variety of quirky clients.
Law appears as Brad Stand, the wildly confident top executive at the retail store chain Huckabees, but he has loftier ambitions in mind. Brad becomes a top employee at the Open Spaces environmental group through his charismatic attitude, replacing the diminutive Albert Markovski (Jason Schwartzman). As Brad, Law is able to make his bullying nature unquestionably cruel, capturing director Russell's dark sense of humor. Brad appears in many television commercials that are developed for Open Spaces promoting their deceptive tactics. Law is absolutely hilarious as a completely plastic salesman.
3. Cold Mountain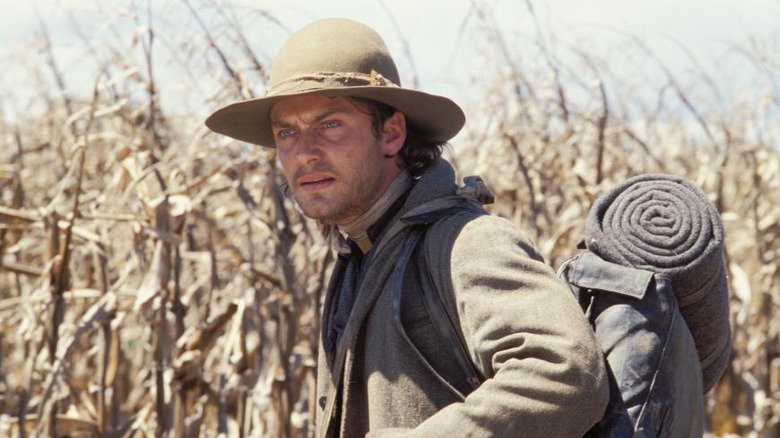 Miramax Films
Few cinematic genres come with the loaded dramatic potential of the romantic war epic, and few films capture that classic sense of realism, sensitivity, and massive scale as 2003's "Cold Mountain."
"Cold Mountain" required a star-worthy performance at its center, and Jude Law delivers a classically heroic performance without degrading the material to a cliché. Set in the early days of the Civil War, he stars as South Carolinian carpenter William Inman. Inman doesn't have any affection for the Confederacy, but he's drafted into the rebel army. It's a particularly painful endeavor for him, and he's forced to leave his love Ada Monroe (Nicole Kidman) behind.
Inman is left for dead in the midst of the conflict. Yearning to renew his relationship with Ada, he begins the long trek home from the bloody battlefields. 
Law was pushed to his physical limits to handle the massive action sequences.
2. Closer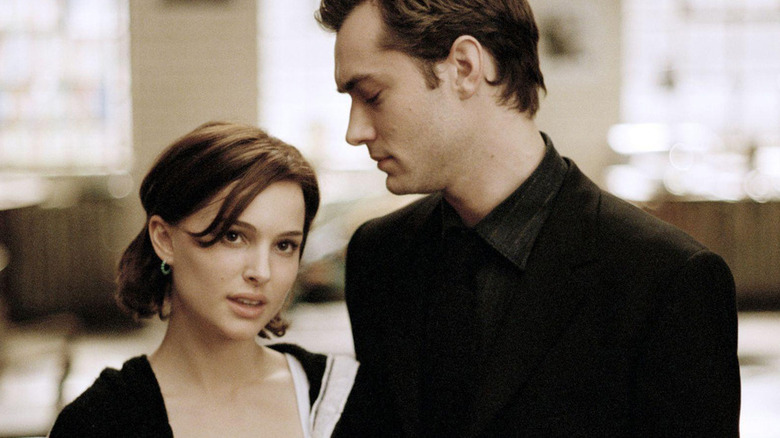 Sony Pictures
Jude Law has worked with some very strong directors throughout his career, and in 2004's "Closer," he got the opportunity to work with one of the greatest filmmakers of all time. Mike Nichols was renowned for his ability to capture dynamic performances from huge stars in films that blend romance, intrigue, comedy, and realism.
Appearing in one of Nichols' final films raised expectations for the cast of "Closer." Thankfully, they succeeded with an incredibly dark satire that explores the seedy underside of relationships. Based on Patrick Marber's acclaimed play, the film is fascinating in how it isolates the ensemble's performances with the intimacy of the stage. Set in London, the film follows two couples who become engaged in a series of betrayals and heartbreaking farewells.
Law plays writer Daniel Woolf who is inspired to write an acclaimed novel after a chance encounter with a young woman named Alice Ayres (Natalie Portman). Daniel's relationship with Alice ends his engagement with photographer Anna Cameron (Julia Roberts). In his boredom, he also deceives Larry Gray (Clive Owen), a prominent doctor, into a fake online relationship. As each of his partners discovers his illicit ways, Daniel is forced to face the consequences of his actions, and he's thrust into a series of embarrassing situations. "Closer" bubbles with tension thanks to Law's electric performance.
1. The Talented Mr. Ripley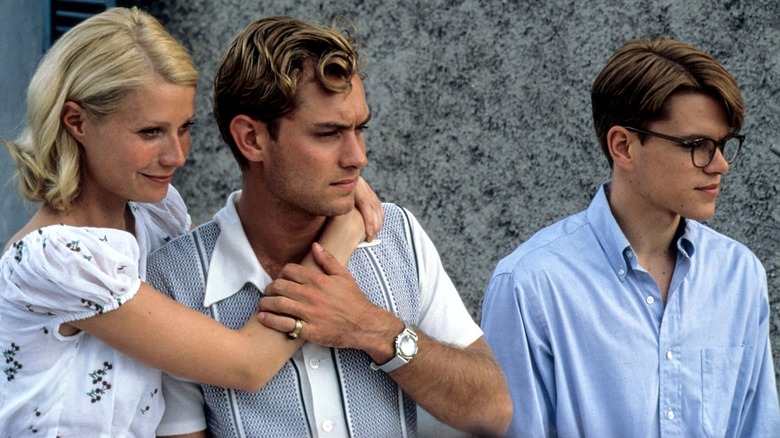 Paramount Pictures
Tom Ripley is a fascinating fictional character that has been included in several films, so 1999's "The Talented Mr. Ripley" certainly had a lot to live up to. Anthony Minghella is a phenomenal director who understands how to turn material that could be considered outrageous pulp into elevated deconstructions of class, gender, identity, and social disorders. As Tom Ripley, Matt Damon delivers an unusually villainous and awkward performance — and a vastly different one from the heartfelt, relatable characters he played in his breakout roles. However, Ripley's eventual descent into obsession and criminality is only possible if he has a striking figure to spark his emotions. Casting Dickie Greenleaf would be difficult. The role requires someone who is effortlessly handsome and charismatic. Yet, Greenleaf is much more than a pretty face, and Jude Law perfectly fits the part.
In this complex role, Law delivers the strongest and most iconic performance of his career. While he doesn't have to break from his familiar persona to be charming, there is something superficial about his portrayal of Dickie that is essential in contrasting the perpetually nervous Ripley. Law plays a character with whom the audience falls in love. He's kind to Ripley in a seemingly unconscious way, and Law keeps the viewer on the edge of their seat as the danger becomes evident.