'The Young Pope' Trailer: Jude Law Brings Scandal And Sex Appeal To The Vatican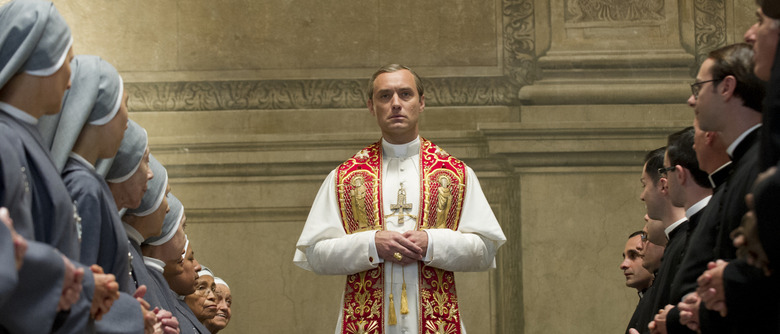 Fear not, HBO subscribers. Just because Westworld is over for now and Game of Thrones isn't returning til summer, doesn't mean your expensive cable package has to go to waste in the meantime. Next month brings the debut of The Young Pope, Paolo Sorrentino's lavish miniseries starring Jude Law as the fictional Pius XIII, the first American pope. Diane Keaton also stars, as a nun who seems rather skeptical of his fitness for the position.
While the title and basic premise might suggest a prim historical drama, the new The Young Pope looks like anything but. There's scandal and intrigue and loads of gossip. There's enough power-hungry scheming to put Cersei Lannister to shame. Plus, since the young pope in question is being played by Jude Law, there's a fair amount of sex appeal as well. Watch The Young Pope trailer below. 
The Young Pope Trailer
Based on the trailer, The Young Pope should appeal to fans of HBO's normal spring block. Like Game of Thrones, Veep, and Silicon Valley, it's a story about power, the people who want it, and all the little and big things they'll do to get it. It should also appeal to fans of Law's recent output. The Young Pope seems to give him plenty of opportunities to whisper menacingly and deliver grand proclamations. It also offers him a chance to take out his American accent for a spin, and it sounds more successful here than it has in the past.
The Young Pope kicks off its ten-episode run Sunday, January 15, 2017 at 9 PM on HBO.
From Paolo Sorrentino, director of the Academy Award®-winning film 'The Great Beauty,' 'The Young Pope' tells the controversial story of the beginning of Pius XIII's pontificate. Born Lenny Belardo, he is a complex and conflicted character, so conservative in his choices as to border on obscurantism, yet full of compassion towards the weak and poor. The first American pope, Pius XIII is a man of great power who is stubbornly resistant to the Vatican courtiers, unconcerned with the implications to his authority.