The 14 Best Angela Lansbury Movies, Ranked
With her bright eyes and deep well of talent, Angela Lansbury means something different to everyone you meet. To some, she was a treasured nostalgic figure, thanks to a collection of work that spanned eight decades and touched on nearly every major genre. To others, she was a master of the stage who originated some of the most memorable theater roles. To most of the world, of course, she was a TV staple who solved weekly mysteries with spunk and charisma. But no matter how you first discovered Lansbury, it's hard to ignore the incredible impact this multi-award winner left on pop culture. 
As the world honors this entertainment legend, it seems only fitting to discuss Angela Lansbury's cinematic legacy. From the movies that brought her into the public spotlight to the ones deserving of more attention, this ranking serves as a tribute to what made Lansbury one of the greats. A career as grand as Lansbury's deserves nothing less than celebratory, yet bittersweet, examination. So, without further ado, let's take a tour through the fascinating world that is Angela Lansbury's stunning filmography.
14. Mary Poppins Returns
In the grand scheme of things, Rob Marshall's "Mary Poppins Returns" is a bit of a mixed bag. While every frame is stunning, it's a film that feels half-baked in its narrative structure, and sometimes comes across as too chaotic for its own good. Yet, despite its quirks, the one element that's hard to dislike is the inclusion of Angela Lansbury. Appearing near the finale, Lansbury's Balloon Lady adds just the right amount of whimsy to a movie that often needs a spoonful of its own sugary medicine. 
Of course, with Lansbury playing such a small part, some could argue that "Mary Poppins Returns" shouldn't be included on the list. However, when said performance includes arguably the best exchange in the entire movie (the Balloon Lady's comments about Ben Whishaw's Michael Darling), it has to be mentioned. After all, this is Angela Lansbury we're talking about, an actress who personified magic, optimism, and fun for multiple generations. Having her remind the film's lead character that, even during the bleakest of times, he shouldn't forget childhood whimsy is pure genius. 
While there's no denying that "Mary Poppins Returns" is far from a perfect movie, Lansbury certainly makes up for many of its flaws.
13. The Pirates of Penzance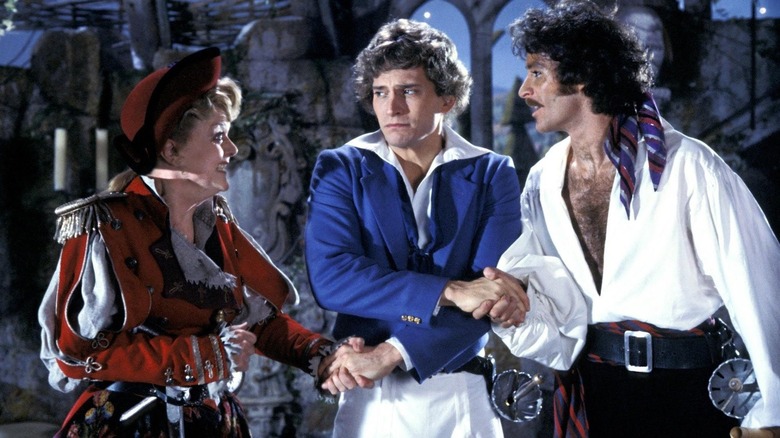 Universal
Let's get this out of the way: Gilbert and Sullivan's "The Pirates of Penzance" is a strange operetta-turned-musical and an even odder film. The movie features a stacked cast of talented theater pros doing some absolutely wacky bits of comedy while dressed in low-cut, flowy blouses. But while the show as a whole might be an acquired taste, it's hard to resist the magic of seeing Angela Lansbury dressed as a pirate, which is why this box-office bomb made it onto this list.
In the film, Lansbury plays Ruth, a nursemaid who finds herself accidentally thrown into the world of pirates. Some 21 years later, she reflects on her physical appearance and comes to terms with her maturity. While the movie plays this bit of character-building for laughs, it's delightful to watch Lansbury comment on her own changing on-screen persona. At this point in her career, she wasn't the youthful girl who starred in movies with Judy Garland. Instead, she's transformed into a seasoned pro, one who could clearly take on the works of Gilbert and Sullivan with ease.
"The Pirates of Penzance" might not be the easiest or most accessible movie musical, it's worth watching to see Lansbury in all of her swashbuckling glory.
12. Anastasia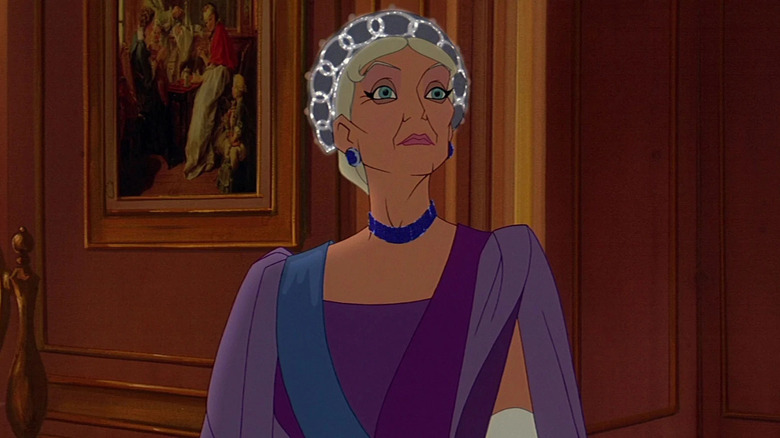 20th Century Fox
By 1997, Angela Lansbury had made her fair share of animated movies. Yet, even with so many vocal performances on her resume, her take on the Dowager Empress Marie in Don Bluth's "Anastasia" is a cinematic treasure. That may sound like nostalgia talking, but if you've seen this (admittedly flawed) movie recently, you'll know that Lansbury's performance is something genuinely special, which becomes particularly clear in the film's incredibly emotional third act.
At this point in the story, Empress Marie has been through it all. She's seen countless women pretending to be the titular member of her family, and she's had enough of being played by con after con. However, when she encounters Meg Ryan's Anya, a beautiful development occurs. It's the kind of connection that only can be correctly conveyed by blending the voice acting and the animation together seamlessly. In this case, Lansbury's performance only makes the moment better.
Ultimately, "Anastasia" is historical fiction that gets more things wrong than right. It contains a bizarre depiction of real-world figures, tries to downplay history, and includes a talking bat played by Hank Azaria. When viewed through the right lens, however, it's also a piece of animation history that deserves more appreciation than it gets, with Lansbury's performance in particular standing out as one of its strongest elements.
11. The Last Unicorn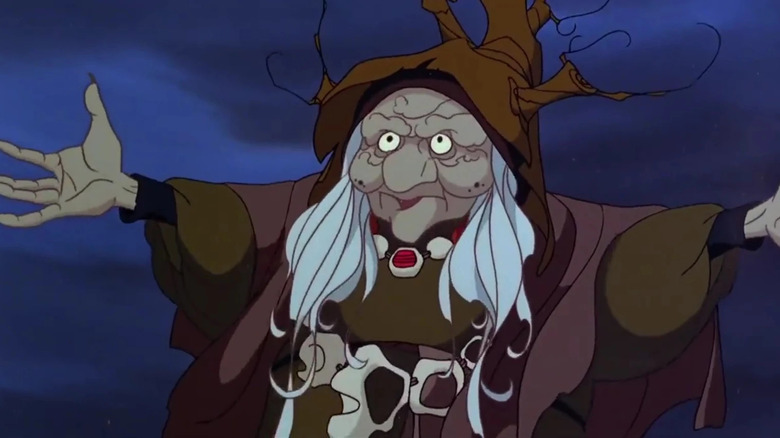 Jensen Farley Pictures
While Angela Lansbury had played a witch before, Mommy Fortuna in "The Last Unicorn" is in a class all her own. Based on the beloved book by Peter S. Beagle, the film follows a unicorn (Mia Farrow) who's searching for the rest of her kind. Along the way, she's captured by Fortuna, and becomes one of the creatures in the witch's Midnight Carnival. But as the Unicorn slowly discovers the truth behind Mommy Fortuna's illusions, her already twisted situation becomes even more bizarre.
"The Last Unicorn" lands on this list because of how it showcases Lansbury's range as a voice actor. In many of her animated projects, it's clear that Lansbury was hired to bring a soft or regal approach to her role. However, in the case of "The Last Unicorn," Lansbury gets to play someone who's bold and wild. This becomes apparent in the character's final moments, during which she accepts her fate after the harpy Celaeno (Keenan Wynn) is released from her cage.
In this intense encounter, Lansbury turns in a multi-faceted performance, one that speaks to her character's obsession with magic, her bold nature, and how far she's gone down the rabbit hole. It's a great example of Lansbury's willingness to put everything into her work, and proves that she always had surprises up her sleeve.
10. Nanny McPhee
Angela Lansbury played many types of roles over the years, but most of them wouldn't count as antagonists. However, Adelaide Stitch, her character in "Nanny McPhee," definitely fits the villainous bill. Not only does her wardrobe evoke similar bad guys from children's literature, but this infamous great aunt is just the right blend of wacky and vile, resulting in a role that's tailor-made for Lansbury's theatrical abilities.
Though she's clearly a parody of other villains (especially those found in Roald Dahl's work), Adelaide sticks out because, like other great baddies, she believes that what she's doing is right. Whether correcting someone's grammar or forcing widower Cedric Brown (Colin Firth) to find a wife, she refuses to be told her way of thinking is wrong. And with her brilliant combination of cartoonish physical comedy and the over-the-top poshness of her line delivery, Lansbury makes this absurd individual actually believable.
But what makes this role in "Nanny McPhee" really special are the lengths that Emma Thompson went to in order to get Lansbury into the movie. Much like Firth's character in the film, Lansbury had just lost her spouse and felt incredibly depressed. As Lansbury puts it, Thompson "pulled her out of the abyss" with this project, and we're all thankful for it.
9. The Three Musketeers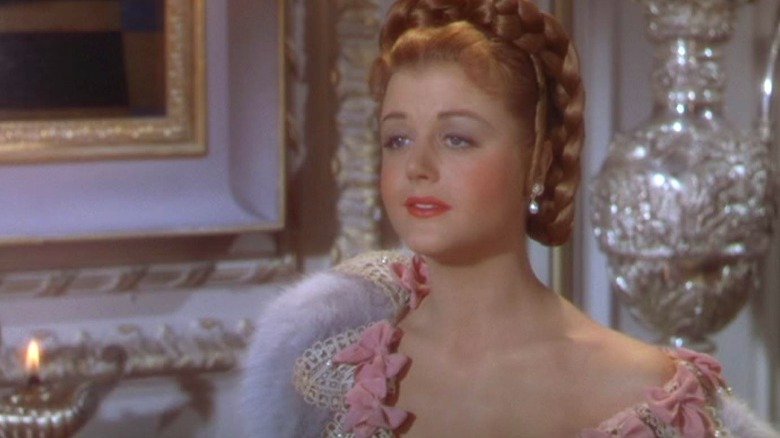 MGM
Remembered for its technicolor vibrancy and corny energy, MGM's 1948 adaptation of Alexandre Dumas' "The Three Musketeers" has a lot going for it. Sure, it might not have the grit of other interpretations, like the 2014 BBC television series, but what it lacks in intensity it makes up for with world-class talent. This version arguably contains the best cast of any adaptation, featuring the likes of Gene Kelly, Lana Turner, and Vincent Price. One of the finest (and most underappreciated) members of that spectacular ensemble is, of course, Lansbury as the regal Queen Anne of Austria.
While many notable actresses have played Queen Anne, including the impressive Juno Temple, Angela Lansbury's portrayal is among the most unique. Not only does the part allow audiences to truly appreciate Lansbury's much-overlooked physical beauty, including her sparkling eyes, but this version of Queen Anne also gets to have some juicy exchanges, all of which Lansbury nails perfectly.
Simply put, this take on "The Three Musketeers" is pure camp, but for those willing to embrace its silly yet quirky nature, it (along with Lansbury's performance) is a cinematic treat. Besides, if you ever wanted to see Lansbury and Vincent Price have an acting face-off filled with sassy glances, then "Musketeers" deserves your full attention.
8. The Harvey Girls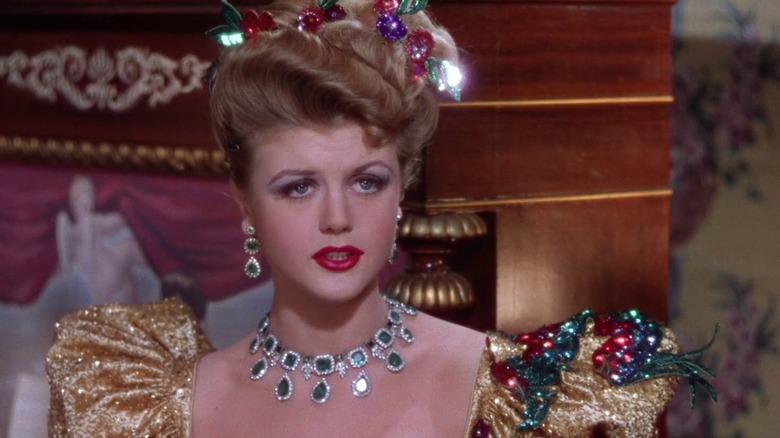 MGM
What do you get when you combine Lansbury's unmatched theatrical talents with Judy Garland and director George Sidney? You get "The Harvey Girls," a flashy MGM musical that's as deliciously campy as its costumes are colorful. The film features everything from old school catfishing scenarios to great musical numbers to Garland holding two pistols while dressed as a waitress. Needless to say, it's a product of its time. Easily the best part of the entire movie, however, is Lansbury's sass-driven performance as the dance hall beauty, Em.
From the moment that Lansbury steps into the frame, it's evident that Em is a dance hall queen that you don't want to mess with. She's no pushover and she doesn't wear her heart on her sleeve, even if she has romance on the brain. So, when Garland's Susan Bradley gets in the way of Em's chances with John Hodiak's Ned Trent, she'll do anything to stop her rival in her tracks. Angela Lansbury perfectly captures every one of this talented mean girl's nuances, all the way down to her wickedly sharp exchanges.
What makes "The Harvey Girls" a centerpiece of Lansbury's career is how it proves that she was a natural scene stealer. From her over-the-top musical numbers, including one that discusses the finer points of "spooning," to her saloon girl battles, Lansbury always comes across as a strong charismatic force. She was an actress who could conquer any challenge, even a character as malicious as Em.
7. The Court Jester
If there was ever a duo meant to star alongside each other, it's Angela Lansbury and the master of chaotic silliness himself, Danny Kaye. Not only were these two the very definition of triple threats in their day, but they were also often cast in roles that failed to serve their wide range of talents. Thankfully, 1955's "The Court Jester" made this exquisite combination happen. While the movie wasn't an initial success, film fans have come to love its many charms over the decades, including Lansbury's excellent performance as Princess Gwendolyn.
While Lansbury plays a more conventional character when compared to Kaye's theatrical Hubert Hawkins, she plays up Gwendolyn's ridiculousness whenever she can. This comes across in her most significant scenes, including the hilarious snapping sequences where Hubert (aka Giacomo) tries to hide in the background. Lansbury also conveys Princess Gwendolyn's modern thinking (at least for a character of her time) by injecting her signature brand of confidence into what otherwise would have been a boring character, resulting in a performance that doesn't pull any punches.
From her hilarious glances at her co-stars to her delivery of Melvin Frank and Norman Panama's electric dialog, "The Court Jester" shows Lansbury at her silliest and most adorable. It shows how far the young actress had come since "Gaslight," and how willing she was to go for comedic gold.
6. Gaslight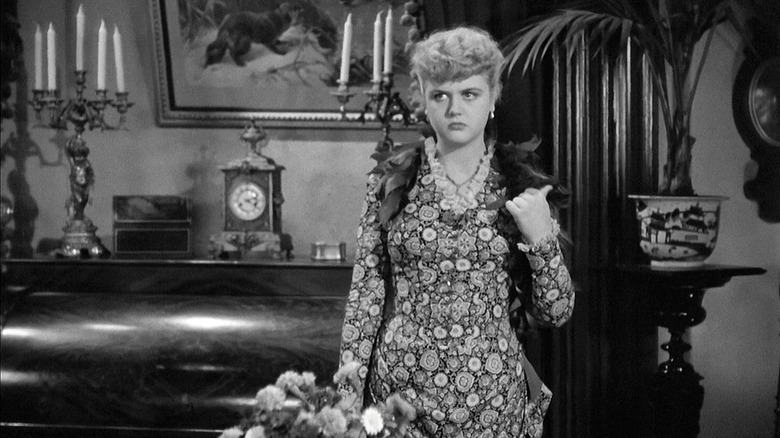 MGM
Not many people get to star in a Hollywood production at just 17 years old, but for Angela Lansbury, George Cukor's "Gaslight" was only the beginning of a fantastic venture. The second screen adaptation of Patrick Hamilton's play tells the story of a woman (Ingrid Bergman) who, after returning home with her new husband (Charles Boyer), finds that her once-perfect life is dissolving into chaos. As she tries to gain support from her significant other, her husband dismisses her concerns, making her feel like she's losing her grip on reality.
Right from the get-go, it's clear that the performances from Bergman and Boyer are noteworthy. Even amid such star power, though, Angela Lansbury makes an electric impression. From her first frame to her last, Lansbury's portrayal of Nancy showcases what fans would come to love about the soon-to-be megastar. There are hints of Lansbury's sharp wit and comedic timing, but her power to draw the audience's attention with just a glance is already on full display. This is particularly apparent during her introduction, where she not only captures the eye of Boyer's Gregory, but proves that her character loves to stand out from the crowd. 
While this version of the story doesn't have the cinematic punch of the 1940 adaptation, the adaptation was clearly the perfect vehicle for Lansbury to showcase her acting abilities — it landed the young talent her first Academy Award nomination for best supporting actress.
5. Death on the Nile (1978)
Although other projects also let Angela Lansbury experiment, the 1978 adaptation of Agatha Christie's "Death on the Nile" gave her room to make some truly wild choices. Directed by John Guillermin, this famous murder mystery sees Lansbury take on the role of Salome Otterbourne, a bold character who plays an integral part in the film's outlandish events. While many other incredible actors make memorable impressions in the film (especially Bette Davis), Lansbury is arguably the member of the cast who chews the most scenery.
From her exaggerated facial expressions to her drunken excitement over trying new cocktails, it's easy to see the absolute joy that Lansbury is experiencing while playing this character. This is particularly noticeable in her scenes alongside Peter Ustinov, who plays Christie's famous sleuth Hercule Poirot. Clearly, Ustinov provides the strait-laced counterpart to Lansbury's quirkier character, and both actors highlight those differences via their laser-sharp performances.
Whether the 1978 version of "Death on the Nile" is your favorite or not, it's nearly impossible to ignore the talent of the film's cast and crew. It's even harder not to admire the wacky energy that Angela Lansbury brings to this frequently adapted tale of lies and greed.
4. Beauty and the Beast
Once upon a time, there were animated films that didn't feature a cast full of celebrity voices. Some character actors would be part of the ensemble, but it was nothing like what you see in current animated projects. When it came time to cast Disney's 1991 animated film "Beauty and the Beast," the creative team decided to focus on Broadway stars who knew their way around a tune. That's where Angela Lansbury came in. Arguably the most popular actor in the voice cast, Lansbury had done her fair share of theatrical work — she did, after all, win five Tonys — making it easy to imagine her as the enchanted housekeeper Mrs. Potts.
But aside from her theater credentials, what exactly makes Lansbury's Mrs. Potts so wonderful? For starters, Lansbury strikes the right balance between being supportive and mature. Mrs. Potts is also a figure driven by hope, a characteristic that gives her the strength to see her happily-ever-after through until the end. If it weren't for Lansbury's elegant, skilled performance, none of Mrs. Potts' actions would feel believable.
Yet the true magic of Lansbury's performance is her take on the film's title song. It was a number she was nervous about recording, yet in a single take she created (along with songwriters Howard Ashman and Alan Menken) a romantic ballad for the ages, one that not only defines the film's essence but also showcases the depth of Lansbury's talent.
3. The Picture of Dorian Gray (1945)
There's something about Angela Lansbury starring in a horror film that just feels right. Could it be that her angelic glow contrasts brilliantly with the material? Or is it that she's just a fantastic actor regardless of genre? No matter the reason, it's always a treat to see her take on a spooky project. For proof, look no further than Lansbury's work in this extremely underappreciated adaptation of Oscar Wilde's "The Picture of Dorian Gray," directed by Albert Lewin.
In what was only her third film, Lansbury plays Sibyl Vane, a tavern entertainer who crosses paths with the handsome titular lead. As she and Dorian (Hurd Hatfield) grow closer, Lansbury emphasizes the natural attraction Sibyl has towards her mysterious suitor. From Lansbury's doe-eyed expressions to her romantic exchanges, Lansbury makes you fall under the spell of the pair's romance, even though we know that Sibyl isn't going to get the happy ending she craves.
While her role is much smaller than her costars', Lansbury's performance in "Dorian Gray" is a shining example of her talent. At only 18 years old, she wields an acting ability with a level of maturity that's far beyond her years. This results in a performance that foreshadows her future successes, particularly how well she'd do in other horror-adjacent properties like the musical "Sweeny Todd."
2. Bedknobs and Broomsticks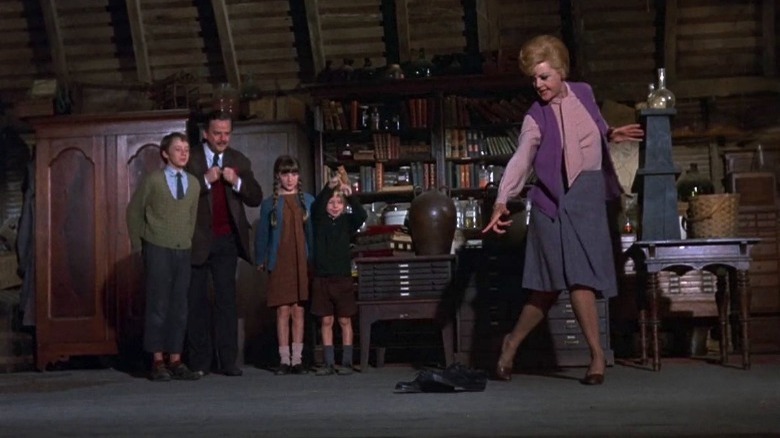 Disney
Before she was Mrs. Potts or "Murder, She Wrote" sleuth Jessica Fletcher, Angela Lansbury starred in "Bedknobs and Broomsticks," a fantasy adventure that's as bold as Lansbury was talented. Directed by Robert Stevenson, this Disney production features witchcraft, orphans, hand-drawn animated sequences, and, most notably, a magical battle between Nazis and suits of armor. Needless to say, it's quite the ride. But what really makes this project a notable entry on Lansbury's filmography is how she made her character all her own.
From her quirky sense of humor to the character's outlook on life, Lansbury brings a level of respect and child-like whimsy to Miss Eglantine Price. She's a character who, if played by someone else, probably would have been either too severe or too silly. But Lansbury balances all of Price's different angles, making her someone you can't help but root for by the film's end.
Simply put, "Bedknobs and Broomsticks" is far more than a "Mary Poppins" rip-off. Sure, they share creative and narrative similarities, but in the end, both films deserve respect for their individual achievements. Besides, any movie showing Lansbury flying on a broomstick into battle is fantastic.
1. The Manchurian Candidate (1962)
Nominated for two Academy Awards, including one for Angela Lansbury's performance, John Frankenheimer's "The Manchurian Candidate" is arguably Lansbury's most significant acting achievement. In the film, Lansbury plays Mrs. Eleanor Iselin, an individual who keeps her mysterious nature concealed via her upper-crust wealth and political connections. But as the film's intense political plot begins to unravel, viewers get a front-row seat to a masterclass in both acting and filmmaking.
At first glance, Eleanor seems like the picture-perfect wife of a high-profile figure. She dresses the part and poses for pictures like any good political spouse. However, it's Lansbury's slow transformation from the epitome of decorum into one of the greatest puppet masters in movie history that elevates Eleanor into the ranks of the very best movie villains. Unlike her other, softer characters, Lansbury's Eleanor is fierce in every sense of the word, making for a performance that's as thrilling as the story itself.
Some might argue that the film's focus on the specific political themes of its era can make "The Manchurian Candidate" difficult for modern viewers to embrace. However, you can't deny that Lansbury's timeless work transcends the already stellar material, making for a political thriller that remains one of the best ever made.