Horror Wins Again As Smile Tops The Weekend Box Office With $22 Million Debut [Update]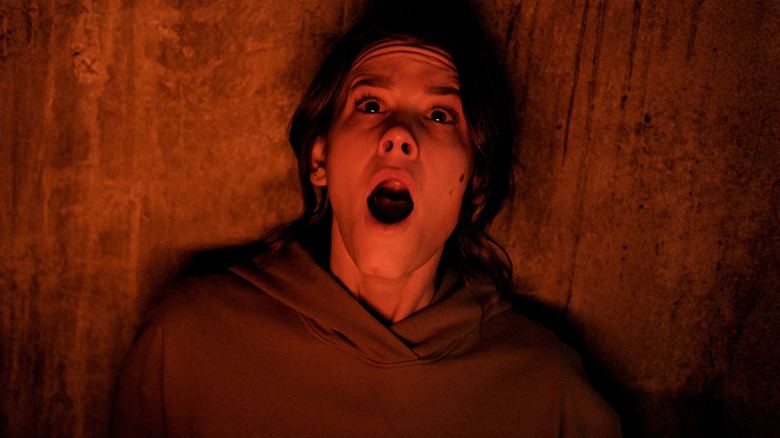 Paramount Pictures
Update: Per Variety, "Smile" outperformed initial weekend box office estimates of $19 million, solidifying its #1 spot with a $22 million debut. "Bros" also inched slightly ahead of previous estimates, rounding out the weekend with a domestic gross of $4.8 million. Original article follows.
As the dreary fall box office continues, two new contenders have entered the fray. And though we're only halfway through the weekend, a clear winner has emerged, proving that spooky season has truly arrived. 
Fresh off the heels of one horror title injecting some life into the box office comes another. The Wrap reports that "Smile," an unsettling tale of murder and contagious grins, earned $8.2 million on Friday from 3,645 locations. The film is now on its way up with an estimated $19 million opening. Come Monday morning, Paramount execs will be grinning from ear to ear (hopefully in the least creepy way possible) because this puts Parker Finn's debut film on track to turn a solid profit, considering it's modest $17 million production budget.
This stands in contrast to the debut of Universal's "Bros," a romantic comedy with an all-LGBTQ+ cast that is expected to underperform. Original projections saw the comedy landing at around $8 million when the weekend was said and done, but "Bros" is now expected to gross around $4.75 million by Monday, after making only $1.9 million on Friday.
Smile overperforms all expectations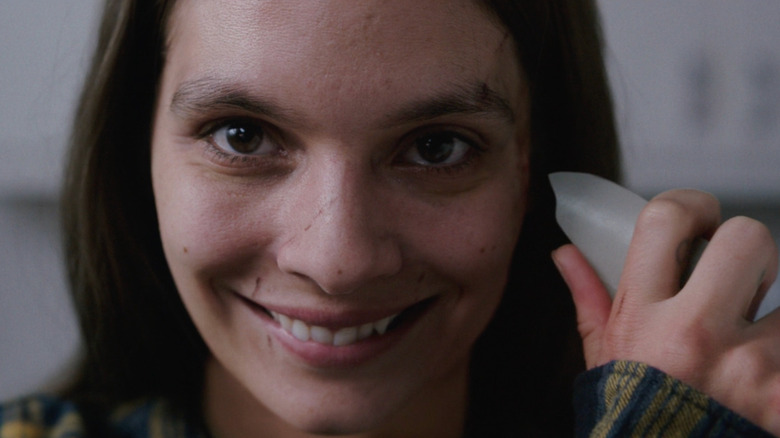 Paramount Pictures
"Smile" stars Sosie Bacon as a therapist who becomes haunted by visions and creepy, smiling figures that only she can see. The premise is more than a little familiar if you've seen anything from "The Ring" to "It Follows," but that's certainly not a deterrent. Much like superhero movies, horror has a tendency to shine in theaters — especially in the eyes of studios, since they're more likely to recoup their typically low budgets. But it's notable that this success comes soon after "Barbarian" landed at #1 in its own opening weekend. It's a potent reminder that people love the theatrical experience of watching a scary movie — so much so that audience reactions are often incorporated into the marketing (as seen in this teaser for "Barbarian").
On that note, the decision to release the upcoming "Hellraiser" reboot exclusively to Hulu feels like even more of a mistake. If new titles like "Barbarian" and "Smile" are making waves, then what might've happened with some recognizable horror IP? This past year especially, the streaming over theatrical mentality has caused many potentially lucrative movies to premiere exclusively online, and as the box office remains at a historic low, it's hard not to imagine a world where titles like "Hocus Pocus 2" and "Hellraiser" were given a chance in theaters.
The real bummer of Bros bombing at the box office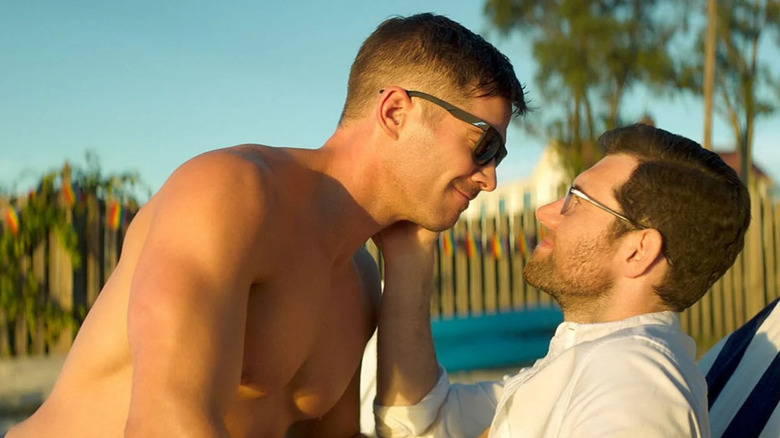 Universal Pictures
As for "Bros," even if the film underperforms, it'll go down in history for shattering some notable glass ceilings. Directed by Nick Stoller, who co-wrote it with star Billy Eichner, "Bros" is the first gay rom-com to be given a theatrical release by a major studio and the first with an entirely LGBTQ cast. Unfortunately, this milestone came at a point in history where romantic comedies have become one of the toughest genres to sell at the box office. "Bros" has debuted to overall glowing reviews and currently stands at 91% on Rotten Tomatoes. So on the bright side, there's always the chance that word-of-mouth and its positive reputation will come through and serve it in the weeks to come. But if all else fails, PVOD could come to its rescue.
I for one have my fingers crossed for some theatrical success: comedies (and especially the romantic ones) are a common victim of the streaming over theatrical mentality. Universal has been striving to keep the theatrical live-action comedy alive ("Marry Me," "Easter Sunday" and the upcoming "Ticket to Paradise") but at some point, it's gonna come down to the results. "Bros" is sweet, swoon-worthy and extremely personal, but it's also straight up hilarious. It's a laugh-out-loud comedy that's packed with jokes and, much like the unique experience of being scared with strangers, it's also wonderful to laugh along with a crowd.