Could Scarlet Witch Return To The MCU? 'Anything's Possible,' Kevin Feige Says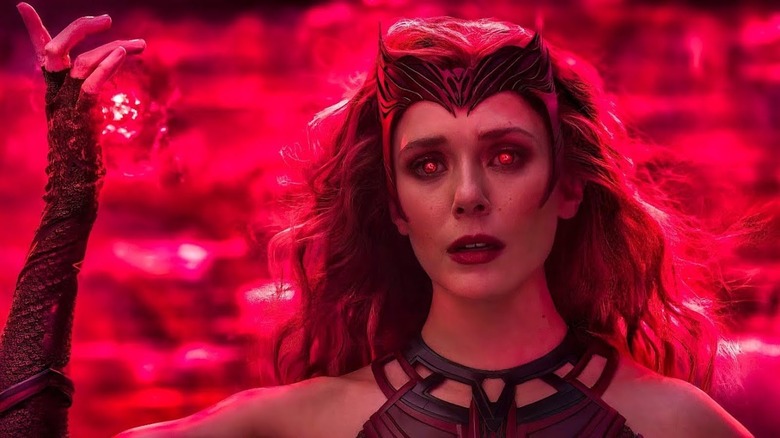 Disney+
Wanda Maximoff has been through a whole lot in the Marvel Cinematic Universe. From her first appearance in "Avengers: Age of Ultron" where she lost her brother, to being a part of the events that led to the superhuman schism in "Captain America: Civil War," to losing the love of her life when Thanos murdered Vision in "Avengers: Infinity War," it's been traumatic event followed by traumatic event for this young woman from Sokovia. By the time we catch up with her in "WandaVision," it's nice to see that she was able to work through some things by the end. That is, until she started looking into the Darkhold and unlocking the her full powers as the Scarlet Witch.
That's what led to the last time we saw Elizabeth Olsen's MCU character in "Doctor Strange in the Multiverse of Madness." Corrupted by the dark magic contained in the cursed tome, Wanda turned to nefarious means to get back the family she had during her time in Westview. Doctor Strange, America Chavez, and Wong did everything they could to keep Wanda from destroying the multiverse. Ultimately, it was Wanda herself that took the Scarlet Witch off the board when she brought Mount Wundagore crumbling down around her.
But was that actually the last time we would see Wanda Maximoff in the MCU? Long-time comic book readers are well aware that nobody really stays dead in comics (except arguably Uncle Ben and the Waynes), so surely that carries over to comic book movies, right? Well, Marvel Studios President Kevin Feige has certainly seems to subscribe to that idea based on his latest comments.
Love persisting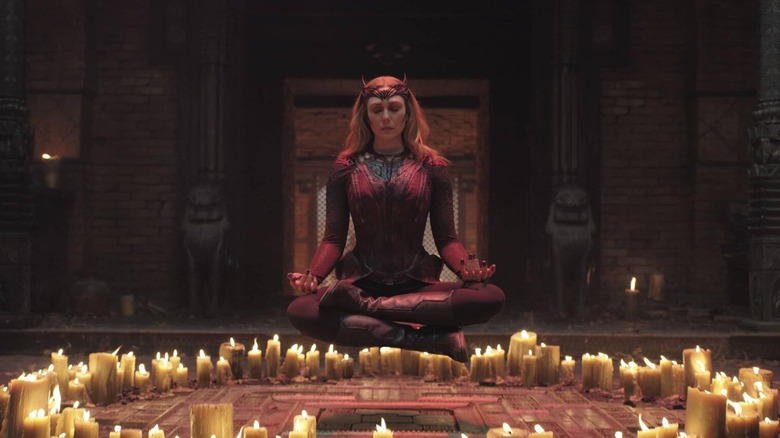 Marvel Studios
As part of their 2022 Women of Power series, Variety recently profiled Elizabeth Olsen and her path from indie darling to Earth's Mightiest Hero. The outlet interviewed Feige for the article and he discussed working with Olsen on various Marvel Studios projects. However, he also talked about the future of the Scarlet Witch in the MCU. In a typical "I know something you don't know" fashion, he simply points out that we didn't actually see Wanda Maximoff die with our own eyes. He elaborates:
"I don't know that we saw her under rubble? I saw a tower coming down and a little red flash. I don't know what that means. There really is so much more to explore. We still haven't touched on many of her core storylines from the comics. I'd work with Lizzie for another 100 years if we could. Anything's possible in the multiverse! We'll have to see."
As the executive points out, we're in the middle of the Multiverse Saga. Anything can happen at this point because all the possibilities exist in the vast expanse of a multiverse. That's why we can still hold out hope that we haven't seen the last of T'Challa on the big screen. But in terms of the Scarlet Witch, maybe Feige's comments mean that Wanda could show up again in the upcoming Disney+ series "Agatha: Coven of Chaos." Or there's a chance that another Wanda can come from another universe with a history more similar to her comic book counterpart and plays a part in the introduction of the X-Men to the MCU. Or it means something else entirely.
No matter what it means, the majority of True Believers hope that there's a much happier ending in store for the Scarlet Witch somewhere in the Sacred Timeline.