Why Playing The Monster In Barbarian Was Super Awkward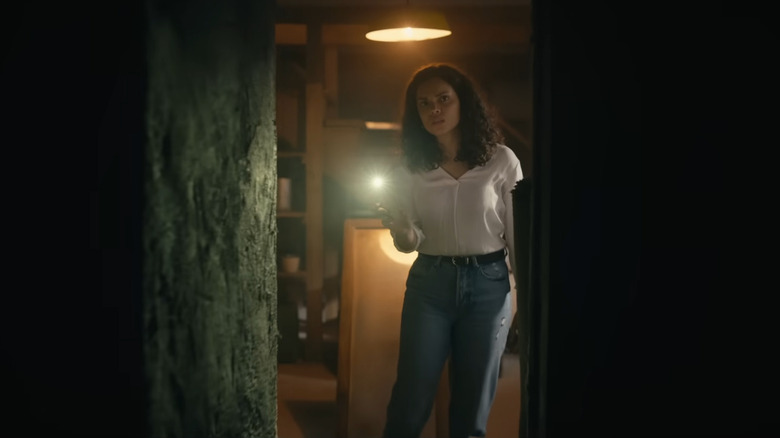 20th Century Studios
This post contains major spoilers for "Barbarian."
The marketing of "Barbarian" has been extremely smart. It makes you believe that Bill Skarsgård's character has lured Georgina Campbell's character to this Detroit Airbnb, and perhaps some supernatural occurrences are happening in the basement of this home. Of course, when you see the film, that is not what is happening at all. Bill Skarsgård ends up dying at the end of the first act at the hands of a large, naked, middle-aged woman, who smashes his head against the stone corridor in the creepy basement. This woman, known simply as The Mother, comes to be the primary source of the thrills and chills of "Barbarian," even though we come to learn she is not the malicious being she first appears to be.
The Mother is played by actor Matthew Patrick Davis, who has made a pretty nice career for himself appearing on shows ranging from "Days of Our Lives" to "Sam & Cat." Even though he has been working for over a decade, "Barbarian" actually marks the actor's feature film debut. And it is very clear why an actor like Davis was cast as The Mother, a basically silent, imposing presence. The actor is an incredibly tall man, standing six feet, eight inches, and actors like that make for wonderful canvases for creature and makeup effects on film. Just ask the legendary Doug Jones.
Of course, being asked to cover yourself in a litany of goop and prosthetics isn't exactly anyone's idea of a good time. The process of applying them is arduous and time consuming, and the comfort leaves a lot to be desired. That being said, they provide the ability of an actor to utilize other parts of themselves that more "normal" parts don't allow. For Matthew Patrick Davis, becoming The Mother had its fair share of complications.
A fake body, a real ass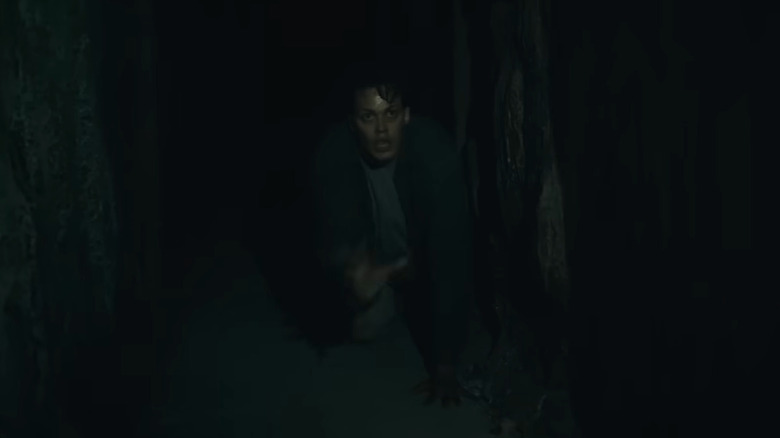 20th Century Studios
To portray The Mother, nearly every inch of Matthew Patrick Davis' body was to be covered in prosthetics. The character remains naked and exposed whenever she is on screen, which means there was no place for Davis' real body to hide. Speaking with Variety, he recalled that to be able to get all of these pieces on, he needed to remove all of the hair on his body for them to stick:
"I did Veet my entire body, which was a fun experience that I had never had before, but I asked if I could not shave my eyebrows because he was going to cover them with prosthetics."
While most of his body was covered in prosthetics, there are parts that remain entirely his own. This is particularly true in the face, where he says, "her nose is my nose, and her mouth is my mouth." An actor's face needs to be able to express a range of emotions, and how Davis holds his mouth and jaw as The Mother says so much about her pain. Another real body part was his posterior. Davis' backside originally was supposed to receive coverage, but it never looked right:
"They did experiment with making a cast of my butt during one of the makeup test ... I had a weird plastic fake ass but it looked so bad it was just like, 'We're just going to have it with a thong.'"
They did cover the actor's crotch, despite that piece not looking good either, and would say, "Matthew, if when you jump into the pit, you can use your arm to cover your crotch, that would be great." At least Davis was able to have a bit of modesty there.
Shoot fast and early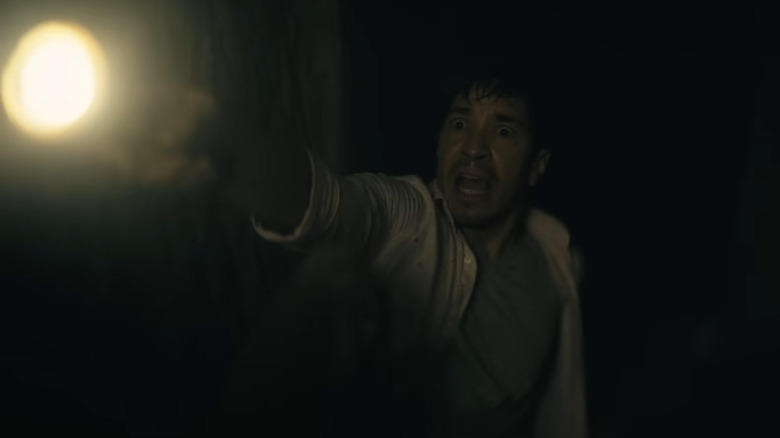 20th Century Studios
Because prosthetics are inanimate objects that are affected by wear and tear, how they look at the beginning of the day is not going to be the same as at the end. Shooting days on a film often last 10, 12, or even more hours, and having someone in extensive prosthetics for that long won't elicit the best results late in the day. So director Zack Cregger required The Mother's scenes to be the first thing shot that day. Matthew Patrick Davis explains:
"They knew they'd be the most convincing right at the beginning of the day when I'm stepping out of the makeup trailer ... As soon as I start moving or sweating, that's when you'll start to see the seams, so for any close-up work, they would make sure to do that first and all the wide shots at the end of the day."
For as challenging and uncomfortable as the process of becoming The Mother was for Matthew Patrick Davis, you cannot argue with the results. It has quickly become a memorable character in the crowded modern horror landscape. Everybody involved in the design and execution of The Mother should be extremely proud, and Davis deserves a ton of credit for pushing through any uncomfortable physicality he had to deal with.