Zach Cregger Brought His Love Of Three Horror Legends Into Barbarian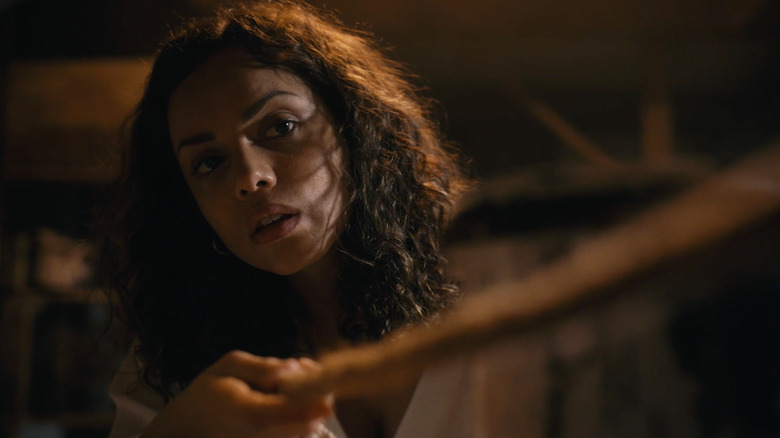 20th Century Studios
This article contains major spoilers for "Barbarian."
We've barely entered the spooky movie season and Zach Cregger's "Barbarian" has already blown the doors off in a big way. It's rare that you come across a movie that keeps its deepest secrets close to its chest in the way that this unpredictable nightmare does. It comes as such a surprise given how Cregger, one of the founding members of "The Whitest Kids U' Know," has only directed one other theatrical feature with "Miss March," which was savagely panned by critics at the time of its release.
"Barbarian" already feels like a formidable addition to the roster of modern horror greats. Those of you who are already privy to this movie's dark secrets know how imperative it is that others walk into it as cold as possible. While Cregger was interviewed by Bloody Disgusting, he stressed how important it was to keep subverting expectations while writing this script:
"It's all about being a step ahead of the audience, zigging when they expect you to zag, and timing. It's just timing and tone. That's the anatomy of a joke; that's the anatomy of a scare. I do feel like I've been working that muscle group out for a long time through comedy."
And do pull it off, he borrowed from some of the greatest horror directors of all time.
Barbarian's structure was born out of Cregger keeping himself on his toes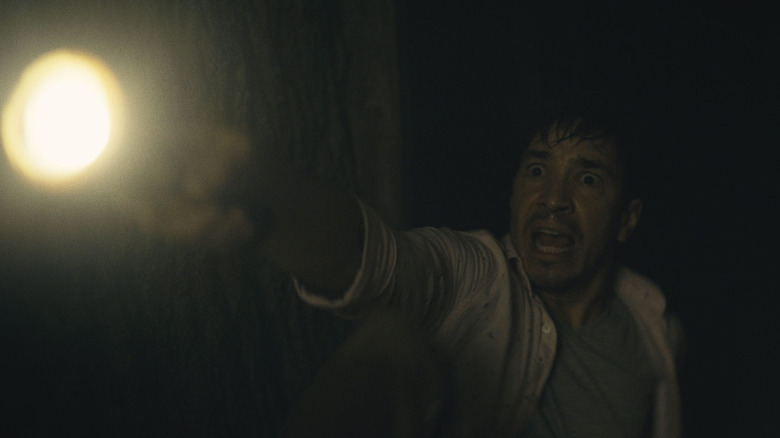 20th Century Studios
What really sets "Barbarian" out from the pack is how it presents itself. You start with an idea that could fill an entire movie all its own, but by the time you reach its bloody conclusion, you realize you've just been treated to about five different horror movies – all of which complement one another beautifully.
As horrifying as "Barbarian" can get, it's also uniquely funny in ways I hadn't anticipated. Given Cregger's background in comedy, he wanted to strike this balance where the horror and the macabre sense of humor build upon one another as this madness unfolds (via Bloody Disgusting):
"A structure like this absolutely aids both of those. I was surprised as I was writing it. I didn't know what was going to happen. I didn't outline this movie. I was typing away and trying to follow the story like an audience member."
Once "The Mother" turns Bill Skarsgård's head into the equivalent of a watermelon that met a sledgehammer, I was on an adrenaline rush of fear to see what happened next. And then, all of sudden, we're thrust into an entirely different movie where Justin Long is singing Riki Tiki Tavi's "Donovan" in his Alfa Romeo Spider convertible while driving down the highway on a bright sunny day. You can't help but laugh along with the whiplash of going from pure terror to a casual drive.
It's one of many inspired choices "Barbarian" makes in the span of 102 minutes.
Cregger looked to the horror greats to construct a new nightmare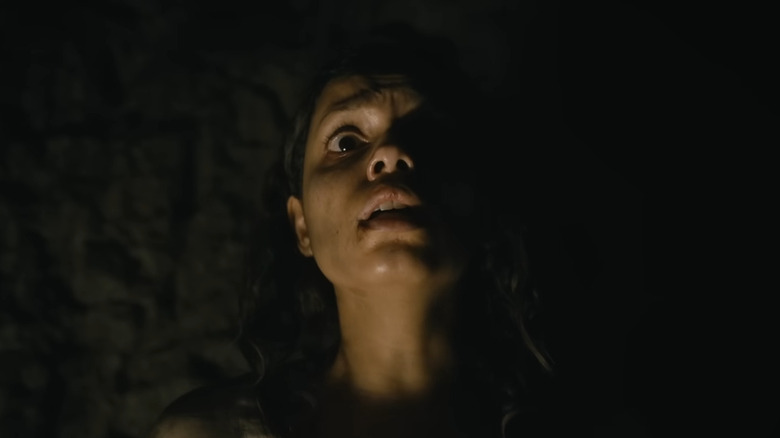 20th Century Studios
If you pay close attention to how "Barbarian" is constructed, its many influences are turned into a new nightmare of its own making. Cregger's structure may take notes from Alfred Hitchcock, but the filmmaker considers Takashi Miike, Gerald Kargl, and Sam Raimi as some of his primary influences (via Bloody Disgusting):
"Well, definitely 'Audition,' the Takashi Miike film. The whole flashback sequence is straight up visually from this Austrian film, 'Angst' [...] It's a brutal movie, but I love the way they follow the main character. I made my DP watch that movie, unfortunately for him. Anything Sam Raimi did, 'Evil Dead II,' is really front and center in this movie. Proudly so, I think he's a genius. 'Evil Dead II' made such a big impact on me."
I can't help but see the sudden shift in narrative perspective as anything but a nod to "Psycho," albeit with notable differences. With what I've seen from "Angst," Cregger makes an admirable comparison, as "Barbarian" takes another sharp turn in the back half of the film, following Richard Brake's Frank as he goes about stalking a woman. It's so uncomfortably close, mirroring the directness of Kargl's film. The spirit of "Audition" lies in the slow unfurling of the hidden horrors at the heart of "Barbarian" before it traps you in a tortuous vice of its own making.
As for "Evil Dead II," well, that Barbary street basement may be home to a human monster, but it very much feels like a hideaway for Deadites. It's difficult to not see a little of Henrietta in Matthew Patrick Davis' performance as "The Mother," coupled with some incredibly unhinged close ups that feel in tune with Raimi's stylistic choices.
"Barbarian" is now playing in theaters.