The Last Of Us Trailer: Pedro Pascal And Bella Ramsey Bring The Game To Life On HBO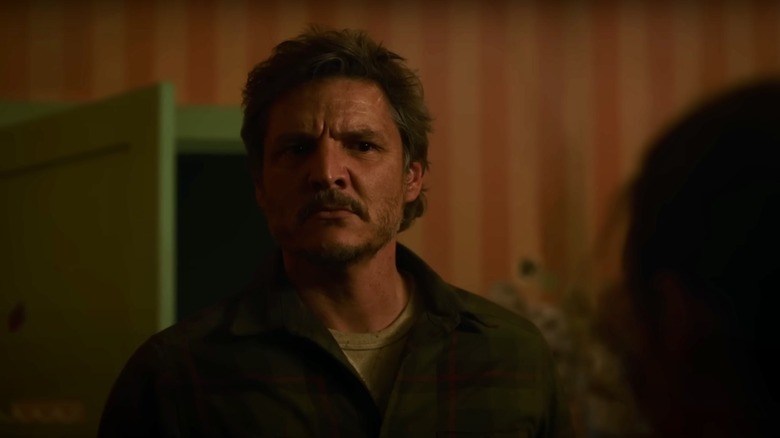 HBO
The long-awaited first full trailer for "The Last of Us" is here, so buckle your seatbelts for a quick reconnaissance trip into the post-apocalypse with Pedro Pascal and Bella Ramsey. We saw a glimpse of first-look footage for "The Last of Us" in August, but this trailer offers the best look yet at what HBO has in store with its adaptation of the popular video game by Naughty Dog.
If it wasn't already, the video game adaptation curse has surely been broken now by the Emmy-winning success of Netflix's "Arcane: League of Legends." That is an animated series, however, and we've still yet to see a live-action adaptation really blow the doors off. Just this year, a big-budget live-action adaptation of another Naughty Dog game, "Uncharted," starring Tom Holland and Mark Wahlberg, met with mixed reviews. However, "The Last of Us" will have the benefit of ten episodes to flesh out its characters and story, and with HBO reportedly spending $10 million per episode, they're clearly taking this series seriously.
Will it be any good? Well, trailers are designed to make things look good, so there's no telling, really, but feast your eyes now on the one for "The Last of Us" below. And let's hope for the best.
The Last of Us trailer
For anyone who might be new to the "Last of Us" world, the game and show follow the adventures of Joel and Ella, a smuggler and teenager struggling to survive in a post-apocalyptic U.S. that is crawling with other dangerous humans, not to mention what /Film's Ben Silverio has called "rabid zombies with mushrooms growing out of their faces."
Pedro Pascal is no stranger to the kind of scenario where he's chaperoning around a youngling. It's what he does in space on "The Mandalorian," but in that case, he's got a helmet on most of the time and the youngling happens to look like Baby Yoda (though his canonical name is Grogu, and as far as we know, he bears no relation to the famed Jedi Master other than being a member of the same alien species). In "The Last of Us," though, Pascal is paired with fellow "Game of Thrones" alum Bella Ramsey, the breakout child actor who played Lyanna Mormont. "Game of Thrones" being what it is, both of their characters on that show met an untimely end, with Mormont facing off with a wight giant in the Battle of Winterfell and Pascal's Oberyn Martell facing off with the Mountain in single combat.
Hopefully, Joel and Ella will fare better than they did, and "The Last of Us" will fare better than most video game adaptations have. It's got the benefit of Neil Druckmann, creative director of "The Last of Us" video game, and Craig Mazin, creator of HBO's superb "Chernobyl" miniseries and co-host of the Scriptnotes podcast, behind it. Pascal and Ramsey are joined by the likes of Gabriel Luna ("Terminator: Dark Fate," "Agents of S.H.I.E.L.D."), Melanie Lynskey ("Yellowjackets"), Storm Reid ("Euphoria"), and Nick Offerman ("Parks and Recreation," "Devs"), and the series is coming your way in 2023.