The Last Of Us Teaser: Pedro Pascal And Bella Ramsey Hit The Road As Joel And Ellie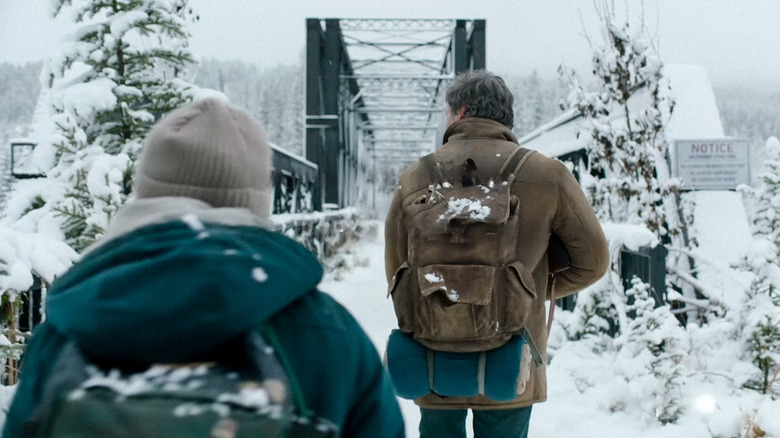 HBO
Hopefully you still remember the crafting recipe for shivs, because it'll soon be time to return to the world of "The Last of Us." The critically-acclaimed post-apocalyptic video game from Naughty Dog has been adapted for the screen at HBO, with Pedro Pascal ("The Mandalorian") once again playing a reluctant dad to a scrappy orphan as Joel, and Bella Ramsey ("Game of Thrones") once again playing a scrappy orphan as Ellie. 
"The Last of Us" is set in a version of our world that has been ravaged by a fungal pandemic known as the cordyceps brain infection, which turns sufferers into highly aggressive living zombies in the early stages and strange mushroom monsters in the later stages. Gruff survivor Joel is charged with escorting rebellious teenager Ellie across this dangerous landscape, with many grim horrors and plenty of acoustic guitar music along the way. Craig Mazin, who made waves with the HBO miniseries "Chernobyl" in 2019, serves as showrunner for this adaptation, and HBO has unveiled the first teaser footage amid a larger sizzle reel for upcoming shows. Check out the footage from "The Last of Us" below, and the full promo a little further down.
First look footage of HBO's #TheLastOfUs series, starring Pedro Pascal, Bella Ramsey, and Nick Offerman. pic.twitter.com/YDU1KW1QPW

— Rotten Tomatoes (@RottenTomatoes) August 22, 2022
Troy Baker and Ashley Johnson, who voiced Joel and Ellie in the game, will be appearing in the series, and the cast also includes Nick Offerman, Gabriel Luna, Nico Parker, Anna Torv, Storm Reid, Murray Bartlett, Graham Green, Elaine Miles, Natasha Mumba, Lamar Johnson, and Keivonn Woodard.
Coming soon to HBO Max...
You don't have to start warming up your stealth muscles just yet; "The Last of Us" is still some way off, with the premiere planned for some time in 2023. But it's exciting to get a look at Pascal and Ramsey in action as the story's central duo, and to see Nick Offerman in character as Bill, a paranoid, curmudgeonly survivalist who reluctantly allies with Joel and Ellie after they rudely barge their way into his safe house. There's not a huge amount of footage to go on, but it does look like the show may have nailed the atmosphere and aesthetics of the game.
That said, don't expect HBO's "The Last of Us" to follow the exact beats of the video game's story. Naughty Dog's creative director Neil Druckmann (who wrote and co-directed "The Last of Us" and its 2020 sequel, "The Last of Us Part II," and also co-wrote all 10 episodes of the series with Mazin) has said that while some episodes of the show stick very closely to the game and even pull dialogue directly from it, others "deviate greatly to much better effect, because we are dealing with a different medium."
Adapting video games into a non-interactive medium isn't easy, as the long list of failed video game movies can attest. But Naughty Dog games are uniquely suited to adaptation because they were designed with the word "cinematic" in mind. Though it may have left critics underwhelmed, the movie adaptation of Naughty Dog's action-adventure series "Uncharted" performed very well at the box office earlier this year. With Craig Mazin and Neil Druckmann at the helm and an excellent cast in place, "The Last of Us" is definitely set to be one of the most highly-anticipated new shows of 2023.