Making Black Panther: Wakanda Forever Helped Letitia Wright 'To Grieve, To Cry, To Laugh'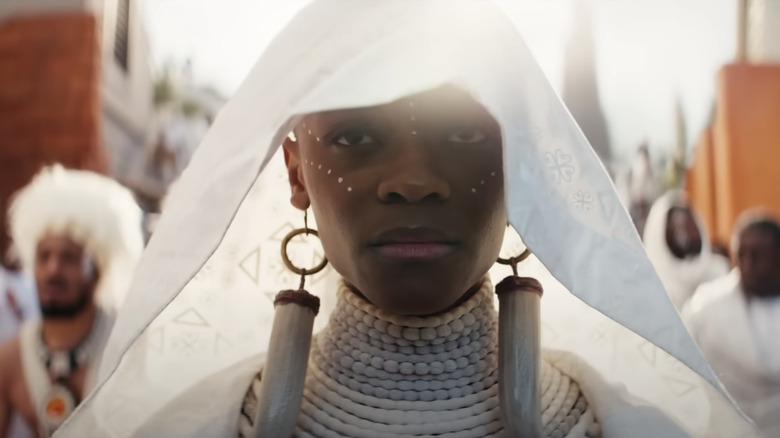 Marvel Studios
Has there ever been a movie like "Black Panther: Wakanda Forever"? Even before the first "Black Panther" scored an unlikely seven Academy Award nominations for a comic book movie (including one for Best Picture), Marvel Studios chief Kevin Feige had confirmed, on the strength of its box office success (and Marvel's general way of doing business), that a sequel was definitely happening. This was all the way back in March 2018, before "Black Panther" had crossed the billion-dollar mark in its worldwide gross. 
Then, the unthinkable happened. In August 2020, Chadwick Boseman, the uber-talented star of "Black Panther" and "Ma Rainey's Black Bottom" (for which he received a posthumous Oscar nomination), died at the age of 43 after dealing privately with cancer.
Fans across the globe and the cast and crew of the upcoming "Black Panther" sequel were left in a state of shock. Yet Marvel and director and co-writer Ryan Coogler decided to forge ahead with "Black Panther: Wakanda Forever," re-centering it on the supporting cast from the first movie, including Letitia Wright's character, Shuri, the princess of Wakanda and sister of Boseman's protagonist, T'Challa. In an interview for the new issue of Empire magazine, which hits newsstands this week, Wright discusses how her character helped her cope in the wake of Boseman's untimely death, saying:
"Shuri's journey has allowed me to grieve, to cry, to laugh, and to gain strength that I never thought I could ever have. Trials and tribulations make you who you are. You either fold or you get up and go again. I feel like Shuri kept looking at me every day, asking me if I was gonna fold or go again. And I just kept going until healing started to happen for me."
Carrying on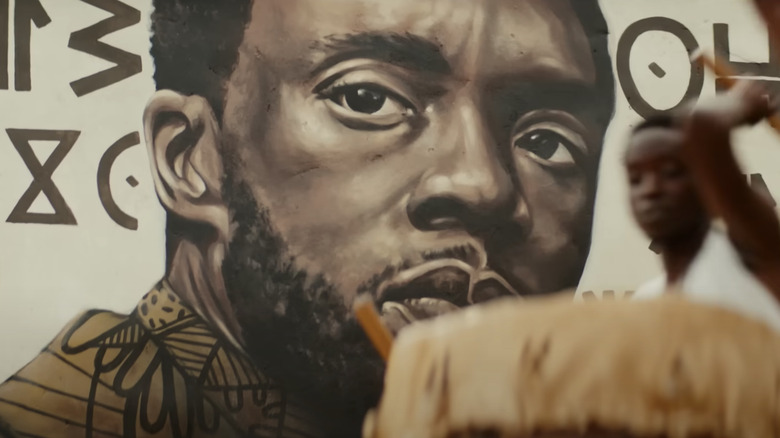 Marvel Studios
There's always been the question of how the "Black Panther" sequel would proceed without its intended star, since Coogler and Feige have been adamant that the role of T'Challa would not be recast or brought to life again using a digital double of Boseman (as we've seen the "Star Wars" franchise doing with other deceased actors). Set to the tune of Nigerian singer-songwriter Tems' cover of the Bob Marley song "No Woman, No Cry," the emotionally charged first trailer for "Black Panther: Wakanda Forever" showed the cast in mourning yet resilient. It also teased the arrival of Namor the Sub-Mariner (Tenoch Huerta) into the Marvel Cinematic Universe.
The synopsis of "Black Panther: Wakanda Forever" describes Shuri and characters like Queen Ramonda (Angela Bassett), M'Baku (Winston Duke), Okoye (Danai Gurira), and War Dog Nakia (Lupita Nyong'o) banding together "to protect their nation from intervening world powers" and "forge a new path for the kingdom of Wakanda." The very end of the trailer appears to indicate that someone besides T'Challa will don the Black Panther armor, and there's a precedent for Shuri doing that in Marvel Comics. But whether she does it in "Wakanda Forever" remains to be seen. For her part, Wright tells Empire:
"That's a tricky question to answer. I had a chat about it with Ryan and Chad when we were making 'Black Panther,' and we touched on it briefly. When I realized I was playing Shuri, it was something that I really looked forward to."
"Black Panther: Wakanda Forever" is in theaters on November 11, 2022.